Pokémon: Let's Go!: Release date, pre-orders, battles, friendship and more
Pokémon fans are now counting down the weeks until we can get our hands on the latest addition to the franchise, Pokémon: Let's Go, Eevee! and Let's go, Pikachu! for the Nintendo Switch.
Pokémon: Let's Go, Eevee!/ Pikachu! promises to be a traditional Pokémon experience, focusing solely on the Kanto Region and the 151 original Pokémon and will even feature a few tie-ins from the animated series. A Pokémon Switch console will also be released at launch so if there was ever a time to buy yourself a Switch, this is it!
Let's take a look at everything we know about Pokémon: Let's Go!
Pokémon: Let's Go Eevee!/ Pikachu! release date
Both version of Pokémon: Let's Go! will be released on November 16, 2018 exclusively for the Nintendo Switch.
Pokémon: Let's Go Eevee!/ Pikachu! Pre-orders
There are three pre-order editions for Pokémon: Let's go!
Standard Edition
Pokémon: Let's Go, Eevee!/ Pikachu with Poké Ball Plus
Two #PokemonLetsGo #NintendoSwitch limited hardware bundles arrive on 16/11! They each include a Nintendo Switch Pikachu & Eevee Edition system, the Poké Ball Plus accessory and a pre-installed version of #Pokémon: Let's Go, Pikachu! or Pokémon: Let's Go, Eevee! pic.twitter.com/WbfUI4cxdq

— Nintendo UK (@NintendoUK) September 10, 2018
The limited edition Switch bundle comes with a pre-installed version of the game, special coloured joycon, a dock that features an image the two Pokémon as well as images of Eevee and Pikachu on the rear of the Switch and a Poké Ball Plus controller.
Players who have the Poké Ball Plus controller will also be gifted a Mew, though it is unclear if players will be able to find the elusive god-Pokémon in-game or if it is a bundle-only reward.
Pokémon: Let's Go, Eevee!/ Pikachu! trailer
Here's a quick look at the official trailer for the game which showcases all the key elements of Pokémon: Let's go!
Where is Pokémon: Let's go, Eevee!/ Pikachu! set?
Speaking to Polygon, Director Junichi Masuda has described Pokémon: Let's Go! as a remake of fan favourite Pokémon: Yellow and will take us back to Pallet Town in the Kanto region. Here, players will begin their journey by choosing a Pokémon in Professor Oak's lab and will be looking to capture all 151 original Pokémon in order to become a true Pokémon master.
The differences between Pokémon: Let's go, Eevee! and Let's Go, Pikachu!
Releasing two near-identical games has been the common ground for Pokémon titles over the last 20 years and Pokémon: Let's Go! is no different. As ever, there will be some Pokémon you can only obtain in one version of the game. Oddish, Sandshrew and Growlithe will only feature in Let's Go, Pikachu! Whereas Bellsprout, Vulpix and Meowth will appear in Let's Go, Eevee!
Trading Pokémon will also still be the only way to evolve Pokémon such as Kadabra into Alakazam, which should be easy to do given the Switch's big focus on social play.
Both versions will see your new best friend travel outside their Poké ball with you, often on your head or shoulder. Both Pikachu and Eevee will come with specific moves and modes of travel. A recent trailer from Nintendo showed that they both possess a Secret Technique to overcome certain challenges, such as being able to use a surfboard to sail on water with Pikachu, called Sea Skim, or using a balloon lift to fly with Eevee, called Sky Dash.
Another new element of the game is Partner Powers. Pikachu will receive its second water move in the franchise, Splishy Splash and Eevee will have a choice of Sizzly Slide, Buzzy Buzz or Bouncy Bubble, depending on which Eeveelution choice you go for.
Despite Eevee having a choice of moves from its base evolutions, neither Pikachu nor Eevee will be able to evolve and interestingly won't count towards your party numbers, meaning you can actually carry seven Pokémon.
Pokémon: Let's Go, Eevee!/ Pikachu! Bonding with your Poké pal
Previous Pokémon games such as X/Y and Sun/ Moon have attempted to incorporate bonding with your Pokémon into their games but were a bit clumsy and ineffective. In Pokémon: Let's Go!, however, you can give your new friend haircuts, style them with accessories and play with them to increase your bond. Ultimately, the more your new friend loves you, the more powerful they can become and might even bring you a wee pressie now and again.
Pokémon besides Pikachu and Eevee can also roam around in the world with you, such as Onix.
Pokémon: Let's go, Eevee!/ Pikachu! Gym battles
The main progression points in Pokémon games are the gym battles and Pokémon: Let's Go! is no different in that regard. However, there have been some subtle changes made in the way players can approach gym battles.
In previous games, hints and suggestions were made by NPCs and various signage about the recommended level and types of Pokémon you should use for a specific gym leader. In Pokemon: Let's Go!, Gyms will have entrance conditions. These conditions will include Pokemon types, level requirements and more, making it simpler for players to plan before tackling gym leaders.
Pokémon: Let's go, Eevee!/ Pikachu! random encounters and battles
One of the elements borrowed from Niantic's Pokemon Go is a change in the way random encounters with wild Pokémon and trainers. In older games, you could encounter a wild Pokémon every few seconds in the tall grass which quickly becomes very annoying as you run away from endless Zubats.
Fortunately, rather than expect us to use repel potions forever, Nintendo has decided to use Pokémon's Go's approach system to interact with wild Pokémon. You can ignore those three Weedles over there, but if you see a rare or unexpected Pokémon in an area you'll have to move fast to catch it as Pokémon will flee an area, giving the game more of a real-time feel.
There will still be some occasions where crossing paths with a Pokémon is unavoidable and the line-of-sight mechanic still works for NPCs who wish to battle.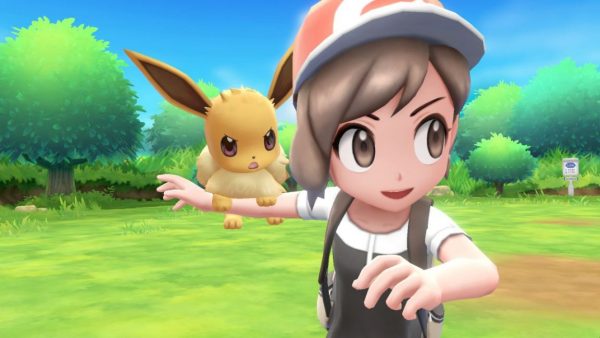 Using the joycon or Poké Ball adds another level to the game as you control what you are doing with well-timed movements, much like in Pokémon Go. You can coax a Pokémon over with berries and treats before throwing your Poké Ball at it, meaning that battles are no longer at the heart of the series. You don't have to throw your Poké Ball in real life but if you do, take care to avoid small children, cats etc.
For the first time, players can also play in a tag team on one system. There will be local and online trading and battle features, but this time around two players can play together locally in order to defeat more challenging foes. Players will need to subscribe to Nintendo Online to use these features, however.
Pokémon: Let's Go, Eevee!/ Pikachu levelling up system
Pokémon will level up by gaining Exp as standard in Pokémon: Let's Go!, as well as using candies. Exp share will also feature again and all Pokémon in your party will benefit.
Breeding and eggs don't feature in Pokémon: Let's Go! as of yet, though you can send your surplus Pokémon back to Prof. Oak for candies that will help you level up faster.
Mega Evolutions will also feature in Pokémon: Let's Go!, their first appearance in the Kanto region. The first three Pokémon that fans will be able to Mega Evolve during their adventure will be Venusaur, Charizard, and Blastoise by using Key Stones and Mega Stones.
Pokémon: Let's Go, Eevee!/ Pikachu! Save slots
For the first time, you'll be able to have multiple games going at once, as long as you're playing on a different account. So if there are three people in your household who want to play the game, you don't need three Switch consoles and three copies of the game - just make sure everyone has their own account and play on!
And that's all we know so far about Pokémon: Let's go! ahead of its release. We also know that Nintendo will be releasing another core Pokémon game in 2019, so we'll keep you updated with all things Pokémon.