Pokemon Go is not a game changer - it's something better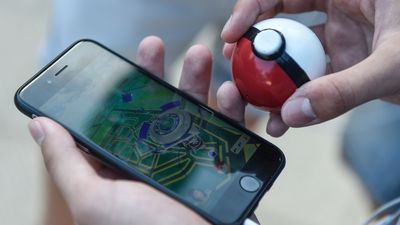 Pokemon Go ushers in a new mobile gaming genre, says Jayce Wagner.

"Niantic has built a game that can't exist on any other platform, and its tapped into an audience that defies the typical demographic labels."
Pokémon Go. We've all heard the hyperbole, the breathless cries that it's "a game changer". That it will be as a salve upon the broken, sinful flesh of all mankind, that it will heal the sick and restore peace unto the world of men. Okay, maybe not those last parts, but the rhetoric is reaching pretty outrageous levels.
It's all just hype right? The same thing we've seen hundreds of times, even a few times this year. It happens every time a big game gets popular – Angry Birds, Plants vs. Zombies, Flappy Bird, Draw Something – and it's usually nonsense. Some of these games had a cultural impact, but did they really change anything after their moment in the spotlight?
Pokémon Go just might. It isn't a game changer, it's something better. Cutting through the hype and fervid, lustful adoption, there's some kernel of truth to the idea that Pokémon Go might be something new for the mobile gaming industry.
With Go, developer Niantic has done something that mobile game developers have been trying to do for years – something that Nintendo has been trying to do for decades: its built a game that can't exist on any other platform, and its tapped into an audience that defies the typical demographic labels. Pokémon Go is a mobile game, and it has to be, and that makes it a bit of an anomaly.
Most mobile games are, frankly, less-than-stellar. We all know it, but we play them anyway because what else are you going to do? We play Words With Friends, or whichever Candy Crush clone is popular this week while pointedly avoiding eye contact on the bus.
Precious few games on the iOS and Android top charts – aside from gimmicky party games – really take advantage of the platform. Most of the games on iOS and Android are just pared down versions of games that might be better on a PC or console, even puzzle games and side-scrollers are making a comeback on consoles and PC. This game development philosophy goes all the way back to the Nintendo GameBoy, which promised to deliver games you know and love while you're on the go.
Even Nintendo's latest GameBoy iterations (and Sony's handhelds) have been built on the promise that you can play console or PC quality games while you're away from your couch. They don't do anything particularly unique, they just give players a watered down experience while they're unfortunate enough to be away from their comfy couch and big TV.
Pokémon Go subverts all of that, it delivers an experience that can only be had on a mobile device. It's a mobile game that needs to be mobile. It has attracted an audience of casual gamers and conventional gamers, and by doing both of these things it's done something truly unique.
Is it worth all the hype and praise? Maybe not, but there's something special here, something that's going to be copied, borrowed, and stolen from and that's a very good thing.
Mobile gaming hasn't had much in the way of triple-A games, in part because mobile gaming is in its infancy, it's not as tried and true as the home console or PC. A triple-A mobile game looks different to what we would consider triple A on console. Triple-A on mobile is Angry Birds, Candy Crush and Clash of Clans.
Big games for PC, PS4, and Xbox One have decades of tropes and gameplay mechanics and intellectual property to draw on, players generally know what to expect from a first-person shooter, an RPG, or third-person adventure. These categories are well trod, and while some games naturally innovate on old formulas, they are still building on the established corpus of video game conventions.
We're still on an awkward first date with mobile gaming, still figuring out what we want as an audience and what developers can give us. But Pokémon Go is poised to change all of that. This is a game that has established that players are willing to get up and move around in pursuit of definable goals, it's essentially the tentpole of what could be a new genre.
Other games have tried, and largely failed, to incentivize walking around aimlessly and exploring our neighborhoods. Some use built-in pedometers and GPS to reward players for steps walked with achievements and trophies, but previous attempts to get players to move around in pursuit of in-game goals have generally fallen flat. Goal-oriented gameplay is the real magic behind Pokémon Go, when paired with actually going outside, it's the secret recipe game devs have been trying to crack ever since that weird solar-powered game for the GameBoy Advance.
Pokémon Go succeeds where others have failed for a variety of reasons, but partially because the game incentivizes things we were going to do anyway – go to work, go out, walk the dog, creep around empty lots and neighborhood churches – and layers some serious goal-oriented rewards on top of it.
"Pokémon Go has already made Nintendo a serious chunk of change and what was once a small internal project is likely to get a much larger budget and long-term strategy."
Walking hatches your eggs, gives you a chance to find some more Pokemon, and gets you from A to B. B being a Pokestop, Gym, or rare Pokemon lurking in the bushes across the street. It's a bit of a perfect storm of disparate elements.
Pokémon Go is built on the bones of Ingress, a fairly popular mobile game from developer Niantic, prior to their acquisition by Nintendo. Ingress rewarded players for walking around, 'hacking' and 'capturing' various nodes throughout the world, and in some ways was a bit of a testbed for what would become the backbone of Pokémon Go. It was fun, but it was a bit like Call of Duty's multiplayer scene in the early 2000's: dry, repetitive, and it really only attracted competitive players. Pokémon Go is the Modern Warfare to Ingress' Call of Duty.
To Pokmeon Go, Niantic added in a more robust progression system, solid incentives for walking around and for seeking out new areas, and of course, draping it all in the gilded trappings of the Pokemon franchise.
What's next is anyone's guess – though Niantic itself has dropped some hints in trailers and interviews – but Pokémon Go has already made Nintendo a serious chunk of change and what was once a small internal project is likely to get a much larger budget and long-term strategy.
There are a thousand different ways to describe the how and why of Pokémon Go's appeal, but the game speaks best for itself. It's fun and engaging in a way that few mobile games are, with appeal that has already started to redefine traditional notions of audience demographics. It's not going to change the world, but it just might change mobile gaming, and that's an exciting prospect.
It's not often we get to see the birth of a new genre.