Pokemon Go Fest 2019 turned Dortmund into a real-life Ryme City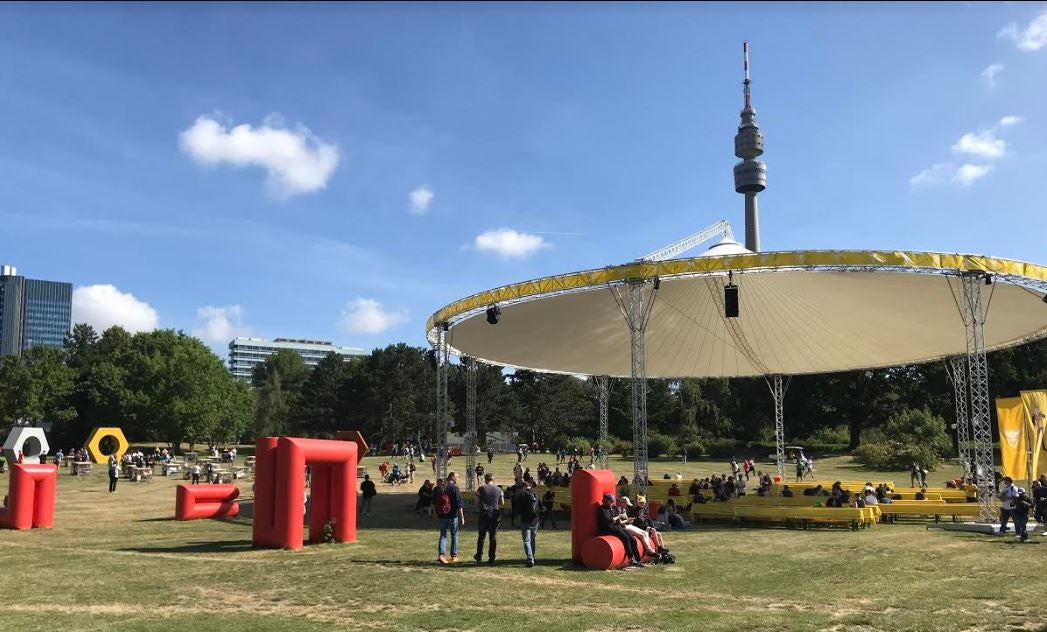 A few weeks ago, while walking home on the drizzly streets of Manchester I was greeted by a familiar sight: someone was being weird.
A man in his fifties, dressed in standard-dad-issue slate grey cargo pants, black tee, and puddle-stained New Balance, was meandering around the pavement, phone stretched out in front of him in a sort of stiff-armed mummy walk, grumbling and getting under the feet of disgruntled passersby.
Twenty meters further down the road and I could see the source of his consternation; he was trying to catch a Bulbasaur.
Apart from Fortnite's peak in the summer of 2018, where everybody was pledging their undying fealty to Jonesy the default skin, I can't think of a game that's been played so visibly by so many people as Pokemon Go - even three years after release.
Pokemon Go Fest Dortmund 2019
Fast-forward to the weekend of Pokemon Go Fest 2019 and the streets of Dortmund were thick with shambling mobs gripped by the same glassy-eyed concentration and insatiable hunger to catch some 'Mon.
The main venue for the event is the Westfalenpark on the southern edge of the city. As one of the largest inner-city parks in Europe at around 70 acres of green space, it's a beautiful location. Overlooked by the Florian TV Tower, it has a diverse array of pedicured lawns, colourful flower beds, wabi sabi-style koi ponds, shaded woodland, and a decent sized lake at its bottom end - complete with swan-shaped pedal boats.
Over the four days of the festival, around 85,000 of the hardest of the hardcore Pokemon Go fans were packed through the gates - which even at the relatively cheap price of €25 must've made a mint - with as many as 200,000 players recorded in the surrounding areas of the city.
People had come from everywhere across the world to take part. I spoke to people from Germany, Belgium, France, the UK and US, Australia, Japan, Turkey, and just about any other country you could think of.
For the lucky ones that snagged a golden ticket, the curation of the Pokemon catching experience in the park was brilliant, and reminded me of the fantasy that I think a lot of people had when Pokemon Go first came out. Walking through the rose beds at the entrance to the park you were greeted by the Sinnoh starters, Chimchar, Turtwig, and Prinplup, along with summery versions of Pikachu and Eevee wearing flower crowns.
But just a few feet away, around the corner, you could sit by a pond and get tons of water Pokemon like Kabuto, Wooper, and Horsea. Being able to so closely map the type of Pokemon you could catch to your real-world surroundings never gets old, especially when there was much variety and so many rare Pokes on offer. And although Niantic games isn't renowned for its stability, despite a few murmurs about server errors and connection issues, the game largely worked without a hitch the entire time I was there.
Outside of the real-life landmarks, the park was split into four main areas: the Steel Factory, Rocky Terrain, Boat Lake, and Mysterious Woods. As well as having different Pokemon appear, Niantic had built big in-flavour structures for each one - like the boat lake had a tropical island that spurted water. Attendees also got a special quest, with the promise of an encounter with the mythical singing Pokemon, Jirachi, at the end.
Outside of the sought-after legendary, the real reason that everyone's there is to hunt down Pokemon Go's rarest and most valuable commodities: shiny Pokemon.
With every encounter there's a tiny chance that you'll find an alternatively coloured Pokemon called a shiny. Some of them, like a blue Nidoran male or a green Bronzor, are quite subtle. A golden Magikarp is not. Since so many Pokemon are constantly spawning in the same place you've got a much higher chance of catching them at an event like this than anywhere else.
I learnt pretty quickly that if a Pokemon isn't shiny then it might as well live in a bin with the Trubbish. The only exception to this are region exclusive Pokemon like Mr Mime - who's only in Europe - or Tauros, the US equivalent. Although most people have both of those by now, it's Torkoal, Pachirisu, Relicanth, and legendaries like Azelf that you really want.
You haven't known awkwardness until you've had an enthusiastic Israeli man peruse your comparatively meagre collection of Pokemon in the confined space of an elevator. So I made it my goal to get at least a few decent shinies to bolster my cred. At least I could save some face with a Tropius, who's exclusive to Africa and parts of the Mediterranean (but conveniently also spawns on the Canary Islands).
Pokemon Masters
Dortmund itself is a really chill city and just about the perfect place to hold an event like this. Of an early summer's evening, it feels like the city's entire adult population is just skating every available surface, sharing crates of beer, or eating ice-cream outside one of the many roadside cafes.
With a population of nearly 600,000 people, Dortmund is the eighth largest city in Germany overall, and biggest in the historic province of Westphalia. Easily large enough to comfortably accommodate the visiting Pokemon fans, but not too big that you wouldn't know anything out of the ordinary was happening.
After a successful run in Chicago and other festivals, this is the first year that a Pokemon event in Dortmund has been a ticketed event. This meant that across the four days it was almost like there were two centres to the proceedings: the main play space in Westfalenpark, and three days worth of other players who had already played their day, or were waiting to, traipsing around permanently lured Pokestops and raiding the gyms in the city centre.
Every other week, more than 80,000 fans pack into Borussia Dortmund's Signal Iduna Park - Germany's largest football stadium. Dortmund's used to handling influxes of visitors, and the higher ups in local government welcomed the Pokemon challenge.
"The agency that came up with the idea of going to Dortmund brought us an official invitation from the mayor," Anne Beuttenmüller, head of marketing for EMEA at Niantic, says.
.
"We were very happy with the first event. The park is awesome, there are so many different areas - the rose garden, the playground, the little lake - it's the perfect spot for players.
"And we see players still wanting to experience the atmosphere of having so many players in the city. Because it feels like a takeover, and they want to be in the spirit, so that's why they're travelling to the city not having a ticket and just playing in the city."
Throughout my journey to Dortmund there had been clues that something big was happening in the Pokemon world - a man wearing an OG '90s Psyduck shirt in Brussels train station, a couple of families with kids in Pikachu onesies - but as soon as I rolled into Dortmund, it was almost like I'd gotten off in a real-life Ryme City from Detective Pikachu - a world full of people who love Pokemon, and are all too happy to wear that on their sleeve.
Literally. Every other person is rocking an overt piece of Pokemon merch - mostly Mystic, Instinct or Valor team badge shirts - or is wired up to a cache of power banks dangling from their belts like Pokeballs. Being in a place where everyone is so openly into the same stuff is a comforting feeling, like you could strike up a conversation and be friends with anyone, and that sense of camaraderie was making everyone giddy.
Despite its popularity, it's still rare to come across a raiding party unless you've arranged it with friends or through the game's bustling online community. Pokemon Go is a social game at heart, and it was exciting to find a setting where you could experience all of those multiplayer features to their fullest.
Shiny hunting
Sometimes however, increased odds are no remedy for old fashioned bad luck. Gameplay in the Westfalenpark lasted from 8AM until 6PM, but by 12:30, I still hadn't caught any shinies to add to my trade pile.
"Good day so far?" a guy in a green Pokemon Go staff shirt asked me by the Team Instinct lounge near the Steel Factory.
"A few cool things," I replied. "But I still haven't found any shines."
"No shinies?" he said, with a look of incredulous bewilderment like I'd just told him I brush my teeth with polyfiller, scrolling through the few he'd snagged while he'd been sat there.
After that exchange I started to go a bit mad - everywhere I looked people were catching shinies.
"Hey! This guy's got pink legs!" an older American gentleman with his family exclaimed in the rocky zone.
"That's Shiny Scyther," his oldest kid said, rolling their eyes.
"And pop's using a Pokeball," a younger boy chimed in, "use your Ultra ball!"
Further around the corner I overheard someone else say they were happy with the golden "Onixes" they'd caught. The pluralisation was another slap in the face.
And then it happened.
Back in that first summer of Pokemon Go, there was one that got away. After tracking an Aerodactyl for half an hour through the small town where I was living, it despawned before I could catch it. I ran for that Aerodactyl. Children laughed at me and called me sad. It was brutal.
I hadn't seen another until one popped between the trees next to the Mysterious Woods.
Instantly I knew I'd hit the jackpot. When a shiny appears you see a flash of stars just to let you know things have gotten serious. Taking no chances, I plied the shiny Aerodactyl with enough berries to knock out a Donphan and threw ultra balls like they were going out of fashion.
Before long the giant purple rock bat was mine and he's awesome and I love him.
By the end of the day I'd managed to bag 13 shinies: a couple of Scyther and two Larvitars were the other highlights.
As I left, I got chatting to a Belgian man wearing bright blue camouflage I'd met earlier in the car park, and asked to see his haul.
"I got 20 shinies here," he said, gesturing to the phone in his left hand. "And 20 more here, and here," lifting up another two in his right.
He invited me to trade to complete one of the day's quest objectives, and offered me a Torkoal he'd caught from Kuala Lumpur (from a fourth Pokemon phone he retrieved from his car) but refused to take anything special in return.
I thought that summed up the vibe of the whole festival. Pokemon has always been about sharing the fun of collecting with friends, and here there were people from all corners converging on a fun place to swap stories, show off their curios, and enjoy their favourite hobby with other fans.
It might have only been for a weekend, but Go Fest 2019 was a real glimpse into a world obsessed with Pokemon.