PlayStation Paris Games Week 2017: all the PS4 news including The Last of Us, God of War, Spider-Man, Detroit and new games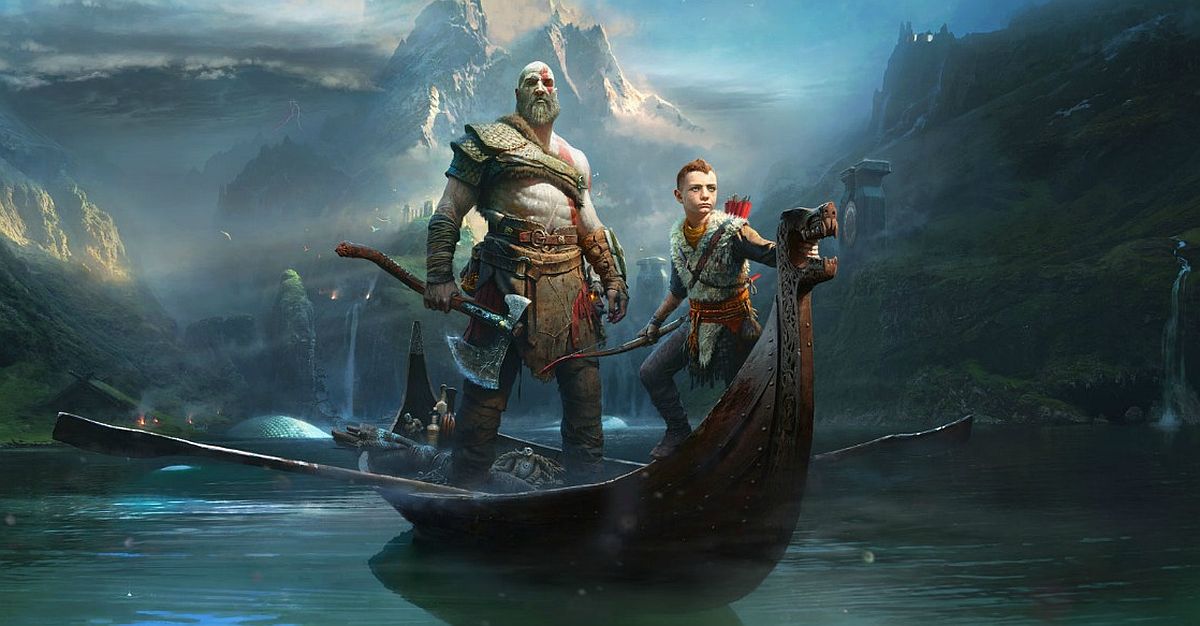 The PlayStation Paris Games Week press conference is turning out to be a fair bit more important than people first thought. Brace for impact...
The big question this week is: has Sony got enough to dent Xbox One X launch week? With their rival launching a new console, PlayStation will need some big, heavy-hitters to hit back - and that's what they hope to have shown at the Paris Games Week 217 PlayStation conference, with rumors indicating major announcements were shifted from PlayStation Experience in December to this event.
That's a YouTube embed, but you can also catch the conference on Twitch. If you want to hang out during the conference, we've got a VG247 discord server perfect for just that.
People are expecting the return of some of the bigger titles that were shown at E3 this year, as well as a handful of new releases and a surprise or two. Sony are promising seven new game announcements and updates for 21 other titles.
The pre-show begins at 4pm local time - that's 3pm UK, 11am ET and 8am PT, with the main show kicking off an hour later at 5pm Euro, 4pm UK, 12 noon ET and 9am PT. There will be some announcments in the pre-show too, so don't be late.
PlayStation Paris Games Week Conference: Pre-Show Announcements
The pre-show kicked off a little under an hour before the main conference and featured the lovely folks from Sony's official PlayStation Access YouTube channel. This was a lot of stuff we knew about already, but there were some smaller announcements
The pre-show kicked off with the announcement of Guacamelee 2, a sequel to the much-loved indie game. It's set to arrive 'soonish' - but that's all the developer offered on the game's release date. Gameplay was shown during the pre-show, however.
A world exclusive is up next - The Hong Kong Massacre. Coming to PS4 in 2018, it looks like a completely bad-ass top-down shooting action with a Hong Kong action movie vibe. Think Hotline Miami meets John Woo.
Next up was a completely different vibe with The Gardens Between - what looks to be a lovely adventure-puzzle game with a sort of pastel-like art style and the ability to reverse or forward the flow of time to help solve puzzles. It sort of recalls Braid in that sense, but seems to have a flavor all of its own. This is coming in late 2018.
Next up, a release date - LocoRoco 2 is coming to PS4 on December 9, running in 4K on PS4 Pro. We knew about the game before now, but the release date is new for this gorgeous cult hit.
A bit of news on The Sims 4 for PS4: four expansions are coming with the game - all the free updates from PC version. Future PC updates will also come to console. The console version is out on November 17.
Next up, Tennis World Tour, coming to PS4 in 2018. Here's hoping that this manages to bring back those awesome Top Spin and Virtua Tennis vibes - and some Top Spin developers are working on the game! It'll land in the Spring.
A new PlayStation VR game from Disruptive Games - Megalith. A lovely art style set against a trailer that suggests an epic storyline where the player battles giant beasts and is one themselves. It's actually a shooter with destructible environments. It has a 2018 date.
From Tribetoy, Bow to Blood! Airships, space battles, shooting both from a regular gun and on a ship-to-ship level, again with a neat, vibrant art style. It's set inside a reality TV show, and the game is procedurally generated so it'll be different every time. Airships! Bring back Skies of Arcadia please. Oh, and this one is 2018 once more.
UltraWings VR is the sort of VR pilotiwings experience you always wanted, with loads of airborne vehicles to pilot in a variety of challenges. UltraWings has been out for a while - it began life as an Android game - but this is new for PSVR and is coming 'soon'.
Free running platformer Sprint Vector is looking completely and utterly bonkers on PS VR and honestly I'm not quite sure how anyone can play it without getting ill but I'm really keen to find out - it looks mental.
A release date update on Moss, the PS VR game announced at E3. It's now got a release date, Feburary 2018. It's an interesting fit for VR - a third person dungeon crawler that in some ways looks a little Zelda-like.
A new trailer for Star Child, which continues to look bloody lovely with some absolutely stunning art. No date as of yet.
Some new stuff on Resident Evil 7 for VR. There's new, free DLC coming out. The DLC stars Chris Redfield, bringing a bit of classic Resident Evil back into the mix. It's fully playable in VR, and a new trailer was shown. It looks like a proper action-packed Resi 4/5/6 experience - but in first person! The Gold Edition of the game is also coming, including all of the DLC so far. December 12 - mark your calendars.
Keeping up with the horror, there's two PS VR games coming in time for Haloween: Dead Hungry, a game where you serve zombies from a food cart that looks a little like a nuts Job Simulator style thing and Stifled, a sound-based thriller in the pitch black with a very unique art style. They're both out tomorrow, October 31.
League of War: VR Arena is an interesting take on the real time strategy (and to a point tower defense), with you in VR as a general overlooking a war map and issuing orders with the PS Move controllers.
In the world of Final Fantasy 15, Monster of the Deep is a stand-alone FF15 universe game for PlayStation VR. It lets you fish, but it also lets you hang out with the FF15 crew in VR, if you've ever wanted to get close to them. This has been announced before, but there's new footage and details on the spin-off.
Final Fantasy 15 Episode Ignis finally has a release date: December 13. There's a new trailer to go along with this news. The DLC features driving a speedboat, a grappling hook, and unique combat for posh bespectacled Ignis. Like the other DLC, it takes place during a gap in the events of FF15 proper.
A new PSVR rhythm game featuring world-famous DJ Avicii - Invector. It was announced years ago at Paris Games Week, but is now confirmed for PS4. It looks a little like Thumper, Frequency, Amplitude and so on - which is bloody good news.
Another new announcement, and it looks gorgeous. Kids turning into dragons and flying over the clouds, yet another really striking art style and quite possibly some Journey vibes, albeit more action-packed. Oure is the game - and it's out on PS4 today.
One final new game to close out the pre-show - and it's Spelunky 2! Not munch information on this one just yet, but it's definitely coming to PS4.
PlayStation Paris Games Week Conference: Main Show Announcements
First up... a game about Samurai - Ghost of Tsushima. Super-realistic visuals, and a very dramatic trailer indeed. This looks absolutely amazing, make no mistake. It's coming from Sucker Punch, best known for Infamous. GOOD START. No date as yet.
Jim Ryan on stage - bigging up Sucker Punch, Ninja Theory, Toby Fox, and Guerrilla Games. Plus promises to continue with VR, as if the massive amount of indie VR games in the pre-show didn't make that clear enough...! There's 225 games with graphical enhancements on PS4 Pro and over 100 games compatible with PS VR. He's also talking about PlayLink and other initiatives to reach more casual players with the PlayStation brand.
Next on stage is Concrete Genie - out in 2018. A kid drawing in a sketchbook and lovely full 3D environments in what looks to be real time footage. You can use a magic paintbrush of sorts to paint the environment and seemingly bring life to the world around you, using living paintings to solve puzzles and platform.
PlayLink is next, with Sony's London Studio put to work on these new accessible experiences. Erica is a new FMV game featuring chocies and presumably a branching story. The trailer mostly seemed to feature binary two-way choices. If you think a live action Heavy Rain without the uncanny stuff, you're probably on the right track.
A little PlayStation VR sizzle reel: Ace Combat 7, Resident Evil 7, Rec Room (missed the lucky sevens, damn), Moss, Apex Construct, Bow to Blood, League of War, Stifled, Sprint Vector, Smash Hit Plunder, Star Child, Transference, UltraWings VR, Dead Hungry, Eden Tomorrow, Final Fantasy XV: Monster of the Deep... basically, I hope you like VR, 'cos there's an awful lot of it coming.
On the topic of PSVR, here's a new game from Sony London Studios. Blood and Truth. Set in London, of course. Shooting. Sneaking around, and a plot that sounds a little like a cocky 24. Look, it actually looks quite good, if a bit mad and silly.
Jim's back - he's promising six games now that have PlayStation-exclusive features. They are:
First up, Far Cry 5, which continues to look mad and magnificent. It's out on February 27 if you'd forgotten.
Destiny 2 now. The story continues, and there's a new story trailer for this big new update drop for the game. Evil machines, etcetera etcetera. Head to Mercury in Curse of Osiris - expansion 1, out December 5.
From Capcom, here's Monster Hunter World which looks chuffing brilliant. Lots of monsters eating each other, and the debut in this trailer of some new areas of the game. MH World is out in January... and exclusively on PlayStation you can play as Aloy from Horizon: Zero Dawn. There'll be a PlayStation exclusive beta on December 9, too.
Call of Duty: WW2 is up next, and Sony are continuing on with the exclusive deal they nabbed away from Xbox a few years ago. There's also a bonus map for season pass buyers, and DLC 1, The Resistance, will launch first on PS4.
From Codemasters comes the colorful OnRush, an all-new game. It's a truly mad looking racer that is entirely arcadey and we are all for some of that. Lovely!
Star Wars: Battlefront 2 from EA, of course - a major exclusivity deal bet for Sony. This is a great trailer with a very cool version of the Force Theme playing in it. It's out very soon - a few weeks!
Here's yer boy Jim once again. He's thanking his partners, kissing the partnership ring, all that, but then he's on to talk about first party stuff while mic feedback whirrs away and slowly deafens me. It also appears to be upsetting the dog, for the record.
From Insomniac Games is Spider-Man, of course, and this is a cinematic trailer for the game. Osborn is looking to get elected, which is almost certainly bad news, and Spidey Senses are tingling to boot. Still no firm date - just 2018 for now.
Another familiar game, there's a new trailer for Detroit: Become Human from QuanticDream. A robot lady is being given household chores to do and children to look after. Drama and very emotive video game faces... as you'd expect. Spring 2018 remains the date.
It's God of War time! Beard Kratos in action. The close-in camera and the more heavy combat looks like it does wonders for the game, and this footage has some little glimpses of the young lad actually helping out in combat. It's still coming in 2018.
Oh the Horizon: Zero Dawn front we've got new snowbound The Frozen Wilds DLC, complete with all-new robot beats to encounter and slay.
Now, some footage of the Shadow of the Colossus remake. There's not much to say about this - it's Shadow of the Colossus, and it looks how your brain would like to remember it looking, up to date with modern visuals. The new trailer is quite nice indeed.
Jim Ryan's back to close the show with the first in-depth look at what he calls a very anticipated title... and yes, it's The Last of Us Part 2. It's a tense teaser that's all cutscene, including lynchings and stabbings and all that stuff. Visually it looks absolutely astonishing - looking forward to seeing gameplay proper.
And that's our show! Much better than E3, I reckon. What do you think?