PlayerUnknown's Battlegrounds player wins a game without killing anyone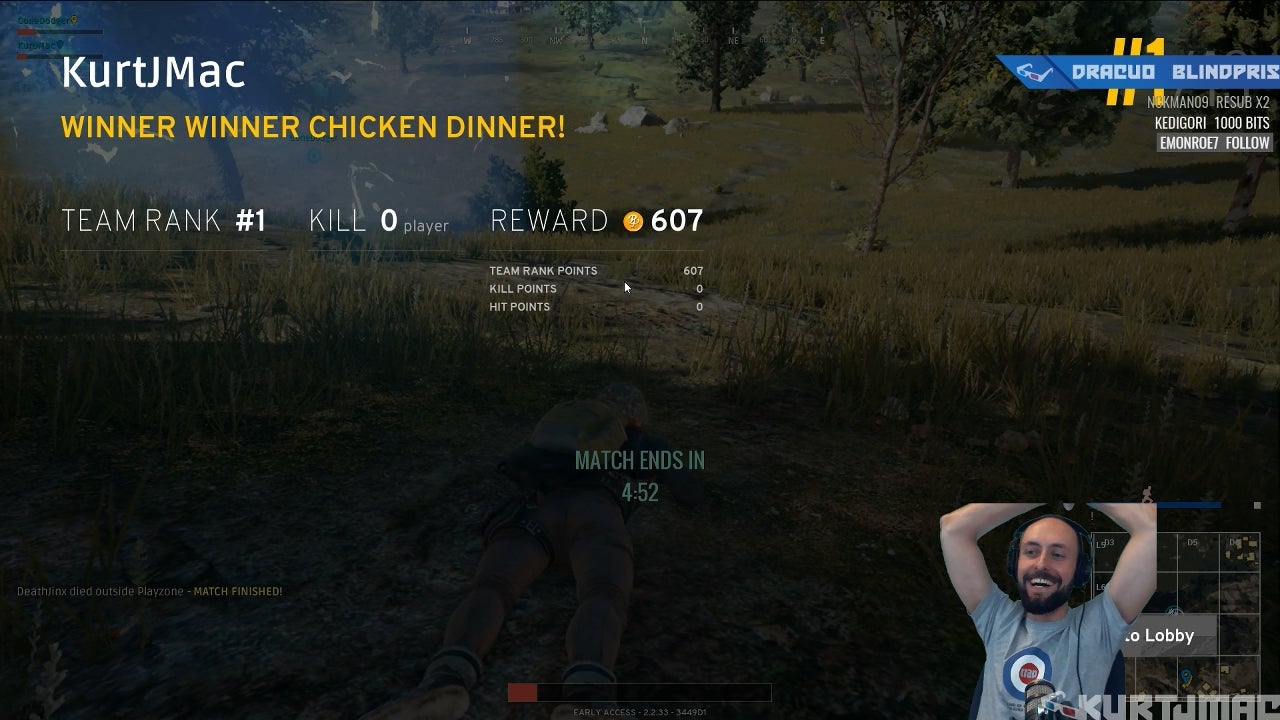 Pacifism is officially one way you could win a Battlegrounds game.
There are generally two ways you could about the match in PlayerUnknown's Battlegrounds. You can be aggressive, always on the move, constantly looting. Or, you can get to a point close to the centre of the circle and camp there waiting for everybody to finish each other off. A mix of the two is also possible.
We now know it's possible to take the second option to the extreme, and win. Twitch streamer Kurtjmac played a game of Duos with a friend, and managed to reach the final circle and eventually earn the tasty chicken dinner without attacking a single player.
The pair's plan was to completely avoid action. They were spotted a couple of times, and were even fired upon, but they always managed to either drive away or effectively hide in tall grass. The last couple of circles were the most interesting.
As the player count got below ten, things started getting hectic. The end, however, particularly considering it was the streamer and his buddy against one person, is really impressive. Their whole plan would have failed if the enemy had spotted and shot them both, since someone has to shoot, they would have died for sure.
But, somehow, it all worked out and the last player died outside the circle. The streamer and his friend had a tiny amount of health left, so it could've easily been them losing.
A full archive of the round can be found in the video above via YouTuber Far Lands or Bust!, but if you're looking for the just final seconds before the win, take a look at the clip below.
One of the amazing things about PlayerUnkown's Battlegrounds is that it's constantly capable of producing these emergent moments. Although being a pacifist will reduce your chances of survival drastically, it's great to know, with a bit of luck, you can pull it off.