PlayerUnknown's Battlegrounds dev and Microsoft announce some sort of deal, nobody understands what in the hell it means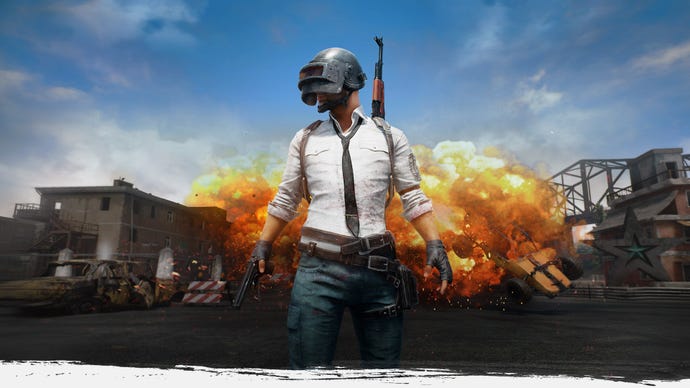 PlayerUnknown's Battlegrounds has a Microsoft publishing deal, but may or may not be an exclusive. Or something. What?
PlayerUnknown's Battlegrounds is the absolute hottest game around right now, and securing it as a console exclusive would be a major coup for Microsoft. Has it actually done that, though? Nobody's saying.
According to PlayerUnknown's Battlegrounds executive producer Chang Han Kim, developer Bluehole decided on "on extending [its] partnership with Microsoft", having discovered that it shares a "vision" with Microsoft.
"I'm happy to announce it now includes Microsoft as the publisher for our PUBG on Xbox One," Kim wrote for Xbox Newswire.
"By partnering with Microsoft, our team believes that we will be able to accelerate console development, while maintaining quality across all platforms, as well as giving us access to vast sales, marketing and publishing resources that will help us reach new fans to welcome to the PlayerUnknown's Battlegrounds universe."
So Microsoft is publishing PlayerUnknown's Battlegrounds on Xbox One. Does that mean it will never come to PS4? Is PlayerUnknown's Battlegrounds an Xbox console exclusive?
These are simple questions, but nobody's giving a simple answer. Just look at this exchange Alex screengrabbed:
Good to see the PUBG exclusivity situation is nice and clear pic.twitter.com/tjUM6GiiyG

— Alex Donaldson (@APZonerunner) August 20, 2017
It's all highly reminiscent of Microsoft acting as the publisher for Rise of the Tomb Raider on Xbox One. Remember that? Square Enix got a wad of cash to get the game out the door, and then a year later, a much better version came out on PS4. Makes you think, doesn't it.
In any case, this is good news for Xbox fans as it means the Xbox One build of PlayerUnknown's Battlegrounds will be finished faster and may be supported more robustly.
That extra love for a console build will pay off for PS4 players in the end, too, even if they have to wait a year for it. Don't worry, cats; release season is on the way and we might get away with talking about literally anything else at last.