PES 2015 gets first gameplay details for PS4 and Xbox One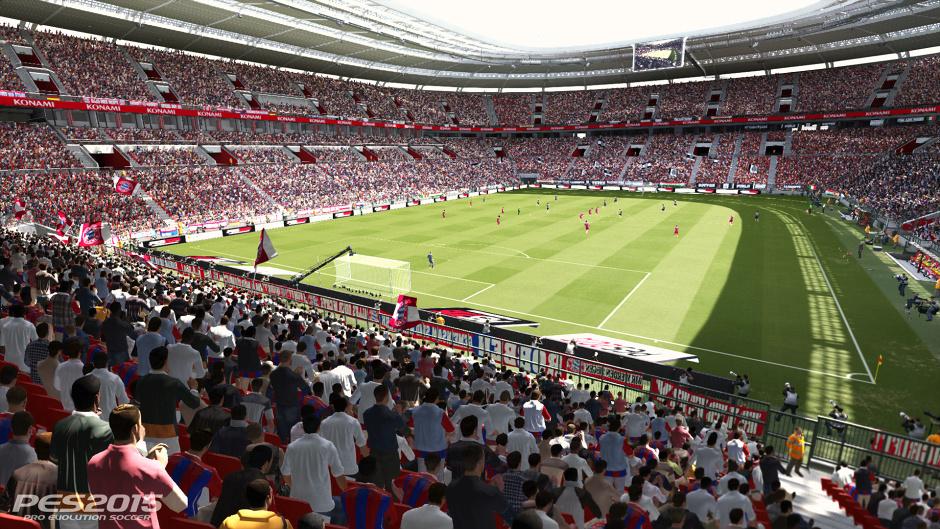 PES 2015 publisher Konami has sent us a long list of new gameplay and feature details arriving this year on PS4 and Xbox One.
It follows the first batch of new PES 2015 FOX Engine screens. Check them out to see how far the visuals have come.
In a press release sent to VG247 today, Konami stressed that it looks to elevate on-field realism to new levels, and recreate the drama of hard-fought matches, all wrapped around the team's mantra, "The Pitch is Ours…"
"Positioning is vital, but the ability to dribble into space and beat your marker is now hugely improved and opens up PES 2015 as the definitive on-field experience."
PES 2015 is a joint production, pulling in work from Konami's Tokyo and Windsor-based PES Productions teams to capture the essence of the series classic gameplay and rework many key elements. One of the big revised changes is a new shooting system that Konami says will allow for, "a variety of unrestricted shooting styles with precise control over the direction and power of all strikes."
"Passing options available to players when delivering a final pass have been expanded," the team goes on, "allowing for little knock-ons or searing low passes that use new physics routines to ensure the ball behaves realistically across every situation, providing unique and differing outcomes decided by user actions.
"The final key element that has been totally reworked centres around the degree of close control on offer. Positioning is vital, but the ability to dribble into space and beat your marker is now hugely improved and opens up PES 2015 as the definitive on-field experience."
Shooting aside, PES 2015's new control scheme will allow for "lightning fast" reaction times, backed up by your teammate AI, which will see players intuitively seeking space or opportunities on the field, even when off-screen. Dribbling now takes precedent over trick shots, and new skills will include, "jinking runs, responsive sprints and incorporating a much wider range of pace - from walking to sprinting."
The use of the Kojima Production-developed FOX Engine has also allowed Konami space to make players appear more like their real-life counterparts, with over 1000 players recreated in PES 2015. They each have bespoke animations and play styles that affect matches. the animations that link manoeuvres are now said to be seamless.
Crowd animations have also been improved, along with context-sensitive crowd effects, sounds and movement. Lighting effects will be used throughout the entire stadium, and these will change depending on the time of day, and whether or not the floodlights are on.
PES ID is making a comeback once more, and Konami explained, "Teams will be set up to play as they do in real-life, while their star players will work within this framework, but will be instantly recognisable via their runs and playing styles. The world's greatest teams will not only move and find space like they would in real life, they will also defend or attack like them automatically."
Teams will also adopt strategies employed by their real-life counterparts, while PES ID will enhance individual players using a system that, "focuses on their abilities as a player and not their flicks and tricks. Beating a man using pace and close control is key to attacking play, and only those that can will get away with rainbow flicks. And, even then, not every time."
There's even more, with additions being made to Master League Online that see players and managers added using GP earned in-game or using microtransactions. "Agents now used to meet player requirement criteria, while unhappy players can upset the balance of a side to detrimental effect. Extends to offline play," Konami adds.
Live weekly updates will see data regularly downloaded to adjust transfers and team line-ups across the English, French, Italian, Spanish and Brazilian leagues. Individual player data will be altered based on their weekly performance, so if a person has scored a lot, their stats will raise accordingly in online modes and optionally in single-player.
Lastly in Master League, Konami added, "Does your opponent prefer to play a passing game? Then tell the groundsman not to cut the grass so short. Or have it watered to speed up your team's passing play. You can tailor any part of your stadia to suit your bespoke needs."
Phew. That's a lot of football right there. Konami closed by saying that It will share more down the line regarding PES 2015's presentation, the way ball physics change depending on the weather, new leagues, player and statium edit modes, anti-cheat and more
What do you think so far?