Pagan Online borrows from the greats, but doesn't quite make a case for itself

Pagan Online's mishmash of design ideas doesn't prevent it from struggling to belong on PC.
Pagan Online is Wargaming's first foray into the ever-evolving action-RPG genre. The game brings together ideas from plenty of other games, chiefly Diablo, but it's not quite the Diablo clone you often see - or expect.
The first thing I noticed is that movement is bound to WASD, not mouse clicks. This makes it feel a bit more clunky than it needs to be, but I imagine it's going to make a lot more sense for ranged characters. Pagan Online offers a decent selection of classes, but you'll be stuck with your first choice for a long time to come. The rest are obtained through a fair bit of grinding later on.
It felt strange to start things off worrying about my first choice rather than looking forward to trying the rest. Pagan does show fairly detailed videos for each of their attacks to help you judge their intended play styles, but that's not a good enough reason to lock players out of experimentation at that early stage.
Regardless, I went on and picked the class I always start with anytime I get my hands on an ARPG: the close-range, melee-focused warrior-type. The particular class I had in mind doesn't quite exist in Pagan, so I picked Kingewitch the Juggernaut, the closest to what I wanted.
The Juggernaut wields a two-handed axe, and though you'll inevitably gain access to seven abilities, the game starts you off with just three. With two attacks and a movement ability, you're given plenty of room to understand the basics of gameplay as well your own class' limitations. The rest will be unlocked as you level up, but you're going to need some crafting materials for upgrades.
Mission structure in Pagan has a lot in common with Warframe, of all things. Missions are self-contained instances that are generated on the spot. Score and other data are uploaded at the end, which eliminates latency problems seen in games where servers have to handle every action. This is one of Pagan's smartest decisions, especially because it doesn't limit access to your inventory mid-mission. This does, unfortunately, result in some wonky server performance when you do have to hit a server.
In the hub world, for instance, every single transaction you make at shops has to be logged and confirmed by a server. The act of selling a few trinkets for gold may take you over two minutes if you have a full stash. It was certainly jarring when compared to the game's immediate combat.
But none of that matters if the action and loot components are solid, which in Pagan, were surprisingly hard to judge.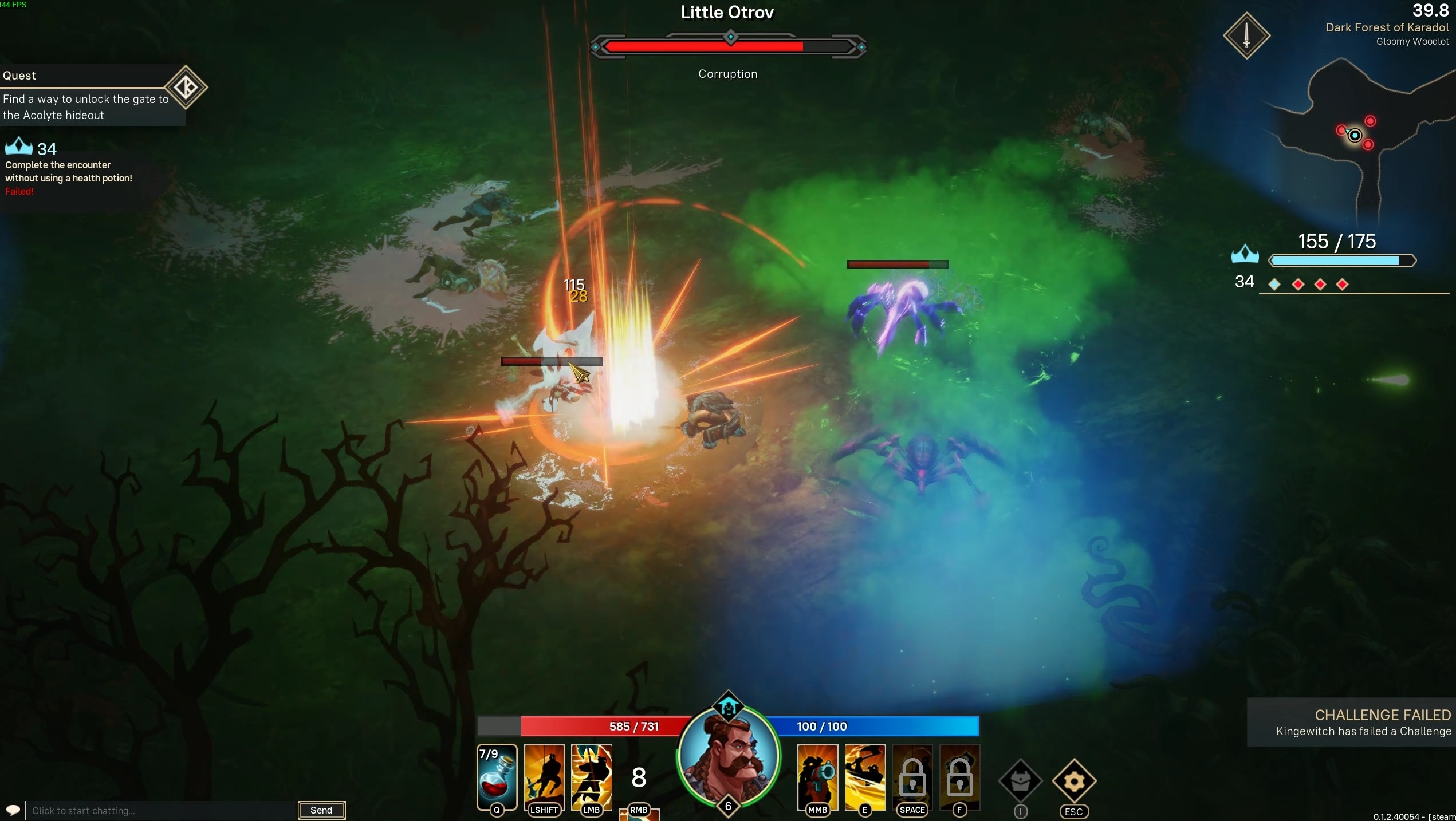 Combat feels impactful enough, but it doesn't quite inspire. The different Attacks and their effects feel like they're operating on a budget, like the game is trying to keep things from going too crazy. Maybe that's a performance optimisation problem, but it makes the action feel muted - like you're watching over someone's shoulder.
The game seems overly structured to serve repeated loot runs, where gathering loot is going to occupy the lion's share of your attention. Most ARPGs typically pay a lot more attention to designing intricate, complex, sprawling, or even aesthetically interesting worlds for players to explore. The great ones even add some interactivity in their worlds to prevent repeated runs from becoming static.
Pagan seems to view that as fat, which it decides to trim. What you end up with are missions that last 10 minutes at most, with layouts clearly generated by an algorithm. There's only really one or two different paths for you to take within each one, and the game is more than happy to constantly remind you of the right way with a comically large direction indicator.
There's nothing big or interesting enough to catch your eye and knock you off course. Maps feel like they're made to spec, to get you straight to the point as efficiently as possible.
Encounters within the various missions wall off the arena until all spawned enemies are defeated, which takes away from the feeling of discovery even further and makes it play like a gauntlet. Some of that is by design, sure, but Pagan makes little effort to get you to care enough about its world.
It was also hard for me to care about loot in Pagan when it felt like every mission is just an elaborate loot box. And look, I get that this is what everything in video games ever is, but games usually try to hide it.
More than that, I came across more crafting materials than I have ever seen in a game of this kind. So many, in fact, the game splits them into four categories. There's a bigger emphasis on material hunt in Pagan than I am used to, and it's more evident by your daily login rewards, and a cardpack-style system that all drop crafting mats.
Crafting is the name of the game here, because most of your good loot will instead spawn from recipes, which, like materials, are found as you play. There's a nice sensation when you put something together in the forge, but nothing ever beats defeating an enemy and immediately sifting through a pile of loot.
Pagan just launched into Steam Early Access, so some of these shortcomings may simply be a symptom of a lack of content, but I worry the issues with it are deeper.
The game is priced $30, but it has some free-to-play-like designs. The unlock requirements for the classes I mentioned earlier are steep. Not only that, they each have a unique currency. And, since you have no control over what you find as loot, you're going to inevitably end up with a few shards in each pool without having made any real progress.
Shard drops are more frequent in assassination missions, but even those require keys - yet another currency. Excess shards can be used to buy gear, which sadly means – much like Anthem – armour isn't part of the loot pool. You'll have to really, really grind those missions if you want to change your getup.
ARPGs live and die by their loot diversity, so taking gear out of the equation seriously hinders the sensation that accompanies finding loot. If I can't show off my adventures with a new hat; what's the point?
The cynic in me sees all that as a sign the game is in development for mobile. I don't particularly have something against phone games, but these limitations may inherently be there so the game could conceivably run on phones, if and when that happens. There's a certain appeal to having an ARPG you can play on your PC, console, and pick up on the go, but it wasn't what I went in looking for.
Having quick, brief missions designed to be replayed over and over for loot may well work just fine in a phone game you're meant to be playing on the bus, but it doesn't quite make a case for itself in a fully-fledged PC experience.