Overwatch's Hanzo and WoW's Alexstrasza coming to Heroes of the Storm, game improvements outlined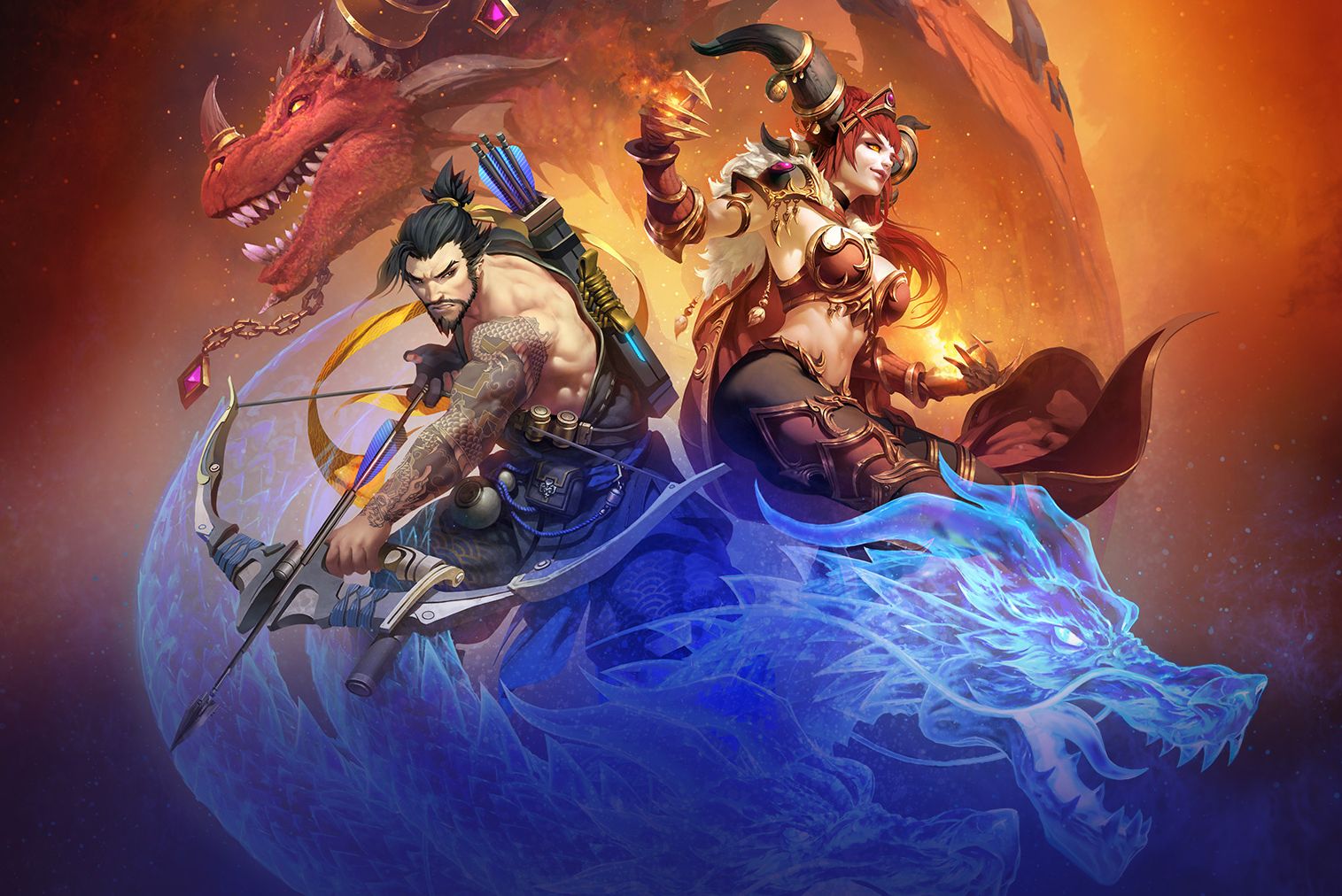 Overwatch's Hanzo has been announced as a new Heroes of the Storm character.
Along with Hanzo, World of Warcraft's Alexstrasza was also announced as a new hero during the BlizzCon 2017 opening ceremony today.
Hanzo will be a ranged assassin scout, and Alexstrasza will be ranged support and can transform into her dragon Aspect.
A new cinematic showing off Alexstraza and Hanzo was shown during the BlizzCon 2017 opening ceremony. It's below, as you can see.
As an Assassin, Hanzo will deal bursts of high damage. Assassins specialize in either single-target or multi-target abilities and prefer hit-and-run tactics. Timed attacks and finding the perfect moment to engage or flee are other elements practices by the class. Hanzo has high damage output, mid-level utility and complexity, and somewhat low survivability.
Here's more on Hanzo's standard traits and abilities. He will also be able to sport a Farstrider skin, which are an elite group of blood elf rangers in World of Warcraft.
Heroic Abilities
Dragonstrike: After 1.5 seconds, summon a pair of Spirit Dragons which travel forward, dealing 52 damage every 0.25 seconds to enemy Heroes in its area. Enemies in the center take 150% damage.
Dragon Arrow: Fire a missile that travels across the battleground. Explodes upon hitting an enemy Hero, dealing 100 damage to all nearby enemies and Stunning them for 0.5 seconds. After traveling a medium distance, the damage is increased to 200 and the Stun duration to 1.25 seconds. After traveling a long distance, the damage is increased to 350 and the Stun duration to 2 seconds.
Primary Abilities
Storm Bow: Activate to charge an arrow that deals 270 damage to the first enemy hit. Storm Bow's range increases the longer it is Channeled. Reactivate to fire.
Scatter Arrow: Fire an arrow that deals 85 to the first enemy Hero hit. Scatter Arrow can collide with terrain and Structures, splitting into 5 arrows that travel extra distance, ricochet up to 4 additional times, and deal 85 damage each to the first enemy hit.
Sonic Arrow: Fire an arrow that grants vision in a large area for 8 seconds. Enemies inside are revealed for 1 second. If Sonic Arrow lands directly on an enemy, it deals 150 damage to them and follows them as they move.
Hero Trait
Natural Agility: Target unpathable terrain or a Structure to jump to the other side of it.
Alexstrasza will also be a ranged hero, but she is a Support class. This means she can perform powerful healing and buffs to the field, as well AoE effects to control the area or perform emery disruption with roots and stuns.
Here's more on Alexstrasza's standard traits and abilities. She will also be able to wear her Dragon Aspect skin and a pvc catsuit of sorts called Dark Queen.
Heroic Abilities
Life-Binder: Bind Alexstrasa's life force with an allied Hero. After 2 seconds, the Hero with a lower percentage of Health is set to the same Health percentage as the other Hero.
Cleansing Flame: After 1.25 seconds, take to the sky and drop 5 fireballs over 6 seconds at the position of the mouse cursor. Fireballs deal 150 damage to enemies and heal allied Heroes for 300 Health. 2 seconds after dropping all fireballs, Alexstrasza lands at the position of the mouse cursor.
Primary Abilities
Gift of Life: Sacrifice 15% of Alexstrasza's current Health, healing an ally for 150% of that amount. Dragonqueen: Breath of Life Cooldown greatly reduced and does not cost Health.
Abundance: Plant a seed of healing that blooms after 3 seconds, healing nearby allied Heroes for 20% of their maximum Health. Dragonqueen: Preservation Heal area and amount greatly increased.
Flame Buffet: Launch a fireball, Burning enemies hit for 75 damage over 5.5 seconds. Hitting enemies that are already Burning deals 125 bonus damage upon impact, Slows them by 40% decaying over 2 seconds, and refunds the Mana cost. Dragonqueen: Wing Buffet Damage and Knockback enemies in an arc.
Hero Trait
Dragon Queen: After 1.25 seconds, transform into a dragon and gain 500 Health. While Dragonqueen is active, Alexstrasza's Abilities are empowered, and her Basic Attacks deal 143 damage and heal allied Heroes for 43 in an arc in front of her. Additionally, the duration of incoming Stuns, Roots, Slows, and Blinds is reduced by 50%. Lasts 15 seconds.
Blizzard also announced next year players can expect an update which will contain performance-based matchmaking, voice chat, a new camera, better stealth and battleground mechanics, and more.
The new matchmaking system will help when it comes to being matched with the right player as it will keep track of performance, and tactics along with the currently tracked wins and losses. How it goes about it, is it will generate MMR ranking by analyzing playstyle and previous matches.
Heroes of the Storm players can expect the new matchmaking system to roll out sometime in December when the next ranked season kicks off.
Other gameplay features expected in 2018 include laning and 1v1 improvements. You can get a glimpse of some of these improvements in the features video.
Blizzard said the changes along with Hanzo and Alexstrasza will be available on the Nexus test servers in the coming weeks.