Overwatch: why I had to buy 50 loot boxes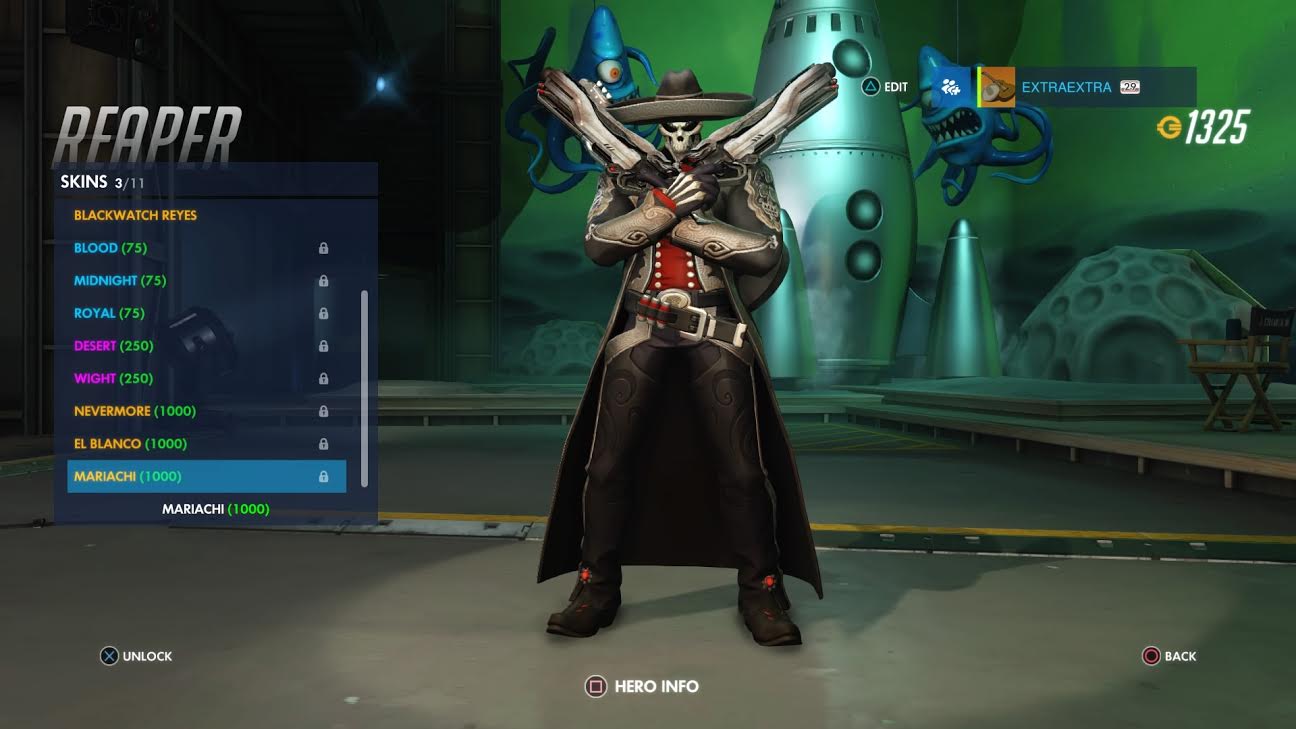 Got to have it.

Overwatch: why I had to buy 50 loot boxes
This guy in my team had a Mariachi skin for Reaper. It looked fucking awesome. I had to have it. I couldn't stand waiting. I spent £32.99 on 50 loot boxes. That's the short version.
Pat asked me to explain why I just blew real money on digital fluff – a minuscule corner of server space somewhere, I didn't care, that allows for costumes and catch-phrases in my personal version of Overwatch. It's likely because I'm a fool, I don't mind rushing to admit.
A fool with his money is easily parted. That's a convenient answer, and me caught in the act. However, I'd also like to throw in that it's fools that fall in love. Which is exactly what I did.
It's been one week and I already know Overwatch is my new go-to game. If you've played it and love it, I don't need to explain. If you've played it and hate it, you won't want me to explain. You probably want to know why I spent an additional 30-odd quid on it though.
I did it because I'm a fan. I love Overwatch, I think it's special. It makes me stupidly happy – it makes me laugh and shout and forget that I'm doing this at 4.30am when it's light outside. To me, this is the same as launching myself into a crowd at a gig to be all about the music of the band that I'm crazy for. On my way out, I'll search my sweaty trousers to see if I have at least one soggy tenner to throw at the merchandise stall. And the last thing that's going to happen there is another fan tapping me on the shoulder to point out that black t-shirts can be bought cheaper in packs from Asda. Also, don't I know that they're just ripping me off?
Fuck off.
I spend my precious disposable income on games and games-related stuff. If I'm going to treat myself, it's usually going on games. I have priorities in life, people that depend on me. But, when I can, I sink time and money into games. A lot of times I've done this and felt let down. When I spent £54.99 on Overwatch on PSN this felt risky and expensive, but I'm done with discs. I had the Collector's Edition on pre-order, cancelled because I hated the idea of more discs and haven't space for a statue. Shame about that Visual Source book though...
Somewhere in my mind, I guess, I felt Blizzard still deserved another chunk of cash from me. (Fan logic: The Collector's Edition is £99.99.) I'd had a few days to browse legendary skins, and was starting to adore Zenyatta, Hanzo and of course D.Va – their emotes are amazing. Well, I could wait until I levelled up to maybe have one of these drop for me. I could do that. Or, like Mariachi Reaper dude, pay Blizzard for a loot box bonanza.
Slept on it. Spent another day sweating about it. Thought, "Fuck it, I love it" then off to the PlayStation Store I happily browsed, on my phone on the bus to save time when I got home.
I'd been going through boxes before Pat asked me to list all the contents, but here's an overview of what I got for £32.99: Legendary Firefighter skin (Mei), Legendary Riverboat skin (McCree), Legendary Plague Doctor and Legendary Mariachi skins (Reaper), Legendary Explorer skin (Winston), Hanzo Epic 'Superior' Highlight Intro, D.Va Epic 'Heartbreaker' emote, Zarya Rare 'Check Out This Gun' victory pose, Legendary currency (500 credits) a few times, multiple Epic currency (150 credits), can't remember how many sprays for Mercy, Widowmaker, Junkrat and Zenyatta, lost count of voice lines, and 20 or so Player Icons.
I bought the Mariachi skin with all the credits, spent what was left on another Legendary skin for Symmetra – 'Goddess' which looks incredible – plus a great highlight intro for D.Va.
Am I satisfied? Yes! I'm playing Overwatch and laughing myself silly with friends in the lobby by blowing digital kisses with D.Va and growling in people's faces with my Mariachi Reaper. Drinks are on me, Blizzard. I love this.