Overwatch is selling a special Pink Mercy charity skin to support breast cancer research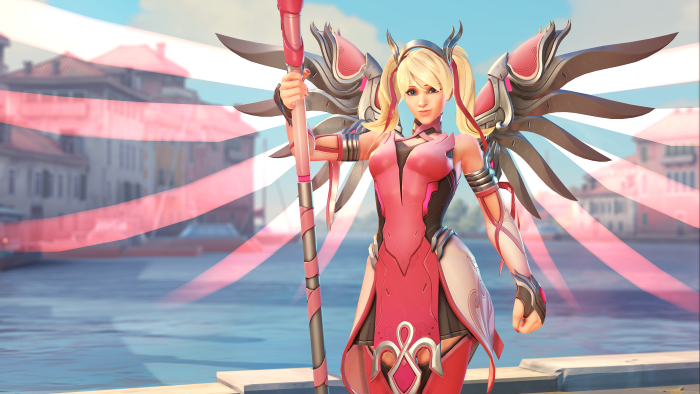 Blizzard is selling a super cute Mercy skin for Overwatch - and it's for a great cause.
Blizzard has partnered with the Breast Cancer Research Foundation (BCRF) to release a special charity skin for Overwatch: Pink Mercy.
The Pink Mercy skin is available for purchase now, in-game and online, through May 21. All sales of the $15 limited-time legendary skin will benefit BCRF.
That's not all: Blizzard is also selling a t-shirt featuring our winged hero in pink, and players can also earn special sprays and player icons.
Limited-edition Pink Mercy t-shirts are available for $30, and like the skin, all proceeds go to the charity. The shirt is available for pre-order now through May 21. Those in the US will get free shipping, and it should arrive before the end of Q3 2018 (got mine pre-ordered!)
Overwatch players who log in May 8 -21 will unlock a BCRF-themed player icon, and themed Twitch Drops, including a new player icon and four all-new sprays will also be available during this event. The special Pink Mercy cosmetics can be earned by viewing select streams on Twitch during the two-week promotional period.
To be eligible to receive Pink Mercy Twitch Drops you must first link your Blizzard account to your Twitch account. Visit the Twitch Connections page to log in and complete the link.
For the list of Twitch streamers along with channel and schedule, click on the link.
Finally, through May 21, there will be BCRF and Pink Mercy-themed global emotes available through Twitch.