Overwatch hero guide: Torbjorn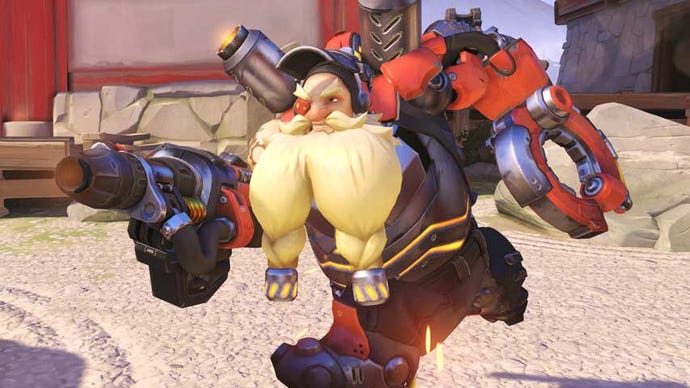 A great support hero, Torbjorn buffs heroes and builds lethal turrets.

Overwatch hero guide: Torbjorn
Role: Defense
Torbjorn is a fantastic support hero, dropping turrets and making armour for his team mates. Everyone loves Torbjorn, so protect him and make sure he's defending objectives at all times.
Strong against: Tracer, Genji, Lucio
Weak against: Junkrat, Widowmaker, Pharah
Torbjorn's abilities
Scrap Collector
This passive ability lets Torbjorn collect scrap as he goes, which he can then use to build armour and turrets.
Rivet Gun
The Rivet Gun is decent at long range, popping off rivets at enemies. At short range it can unleash a burst of molten metal.
Forge Hammer
This is used for building, upgrading and repairing turrets. It can be used as a melee weapon, but that's not really what it's designed for so don't expect it to do much damage.
Build Turret
This is the big one. Torbjorn builds turrets to be placed around the map, using a laser sight to target enemies. Upgrades include repairing the turret if it's taken damage, and adding a second barrel to double the damage.
Armor Pack
Torbjorn builds armour that he can wear or leave for other players to put on.
Molten Core
This ability allows Torbjorn to overheat and boost his armour, attacks and speed. His turrets deal more damage while this is active, so make the most of it as it lasts a whopping 12 seconds.
Torbjorn strategy tips
Use Torbjorn's turrets on the payload to create a mobile turret.
Upgrade turrets and keep them repaired to have a constant stream of auto-targeting damage dealers on the playing field.
Everyone loves the support that Torbjorn supplies. Protect him and let him go to work for all that extra damage.
Turrets can be upgraded twice once deployed, adding an extra barrel and eventually four rockets.
Back to Overwatch guide: best heroes, abilities and strategies for Blizzard's shooter