Overwatch hero guide: Roadhog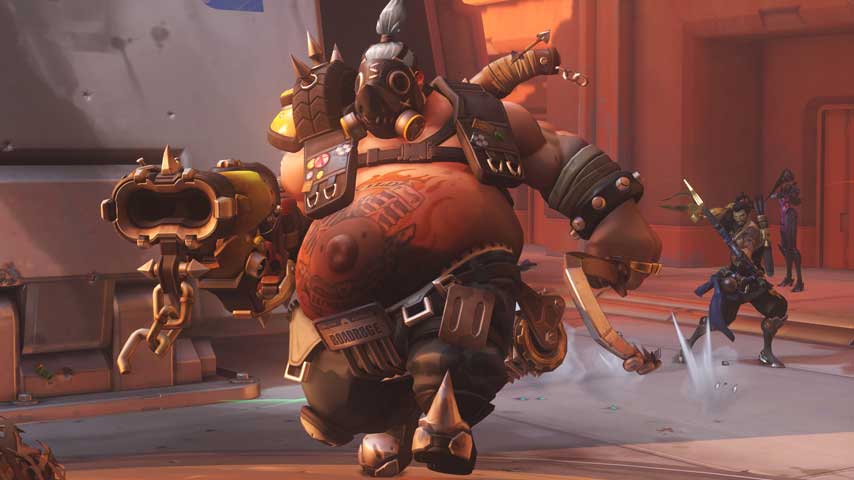 Roadhog is the bully in Overwatch. Pick on the weak and destroy them.

Overwatch hero guide: Roadhog
Role: Tank
Roadhog is a tough cookie and his play style is mean. He's primarily used for picking on weaker characters and finishing them off, and his large health means he can take a lot of damage while doing so.
Latest updates for Roadhog
This is an odd one, in a June patch, Roadhog's chain ability got an update where if an opponent were hooked and somehow left Roadhouse eye line, they would be returned to the position where they were originally hooked. His ultimate charge cost has also increased by nearly half, with a 45% jump in heat requirement.
Strong against: Pharah, Reinhardt, Tracer
Weak against: Reaper, Genji, D.Va
Roadhog's abilities
Scrap Gun
Scrap Gun has two attacks. The primary fire is a close-range shotgun. Secondary fire shoots a projectile forward which explodes and shoots out a cone of scrap metal. It takes some getting used to, but can be a very effective mid-range attack.
Chain Hook
Roadhog fires out a hook that grabs an enemy, stuns them, and brings them closer to him. Use this in conjunction with the Scrap Gun and melee and you'll rip into enemies.
Take A Breather
Roadhog stops what he's doing to heal himself. It can be interrupted, so only use when out of the line of fire.
Whole Hog
For six seconds Roadhog fires a cone of bullets at short range. It not only deals damage but pushes back enemies, meaning it can be used to separate groups or push them away from objectives.
Roadhog strategy tips
Roadhog's strength is in using Chain Hook to pull an enemy close, hitting them with the Scrap Gun and following up with a melee in quick succession. This will most likely kill a majority of weaker targets instantly.
Use Whole Hog to drive a wedge between groups, splitting the team if they're clustered together.
Scrap Gun's secondary fire can kill outright if you get the distance right. The explosive has to travel a certain distance before it spits out a cone of damage, but if you get that near someone's head you'll take them out of the equation for good.
Enemies are stunned by Chain Hook the moment it hits them. The closer the enemy, the longer they will remain stunned. Don't use it on a enemy too far away as they won't be stunned by the time you've pulled them close.
Back to Overwatch guide: best heroes, abilities and strategies for Blizzard's shooter