Overwatch hero guide: Genji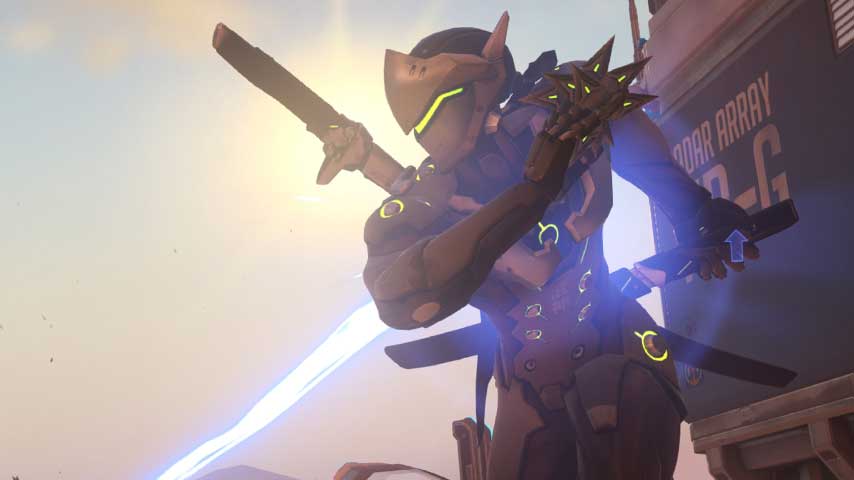 Genji has the most liberating movement of any hero in Overwatch, but be sure to use it correctly.

Overwatch hero guide: Genji
Role: Offense
The key to playing Genji is making the most of his movement. He's able to reach almost any point on any map, making him a great offensive hero to strike hard at enemies quickly.

Latest update for Genji
An August update eliminated the double jump reset that was granted after performing a wall run, and his Dash no longer deals damage to Junkrat's Steel Trap or Widowmaker's Venom Mine. Swift Strike now won't interrupt quick melee attacks and Genji's ultimate has received a 20% decrease in time, from 8 seconds down to 6.
Strong against: Bastion, Mercy, Torbjorn
Weak against: Symmetra, Zarya, Winston
Genji's abilities
Cyber Agility
This is a passive ability that lets Genji climb almost any vertical surface just by holding the jump button while next to the spot he wants to climb. He can also double jump by pressing the jump button a second time, and change the direction of his jump if needed.
Shuriken
Shuriken are Genji's main attack. The primary fire throws three shuriken in an accurate volley, while the secondary throws them in a cone away from his body.
Deflect
Another powerful ability, Genji adopts a defensive stance and deflects projectiles and attacks back at his opponent. Genji cannot be harmed by attacks from the front while this is active. Deflect lasts for two seconds.
Swift Strike
Genji dashes forwards at a fixed distance and causes damage to anyone in his path. Swift Strike resets if he kills an enemy, so use it to chain-attack between opponents.
Ultimate Ability: Dragonblade
When activated Genji draws his katana and melee attacks in front, disabling his shurikens. This close attack deals lots of damage and lasts for eight seconds.
Genji strategy tips
Use double-jumps, Swift Strike and Dragonblade to get in for the kill. But if either of those two abilities are on cooldown, hang back and use shurikens instead.
Deflect works on almost all the other heroes' attacks, so whatever they're sending at you, you can bounce it right back at them. It's incredibly powerful.
The only attacks Deflect doesn't work on are; Winston's Tesla Cannon, Symmetra's Photon Projector and Zarya's Particle Cannon.
Genji isn't any tougher when Dragonblade is active, so don't be lulled into thinking you're invulnerable just because you're dealing massive amounts of damage.
Back to Overwatch guide: best heroes, abilities and strategies for Blizzard's shooter