Overwatch - here's an in-game look at Sombra in action and more information on her abilities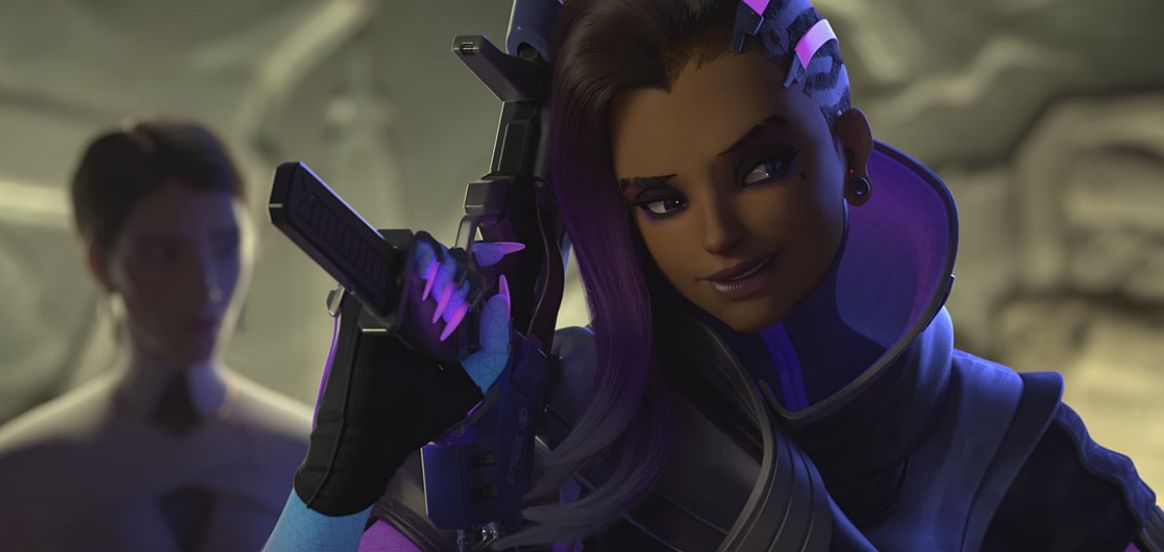 During BlizzCon 2017 yesterday, attendees were able to get their hands on Sombra.
One of those lucky individuals was Overwatch YouTuber Unit Lost. You can watch him try out the new character in the video above, and she looks like she will be a rather fun offensive character to play.
While you watch, you will notice her various abilities on display, which were posted yesterday. These are Hack, Thermoptic Camo, Translocator and EMP but she also has a passive skill called Opportunistic. This allows her to see enemies through a wall, providing their health is below 50%. Her health, by the way, 200 normal health.
There's more to her than having x-ray vision of sorts - she can also hack a health pack, which sounds pretty damn handy, as you will note below.
All of the information you are about to read comes courtesy of reddit user icominblob who pulled everything he could glean from the video and posted it on the Overwatch subreddit. Well done and hats off to you good sir. I'd buy you a beer if you lived nearby.
Using the Hack ability on a health pack, even multiple health packs, will recharge it at three times the regular speed. This is only for the duration of the hack, which is denoted by a purple skull above the pack which acts as a timer. The packs will stay hacked for one minute, but they can be hacked again just before the skull disappears. This will update the hack, but only if the timer is below 20%.
Sombra cannot hack a health pack during setup though, and she cannot hack one which an enemy Sombra has already hacked. Also, enemies can see which ones have been hacked along with the nifty skull timer ticking away above it.
Continuing on the subject of hacking, it should be noted the range of this ability is 9-10 meters and can take up to one second to activate. Should Sombra take damage, she will have to start the hack all over again. When hacking an enemy, Sombra will be able to see their health and ultimate status for 20-30 seconds. The ability cancel will last for six seconds, and the Hack ability has a 12 second cooldown.
While she is unable to hack shields or barriers, she can hack an enemy which has been nano-boosted. This won't stop the nano-boost, but the enemy player will not be able to use their abilities.
When using her Translocator ability, which has a six second cooldown, the translocator beacon will stay up for 15 seconds before dissipating. As stated yesterday, she cam instantly return to the beacon's location while it is active even when in mid-flight. Enemies cannot destroy the translocator beam and once it has been tossed, the player can still teleport to it should they be hacked by an enemy Sombra.
Using the translocator and healthpacks at the same time, according to icominblob, is a pretty nifty way to keep yourself safe when fighting enemies. What Sombra can do is place a translocator on a health pack, entry the fray and spray as many enemies as possible for the 15 seconds the beam is up. Then teleport back to the health pack when her health is in dire straits, heal up and start all over again. Sounds like a plan.
Sombra also packs around a Machine Pistol, which is a fully-automatic that fires in a short-range spread, and sports a magazine which can hold 60 rounds. Her spread will "max out very quickly," and will then stay the same for the duration of the spray.
When using Thermoptic Camo, Sombra can become invisible for a short period of time, during which her speed is boosted considerably. This ability also has a six second cooldown. Attacking, using offensive abilities, or taking damage will disable the camouflage. Should she need healing, Mercy can heal Sombra while invisible and only Mercy can see the healing beam. And turrets are unable to lock on to Sombra when using the camo, so run in front of them if you like. Only while invisible, of course.
Finally, let's get to Sombra's Ultimate Ability, EMP, which uses line of sight instead of straight up range. When deploying the ULT, she discharges electromagnetic energy in a wide radius, destroying enemy barriers, shields and hacking all opponents caught in the blast. This includes physical shields like Winston's but even innate Shields, like those which make up the majority of Zenyatta's health.
Of course, there will much more to learn about Sombra, and we expect a deluge of information on the new character once she hits the PTR next week.