Outriders Interview | "Shooters don't have to have a stupid story"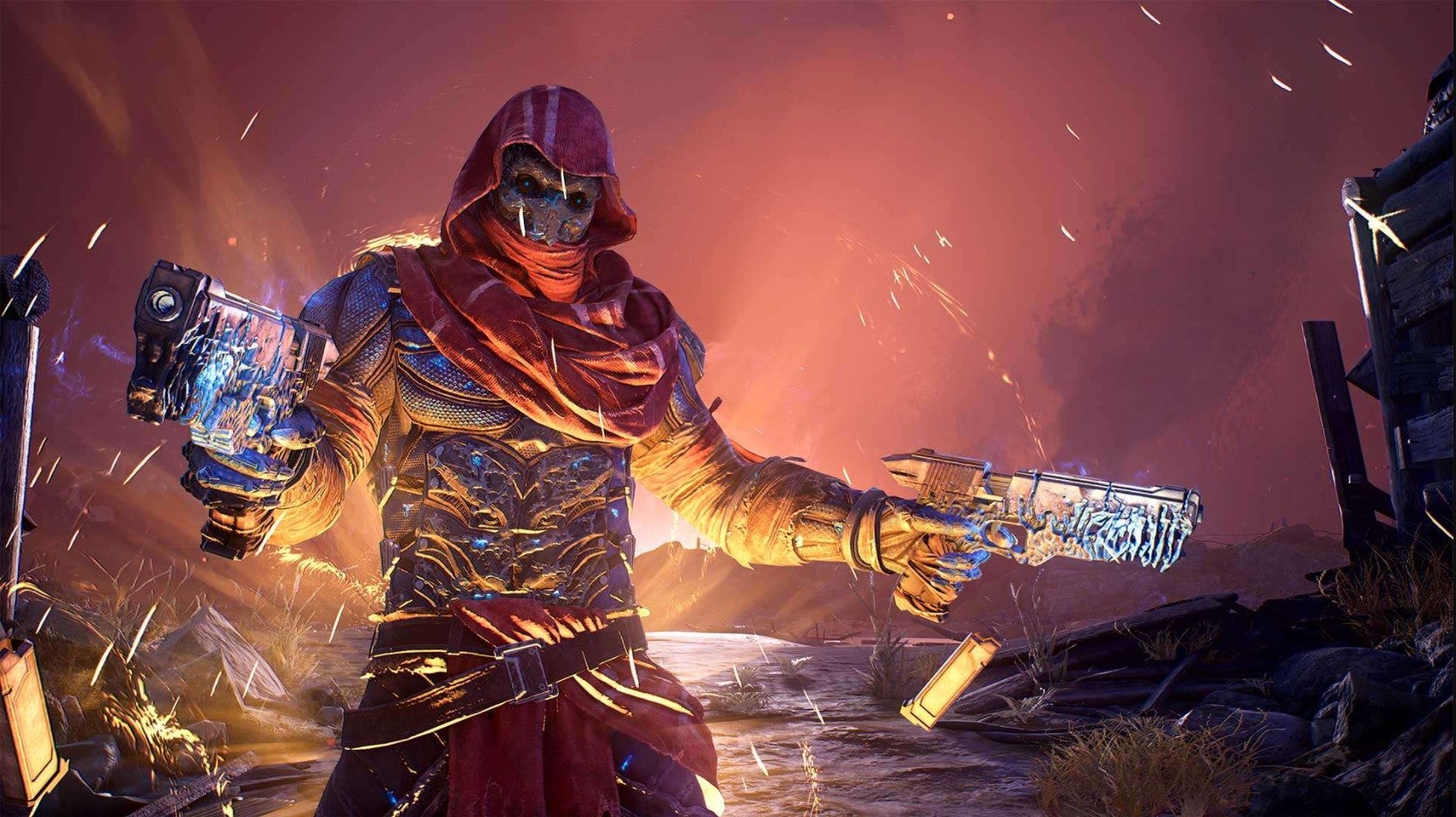 Communicating something new is difficult. And when you're trying to distance yourself from the trends of your contemporaries, it can be easy to fall into the trap of constantly telling people what you're not, instead of what makes you unique.
With Outriders, to try and show potential players how they're eschewing the microtransaction-laden tricks of newer titles in similar genres, People Can Fly is falling back on an older concept: a demo.
"We're quite confident in the game, we think it's awesome - so we don't have to hide it before launch." Bartosz Kmita, game director on Outriders, says.
"We know that it's for a specific audience and that not everyone will like it, but we think it's a great product - so why not release a demo and show people?
"It's the best way to experience and enjoy Outriders, so it's easier for us to communicate to the players what the game's about - what the systems are, what's unique about the game - by showing people about it rather than telling people about it."
Outriders follows an expedition of space-age explorers searching for a new home for humanity, a new golden world, away from an ecologically ravaged and dying Earth.
As early events unfold, your character is given destructive elemental powers by a mysterious force known as the Anomaly.
By chopping out the prologue and first chapter of Outriders, People Can Fly hopes to ground potential players in the game's story and hook them in with a taste of its gameplay and systems, before enticing them to continue the adventure by carrying on their save in the full game without having to replay the early missions.
And while the demo won't include Outrider's crafting system - which is central to character and equipment progression - People Can Fly still maintains that this slice is in keeping with its ethos of being as upfront as possible about the package you're playing.
As Outrider's April 1 release date draws ever closer, it's apparently now too close to make sweeping changes to a number of the game's key systems - so what you play in the demo should be representative of the full release.
"It's really a demo; not early access," Kmita jokes.
"The crafting system is introduced later after the demo, so it's out of the demo scope unfortunately," Piotr Nowakowski, lead designer at People Can Fly, adds.
"We wanted to present plenty of mechanics, and crafting is one of the most important ones also. But we needed to cut the scope somehow, at some point, to make the demo reasonable in size."
"There are aspects we can still adjust, let's say," he goes on to say about the studio's ability to respond to player feedback from the demo. "But there is of course no space for bigger changes in the content or how the game plays.
"From a balance point of view, we'll get a lot of data, and we'll be adjusting things based on that.
"The second thing is more about showing players how things work. If something is difficult to understand and not easy to catch, then we can help with presenting that.
"As for the scope and changing bigger things: it's too close to the release."
Outriders was originally slated to drop in 2020 around the launch of the Xbox Series X and PS5, but was pushed back to the new year before dropping again to the Spring.
A dedication to providing players with a full experience which did away with the perceived 'buy now, fix later' approach of some other big titles in the industry has always been a big part of People Can Fly's messaging around Outriders, and to rush the game out would have risked compromising that.
"There were plenty of things that without the delay, the game would not be finished." Kmita says.
"It would have been technically possible to launch the game and fix it with patches, but we thought, 'let's not do this'.
"We don't have the type of game that people will like - since we don't have the games as a service elements - when we can't change a lot of things in a patch.
"It wouldn't be fair for the players, so we decided to move everything, polish and finish everything.
"It's always unpleasant when someone is telling you something will be on one date, then it's moved. But on the other hand, we hope that people will forgive us because we're giving them a better product."
Alongside its difficulties in getting Outriders to where it wanted it to be in the midst of a global crisis, People Can Fly has struggled to dispel comparisons to similar looking, but differently focused games like Destiny 2 and Anthem.
The creative team behind Outriders feel that if more players are willing to give the game a try with a demo, they'll see that it's not necessarily the end-game-centric loot-grind it could be perceived as, but is meant to be played as a story-led RPG as well.
"If you're a player who likes to play adventure games or story-driven games: try it," Kmita says of the audience he imagines for Outriders.
"Not all shooters need to have a stupid story, where the story is more supporting the objective. We're really building a world here, and you'll like it - we think we have a cool story with cool characters.
"It's the same with other kinds of players, who play mostly for systems where they're rushing through story content to reach the end-game and find the best items.
"[I'd say] 'No, stop: this is the real thing'. This is a world you should care about, why you're doing this, why you want to find different guns to protect yourself. There's a reason for it all in the story and in the plot.
"We're trying to encourage people to look at the different aspects of games that they don't usually. That would be awesome, that would be the holy grail for us if we can match those two worlds together."
Outriders will be available on Xbox One and Series X/S, PS4, PS5, and PC via Steam, EGS and Stadia from April 1, but the free demo is out on Feb 25.
Although it's a co-op focused game, Outriders won't feature dedicated servers. However, People Can Fly has said it won't "abandon the game after the launch", despite not having live service elements.