Outriders Crafting | How upgrade and level up your gear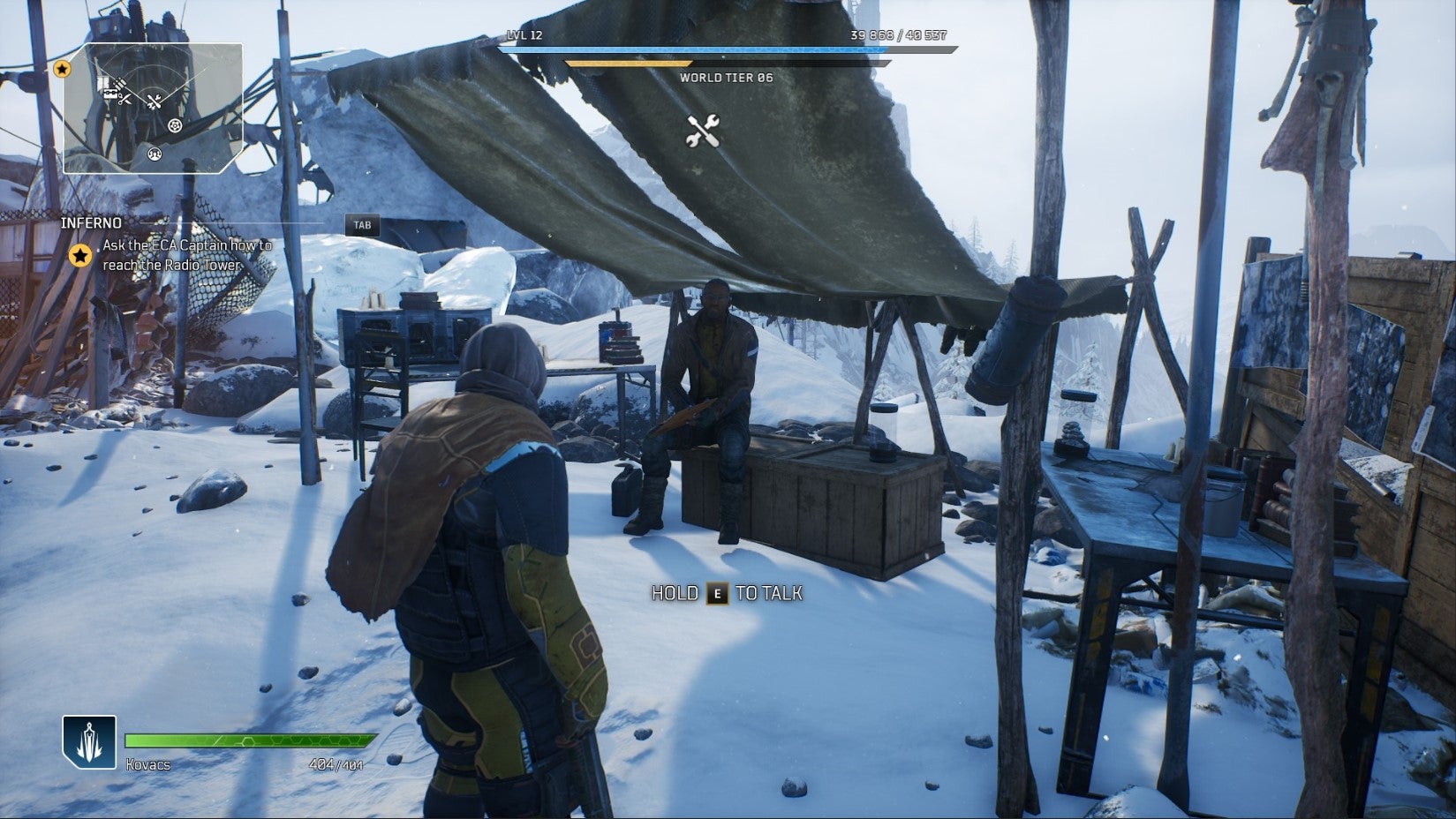 Outriders isn't just about loot. While fashioning your own equipment can feel like an afterthought in most shooters, the Crafting system in Outriders allows you to make powerful upgrades to your loadout.
In the wealth of options on offer, Outriders' crafting system does two things incredibly well:
Letting you use your favorite items liberally, rather than forcing you to constantly change to things which don't suit your playstyle
And helping you to let go of that awesome piece of early-game rare gear that's starting to get seriously underpowered
Making full use of Outriders' crafting system is key to your success at higher world tiers, so be sure not to neglect any element.
Should you sell or dismantle loot in Outriders?
Another thing to remember about Outriders, is that merchants aren't useless.
Throughout the main game, you'll often find an item or two in their inventory on every visit that's got a higher firepower or armor rating than your current loadout.
This means it's worth keeping a healthy supply of Scrap - the 'money' resource in Outriders - to hand.
However, hoarding all of your spoils to flog back in Rift Town could leave you with not enough of the other resources - chiefly crafting consumables like Leather, Iron, and Titanium - as well as lacking in the mods department.
When you dismantle an item that's rare (blue) quality or higher, it contains a mod. These are powerful passive buffs which have a huge effect on gameplay.
Dismantling a modded piece of gear allows you to 'learn' that mod, and use its power in any other gun you own.
This means a good rule of thumb is: Dismantle rare (blue) and higher gear, and sell uncommon (green) and lower gear.
However, if you're more focussed on crafting your own equipment and changing mods frequently, just dismantle everything superfluous you get your Anomaly-charged hands on.
How does Crafting work in Outriders?
There are five main components to crafting in Outriders:
Improve Rarity
Raise Attributes
Mod Gear
Swap Variant
Level Up
Improving an item with each one of these can have a marked effect on its power level, and turn the junkiest of drop into your main.
What does 'Improve Rarity' do during Crafting in Outriders?
The Improve Rarity option is deceptively strong, allowing you to mould any incarnation of your favorite weapon type into a competitive powerhouse.
For example, you're a Trickster and want a fast-reloading submachine gun to get up-close-and-personal with, but you only have a green quality one in your inventory.
For a small amount of Iron, you can improve its rarity from green to blue, not only giving it a massive buff in firepower, but also a powerful mod to exploit.
This now means you're not stuck using stodgy LMGs or rifles if they're the only naturally higher-rarity items you've got.
Further improving gear to the Epic (purple) rarity requires a much rarer resource called Titanium which is dropped by bosses and captains.
This opens up two mod slots on an item, further increasing its utility.
Now, using the other crafting options, you can tailor your improved equipment to your playstyle and continue using what you like, instead of what you're stuck with.
What does 'Raise Attributes' do during Crafting in Outriders?
The Raise Attributes option is more subtle than the others in Outriders' Crafting system, but can still have very useful effects.
Look at a piece of gear, and underneath its firepower or armor rating, there will be two more stats. They're things like 'armor piercing' or 'healing received'. These are the attributes you're raising.
Healing is very strong in Outriders, since many of the classes have to perform specific actions to stay healthy. This means that the Raise Attributes option is particularly useful with Life Leech weapons - which you can buff to be even more effective.
What does 'Mod Gear' do during Crafting in Outriders?
The ability to mod gear is one of Outriders' more unique points, and most important considerations.
This crafting option allows you to swap in any mod that you've learned into any piece of gear.
Mods are learned through dismantling - including legendaries - and this lets you keep any powerful piece of equipment you find relevant throughout the entire game, because you can use its mod anywhere.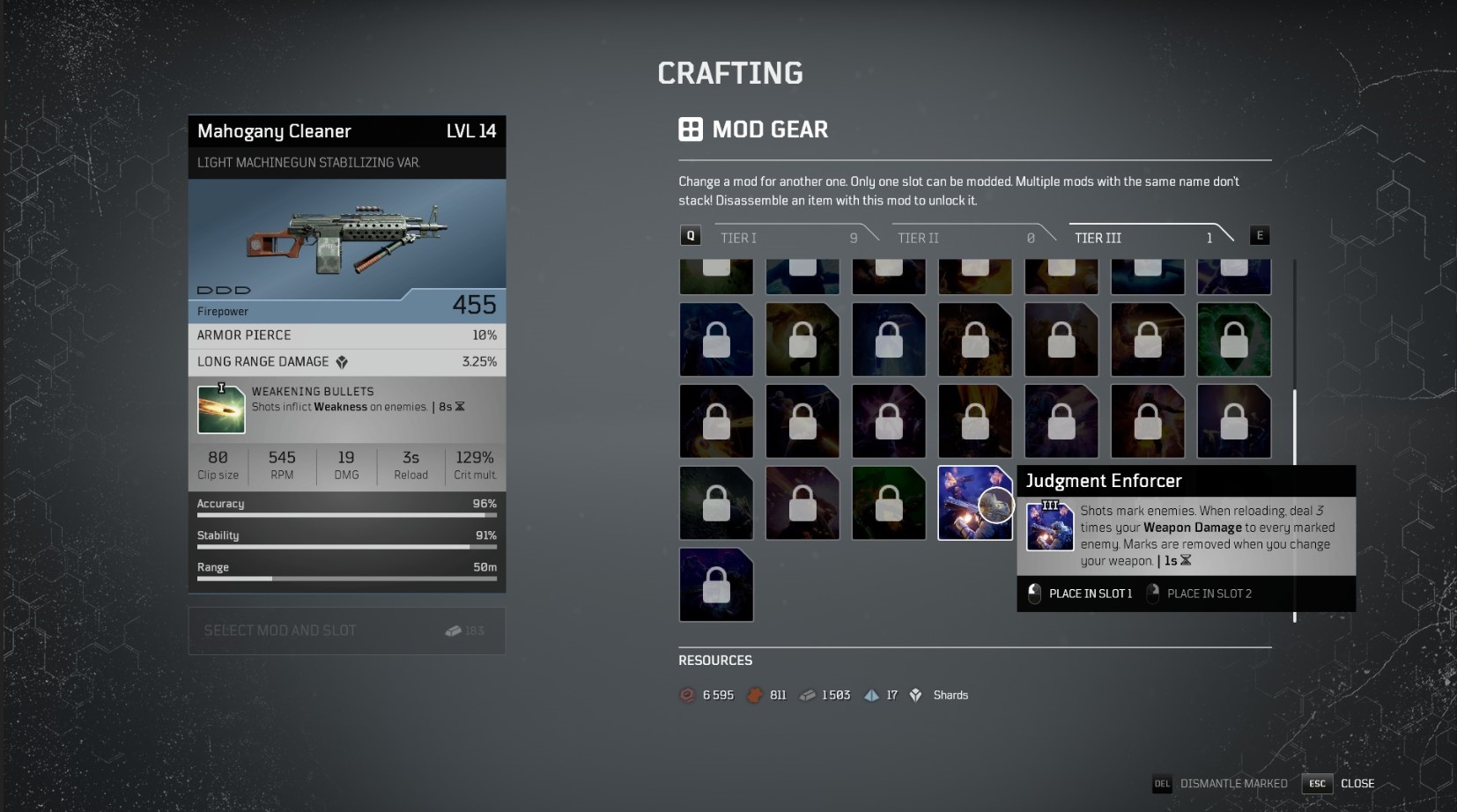 Be sure to dismantle rare, epic, and legendary items instead of selling them, so that you add their mods to your catalogue.
Then you can mix-and-match to create the strongest combinations.
One thing to remember is that you can't stack mods of the same name either in multiple slots on one piece of gear, or on multiple pieces of gear.
For example, there are mods which let you use an attack skill twice before cooldown. If you try to have that same mod on your helmet and trousers, you won't be able to use the skill three times before cooldown because it doesn't stack.
What does 'Swap Variant' do during Crafting in Outriders?
As well as different types of weapons, in Outriders, there are different variants too.
These variants well have different clip sizes, different rates of fire, and are effective at different ranges.
While there's often not a huge amount of utility in actively changing the equipment you're using to a different variant, I've found that sometimes you initially discount loot, only to find that it has a much more useful variant available.
This means that it's always worth checking out whether you're rocking the best variant for your playstyle.
For instance, you might be using a slow reloading LMG variant which you can vastly improve by increasing its clip size - for only a cheap fee.
What does 'Level Up' do during Crafting in Outriders?
Levelling up a piece of gear gives it a massive buff in either firepower or armor rating, making it relevant to your current loadout.
The equippable level of items is tied to your World Tier.
For example, if you're playing at World Tier 6, then you can equip items that are up to 3 levels above your character level.
This increases as your World Tier rises, all the way up to a frankly ridiculous degree.
If you feel like your items are starting to pack less of punch, the Level Up option - which tends to be very expensive - is your best bet.
Levelling up also re-rolls your item's attributes, so it's not just the baseline firepower that's getting a boost.