The Outer Worlds highlights the RPG genre's inventory problem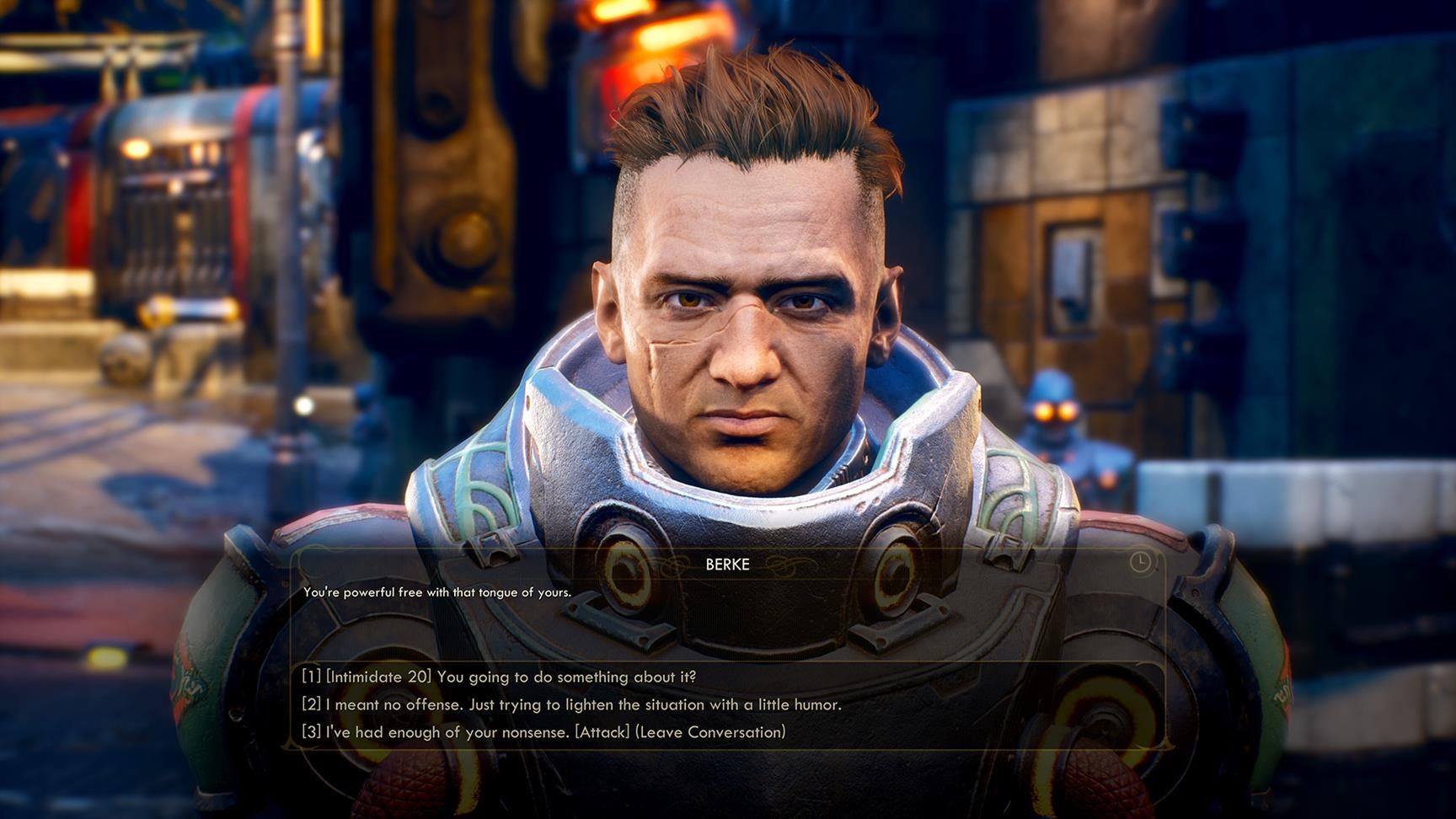 "You've become very efficient at transporting goods," The Outer Worlds tells me. "Maybe you should have been born as a cargo hauler."

Even as a fan of Euro Truck Simulator, this feels like disappointing careers advice. When I travelled to the edge of colony space in cryosleep to discover myself, I hoped the journey might reveal something more exciting than an aptitude for carrying junk.
It's true that, in my case, the idea of lifting more than two bags of shopping at once does fall under the realm of fantasy. But it's hardly the stuff of science fiction, is it? And yet encumberment comes up often and early in The Outer Worlds' upgrade chart - from the 'Hoarder' perk that reduces the weight of consumables, through 'Traveler', which enables you to fast travel when weighed down, to 'Pack of Pack Mules', which lets your companions share more of the burden.
It reads like tacit recognition of a growing issue in RPGs, particularly in the Fallout-influenced corner The Outer World occupies: nobody likes being overencumbered.
There's no question that weight limits serve a purpose. They're a prompt for regular inventory management which, while easily dismissed as a chore, has survived decades of RPG development for a reason. A hard cap on your loot forces you to think meaningfully about what you really need. It throws your priorities as a character into sharp relief, and helps to define who you are. In other words, it's a key area for player choice in a genre defined by it.
From a balance perspective, your maximum weight can act as a useful point limit. If heavy weapons weigh a ton, then designers can be sure you won't enter any battle wildly OP. Canny players, meanwhile, can work out what's worth more to them - impenetrable armour or a rocket launcher the size of their head.
There's also pacing to consider. The Outer Worlds gifts you a spacecraft that also serves as your hub for inventory management. There you can break down equipment, using the parts to repair weapons and think carefully about your loadout. It's important downtime that helps balance the excitement of exploration and combat, grounding you in an alien world. Without a weight limit, there'd be no incentive to stop and smell the roses. Or whatever those fluffy white flowers are that grow everywhere on Terra 2.
As modern RPGs increasingly lean towards open worlds, weight limits play an important structural function in dictating the length of adventures - periodically sending you back to a settlement to ensure there's a satisfying loop to enjoy, rather than an endless push forwards that leaves you without an anchor or sense of home. Would Megaton have meant anything to you if Bethesda hadn't given you reasons to go back?
That said, there's no question encumberment slows down the action - perhaps too much in an age when plenty else in RPGs has been streamlined to meet slick triple-A standards. It doesn't mix particularly well with games that forefront simulation either, which tend to make inventory objects out of everything not nailed down. Just ask Alice Liguori, a friend in Rock Paper Shotgun's video team, who co-hosts a Let's Play of Divinity: Original Sin 2. Every so often, she has to make time to spring clean the inventory off-camera. Junk disposal is no spectator sport.
Fallout in particular has become more and more sluggish since the series implemented a construction system. Now practically every item in the world can be broken down for its constituent parts. When nothing is worthless, it becomes difficult to work out what you can leave behind - leading to stuffed packs and shorter adventures before heading back to camp. In Fallout 76, Bethesda has removed the restrictions on movement speed and jumping for overencumbered players, in apparent recognition of how miserable it can make the game.
Carry weight is a common enough frustration that it's inspired mods for every Bethesda RPG you could mention - not to mention a genre of articles built to answer search terms like 'fallout reduce weight'. It's somewhat tragic to realise that the greatest incentive to find power armour isn't immunity to radiation nor resistance to plasma weapons, but the huge backpack size.
Weight management isn't going out of fashion anytime soon - not while it has big fans in powerful positions. When Obsidian design director Josh Sawyer made a mod for Fallout: New Vegas, a game he'd directed himself, he reduced carry capacity to a third of its official total.
Perhaps it's time, though, for RPG designers to start at the primary goal of encumberment - of making loot choices meaningful - and come up with new ways of getting there. Right now, they're merely offering sticking plasters in the form of perks, which make measly rewards for levelling up. The fact is that RPG fans come to a new Obsidian game to be weighed down by decisions, not garbage.
The Outer Worlds is released on October 25. We'll have a full review later in the week.