Ori and the Will of the Wisps is more than just a gorgeous platformer - it has kick-ass combat too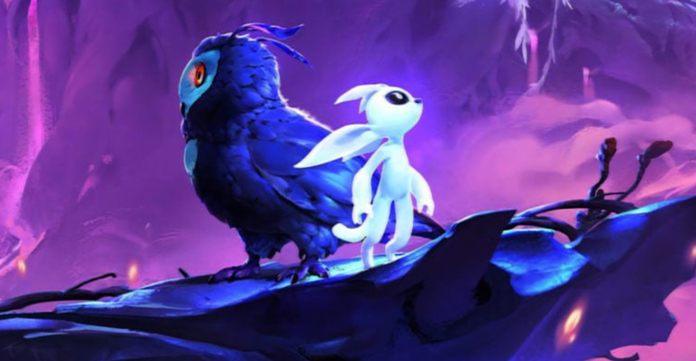 The conclusion of 2015 puzzle-platformer Ori and the Blind Forest is pretty conclusive. It's not exactly a spoiler to say that by the time the credits roll all is well in the game's world. That, of course, presents a conundrum for a sequel.
Ori developer Moon Studios wanted to make another Ori adventure, but the studio also didn't want to undo the conclusion of the original game. The result was a lot of thinking and iteration at the top of development - to find a way out of the narrative and even system design corners that the conclusion of the hugely successful first game had backed the developers into. That certainly sounds like a difficult process, but it also appears to have created something of a gem. Will of the Wisps arguably owes what might be its very best new feature to that very conundrum.
"With Will of the Wisps we're we're really trying to go big," explains Daniel Smith the senior producer on Ori and the Will of the Wisps at Xbox Game Studios. We're not really trying to make like a version 1.5 or whatever - we're trying to make this big, true sequel."
Ori already did the 'version 1.5' thing with a Definitive Edition of the first game that expanded, tweaked and improved the experience for Xbox One and PC players before offering that improved experience to players on the Nintendo Switch. Will of the Wisps is back to only being on the two platforms where Xbox is most at home, but it's also ambitious in a way which makes the return to a more traditional 'exclusive' platform release make sense.
"Part of the design challenge was to take many of the moments and features that people really loved about Blind Forest while creating many new things and having those new things feel polished enough that they're very cohesive with the things that we're bringing forward," Smith continues.
A lot has been carried forward, by the way. The story is still told in the same charming, restrained manner, for instance, with little text and no discernible voice work - just unintelligible animalistic babbling and ancient languages. The award-winning elements of the original game are smartly intact; gorgeous music by Gareth Coker and a striking and gorgeous visual style that uses light in intriguing and beautiful ways to great effect. None of this has changed much save for the fact that the game is bigger - the entirety of Blind Forest's map could be laid over just one section of Will of the Wisps'. In a four-hour hands-on, it barely felt as though I was even getting started.
That brings us, of course, to the significant change I previously mentioned - and that's in the game's combat. Where the first game was predominantly a puzzle, platforming and exploration driven game with combat featured as almost a small bonus, in Will of the Wisps combat is more integral. It's an interesting wrinkle considering Ori's primary method of attack is removed from the picture at the end of the game. The development team at Moon Studios didn't want to go down the path of simply undoing their ending, Smith explains, so instead the combat system was reconsidered from the ground up.
This change is nothing short of seismic for the series. Combat now drives it as much as anything else, and is as intricate and involved as in similar exploration games like Castlevania: Symphony of the Night, a game Smith cites as a touchstone for both Ori games.
"The continuity issue we had and then the desire to make combat different ultimately ended up helping each other," Smith says. "We had a lot of early prototypes, like - what if Ori was swinging melee weapons, what if Ori used different spells and abilities and things that actually required precision and aiming... It just took a lot of like well, let's try this and let's put it in the hands of people who aren't creating it.
"You know, how what do you feel about this? No, they didn't like that. Let's scratch this idea. Let's improve upon that idea... And really I feel like we've come out with this all new combat system that not only has evolved the combat engagement in the game, but - very important - it still feels as fluid in movement. Ori's just as nimble and ninja like as in the original game and yet you have all these new options for you to engage with enemies."
So Ori might be a sweet little glowing imp of a creature, but it can wield a sword-like weapon or a hammer-like weapon, and each functions very differently in combat. One of the earliest upgrades you get is a bow and arrow that can be used in combat and also to solve puzzles - then there's a double-jump, a blink-like dash, and more. Many of these powers effect traversal as well, still a key pillar of Ori, but many of these features link into the new-style combat. A quick arrow could stun an enemy charging an attack. A dash could take you away from an attacking enemy, or close the gap so you can bring the hammer down - literally, if that's the weapon you have equipped.
"I think we're really enjoying how that's come together very much," Smith says.
The result is satisfying combat that's surprisingly crunchy for a game about cute little critters. Ori is less a wide-eyed kid now and more like an actual hero. At its best, the combat resembles the best moments of 2D Castlevania - shimmying back and forth, dodging attacks before sweeping in to strike the enemy decisively. Most importantly, it's fun.
If you enjoyed the original Ori more for its platforming and story and aren't as into twitch combat, have no fear - the team has considered that. So too has it thought of those who are comfortable with combat but suffer at the hands of precision platforming. There's difficulty settings this time around - something the first release of the original game lacked - but there's also Shards, special abilities you can find out in the world and equip to change Ori's ability set. Shards are almost like mods to the core of the game, and feature a wide variety of effects that'll satisfy different players.
"The shard system really plays a heavy role in how you want to tailor and tune your own experience in difficulty," says Smith. "Many players who are more skilled, or maybe they're speed runners, we know those players will pick shards that give them like more offensive capability at the expense of maybe taking more damage. Players who are less experienced will gravitate more towards shards that give them stronger defense or maybe help them a bit more with navigation or traversal."
Shards can feature anything from damage or defense buffs or debuffs to an extra jump for those less comfortable platforming right on through to a personal favorite, the 'Sticky' shard that lets you 'stick' to surfaces to jump against for a time, thus making precision wall jumping far easier. This is great for beginners or those who might get stuck with a particular aspect of the game, but also of course has great implications for speed running and optimization, which itself is a big draw for this genre of game.
But, honestly, who would've thought it? The greatest addition to the sequel to Xbox's cutesy puzzle platformer is greatly expanded combat - and that combat is now on par with some of the very best in this genre. Good stuff. Ori and the Will of the Wisps is set to release for Xbox One and PC in just a few weeks on March 11 - and as a Microsoft first party title it'll be an Xbox One X Enhanced, Xbox Game Pass and Xbox Play Anywhere title.