Oculus Rift debuts new prototype Crescent Bay at Oculus Connect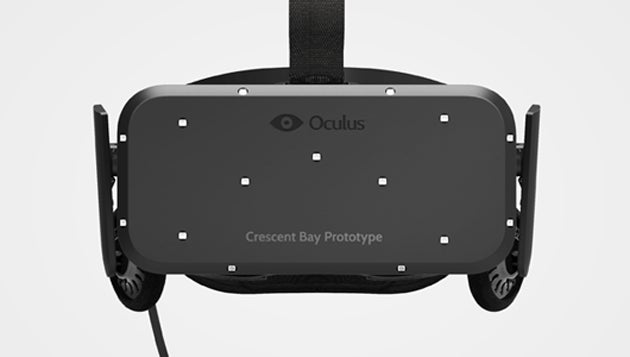 Oculus VR CEO Brendan Iribe has shown off the company's latest prototype today at the first Oculus Connect conference, known as Crescent Bay.
Building on its previous incarnations, it sports built-in audio, a much more svelte body, and 360-degree motion tracking. Iribe cites that the improvements between the previous developer kit and Crescent Bay are staggering, just as dramatic as the improvements from the DK1 unit to the DK2, which recently began shipping.
It's obvious that the main draw here is audio, with headphones on the Crescent Bay prototype that you can simply detach for your own personal pair, along with custom audio software. Noting the importance of audio in an 3D environment as far as its immersion factor, Iribe states "We're working on audio as aggressively as we're working on the vision side."
Of course, getting a better feel for what's around you in a virtual reality space would be infinitely important in shooters and survival horror titles, so what better time than the conference today for Oculus vice president of product Nate Mitchell to spill the beans regarding a demo of a game known as Showdown. Brendan Iribe made the case for Showdown as being as close to Call of Duty as Oculus adopters could want for virtual reality, and those lucky enough to attend the conference today will be able to give it a whirl to see how it measures up.