Nvidia GeForce RTX 2080 Ti review: the future is here, but it's pricey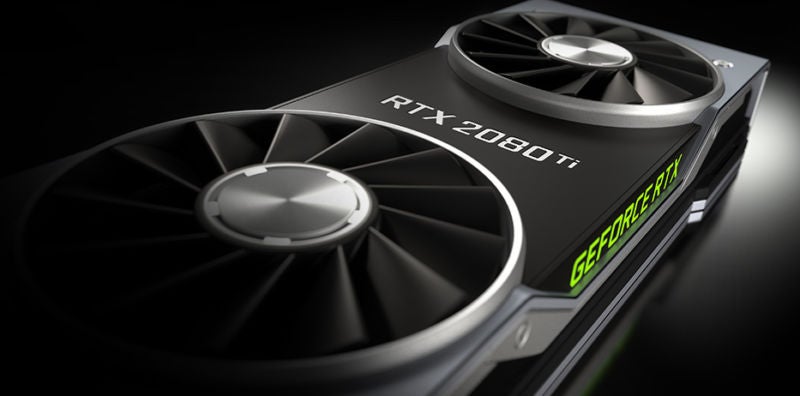 Nvidia's new flagship graphics cards are incredible when you put them through their paces, but that price tag stings all the same.
Back when the Nvidia GeForce RTX 20-series cards were revealed, one question reigned supreme: are they actually better than their predecessors?
Much of Nvidia's announcement conference was focused on the all-new, heavy-hitting features like ray-tracing and deep learning super-sampling - and one thing Nvidia didn't focus on nearly as much was raw performance in existing games. As such when physical cards came our way, this was the very first thing we tested.
The conclusion is pleasingly simple: yes, it runs games better. We've tested the new Geforce RTX 2080 Ti and 2080 running a variety of games at 4K and the results are compelling - this is a true next generation card. If we compare each card like-for-like to its numbered predecessor - the 2080 Ti to the 1080 Ti and the 2080 to the 1080 - there's a significant improvement in existing game performance without the shiny new features Nvidia is touting.
In Battlefield 1, for instance, the 2080 Ti was able to manage a frame rate anywhere between 20% and 30% higher than the same scenes when rendered by the 1080 Ti, the previous generation's best consumer-level card. Far Cry 5 and Forza Motorsport 7 saw similar gains in performance also.
In fact, some games saw 2080 Ti performance in excess of the super high-end Titan cards. The regular 2080 even beats the 1080 Ti in most tests (though barely), but those are modest gains compared to the leap when judged from the vanilla 1080, its last-generation opposite number.
Performance nerds can breathe easy, then: Nvidia's focus on the new features around their announcement weren't a smoke-and-mirrors distraction from a card that falls flat in other areas. This is a real, significant leap - but it comes with a price to match that'll be difficult to stomach for all but the most hardcore.
It'd be irresponsible to talk about these cards without touching on their price. At $1200, the RTX 2080 Ti is significantly more expensive than even the launch price of its predecessor - to say nothing of the now-discounted prices on offer if you go hunting. The performance leap is dramatic and allows for stable, locked 60fps or higher experiences at 4K even on Ultra settings. For a while, 4K felt like a trade off: resolution or performance. With the 2080 and the 2080 Ti, you can finally have both.
This is the important thing to note: while Nvidia is making promises and overtures to the future with features like ray-tracing and DLSS, the question of performance as it stands right now is arguably a more important one. The results posted by the RTX 2080 Ti and the 2080 are a decent improvement over the GTX 1080 Ti and 1080, though let's be real for a moment: it arguably isn't enough of an improvement to justify such a significant spend. Owners of older cards will find the upgrade much easier to justify.
Don't get me wrong - both on paper and in practice the new Nvidia GeForce RTX 20-series cards are the best GPU products on the market right now. They're easy to recommend. But you must keep in mind that the associated price tag isn't entirely easily justifiable.
If Nvidia's promises around using DLSS to smooth performance and ray-tracing to revolutionize lighting play out as they plan, that verdict may change. Right now, promises, tech demos and suppositions about the future are cold comfort when over a grand cash is changing hands. We can only judge what is real and playable. Make no mistake - this is a high quality product with the look and feel of luxury, but ultimately performance in games is all that matters to us. That's why you should stick around, by the way: as the games pledged to support the new RTX card features release, we'll continue to benchmark and report on how worthwhile these new cards are.
Demos like the mind-blowing Battlefield 5 ray tracing showcase give pause for thought, as that really, truly looks like the future of video game visuals. For now, however, the Pascal architecture cards (in particular the 1080 Ti) remain a solid, easy recommendation. The monied and more tech-obsessed gamer will want to pick up the Turing architecture 20-series cards, and they're unlikely to be disappointed with the results.
It is of course early days for the GeForce RTX series graphics cards, and looking at the earliest demos and showings of support from developers it's clear the tech Nvidia is pushing here is the future. Ray-tracing and DLSS are no hairworks-style gimmick: if support is there, they will become the new standard. How early you want to get on that train is likely to depend on your constitution and ability to stomach the price.