Nomura explains link between Kingdom Hearts 3DS and KH3, says it forms "pair" with Versus XIII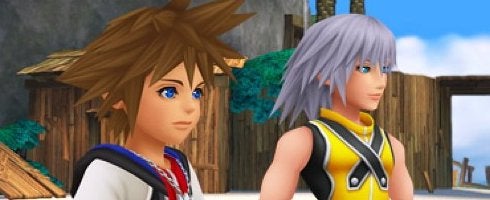 Remember when Tetsuya Nomura started dropping hints about Dream Drop Distance and Kingdom Hearts III sitting in tree, l-i-n-k-i-n-g?
Well, here's what he meant.
Speaking with Famitsu (via Andriasang), Nomura explained that Dream Drop Distance is all about "bold actions" - for instance, new means of advancing like kicking off walls, swinging on poles, sliding down ropes, and presumably the "drop" part of the game's name, which Nomura said ties into the gameplay. That, he concluded, is where Kingdom Hearts is headed next; it's cartoony, so why not embrace its flashy, exaggerated (i.e. "bold") side?
"By playing this, you will probably understand how Kingdom Hearts III will evolve," he added.
Interestingly, Nomura also sees the perpetually pushed back Final Fantasy Versus XIII and Kingdom Hearts 3DS as two sides of the same spiky haired, overly ostentatious coin. In essence, the two share similar "base gameplay" and build off that. Versus XIII, obviously, follows in the footsteps of Final Fantasy XIII, while Kingdom Hearts 3DS keeps things lighter and friendlier. Simple and clean, one might say.
Lastly, Nomura clarified KH3DS' mysterious character-switching dynamic a bit, noting that there's essentially a "countdown event" constantly taking place. However, he added that Sora and Riku's stories are far from one-in-the-same. Instead, we'll see different motivations, different bosses, different control methods - the works. Yeah, it sounds confusing to us too. But then, "makes perfect sense!" has never exactly been one of Kingdom Hearts' selling points.