No Place for Bravery, Uragun, Gamedec and more of our favourite PAX Online x EGX Digital reveals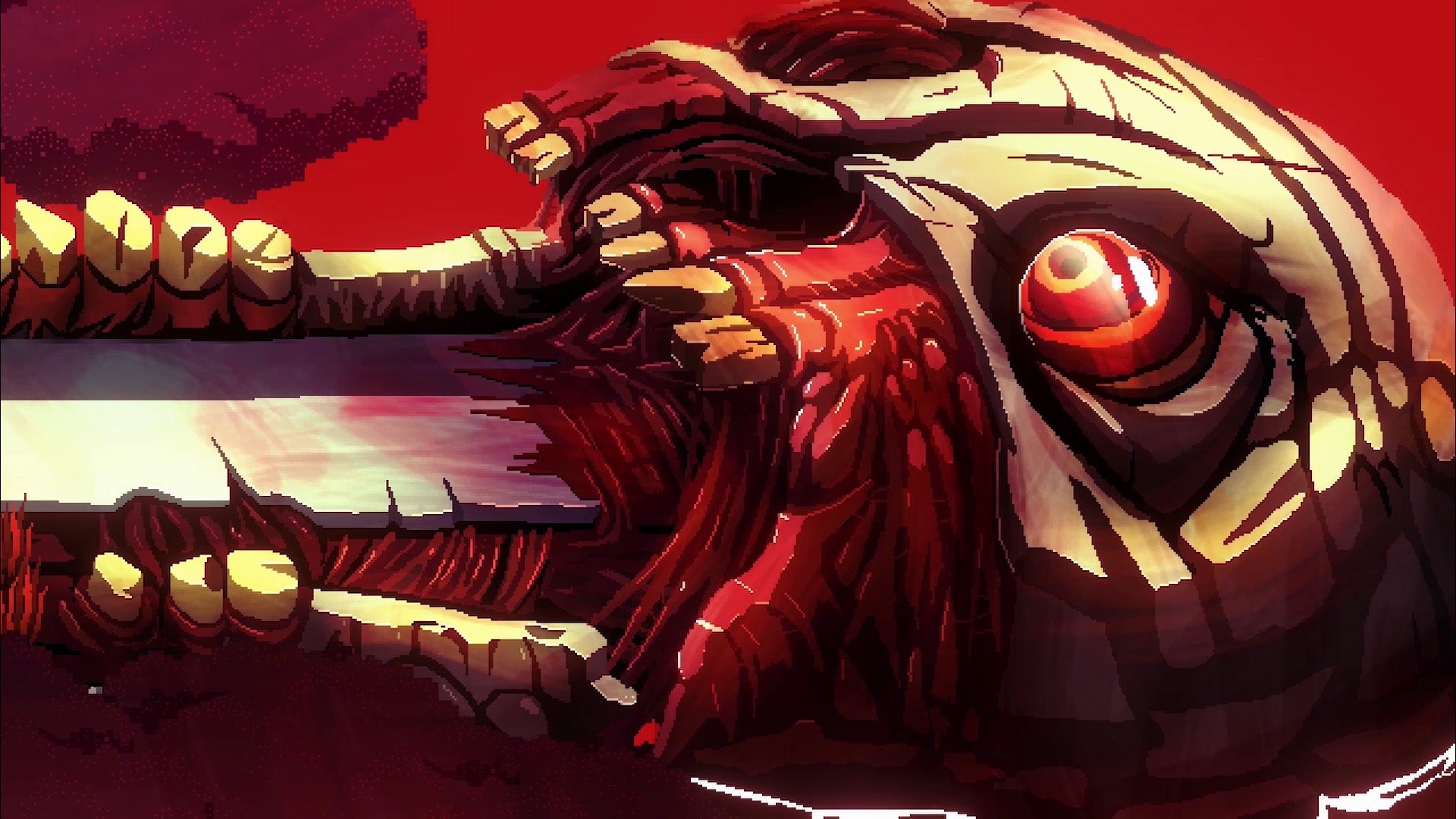 This week has been skewed a little bit in favour of the big games, what with the Call of Duty, Prince of Persia and other AAA reveals.
But the indie world is about to kick off its own festivities with the PAX Online x EGX Digital, a nine-day online event that brings together two of the biggest shows in games. You can expect panels and developer-lead game reveals, which means lots of indies are taking part and we're here to highlight just a few.
Many of the games participating offer free demos, which is increasingly becoming one of the things I look forward to the most in these shows. So, in celebration of PAX Online x EGX Digital, here are our favourite hidden indie gems.
Hot indie games of PAX Online x EGX Digital
No Place for Bravery
You don't usually see pixel art games in this weekly column because I feel we've practically exhausted all it could offer. But every once in a while, a pixel art game stands out that I feel the need to tell you about.
It also helps that No Place for Bravery has a few other interesting things going for it than just pretty pixels. No Place for Bravery is a top-down action RPG starring Thorn, a former soldier who must travel unforgiving country to find his missing daughter.
Developer Glitch Factory wanted to capture the misery and mystique of Souls games, where you're as equally excited to venture forth as you are wary of the troubles you might uncover. The game's world is set in the aftermath of a war with titans where humanity was driven to the brink of extinction. All that remains are warring tribes, bandits and the colossal monuments the war left behind.
World design isn't the only thing inspired by those games, No Place for Bravery's combat is, too, an homage to Sekiro. Parries are the name of the game here, and a posture bar lets aggressive players deal a tonne of damage without having to always focus on whittling down enemy HP. Dodging and blocking are here, of course, for when you're feeling defensive.
No Place for Bravery's demo will be available on Steam September 12 to 20, and offers a taste of all this and a boss fight teaser. The full game is coming to Steam and Switch in 2021.
Dandy Ace
When was the last time a game starred a magician? Not a medieval wizard or spell caster, but a modern-day magician? None come to mind, which is part of what made me pick Dandy Ace this week.
Dandy Ace is a fast-paced, isometric action rogue-like where you play as a magician fighting an illusionist who trapped them in a mirror. The eponymous protagonist will have to rely on card tricks to fight their way through endless hallways and break the illusion.
Dandy Ace's biggest unique mechanic is how it treats magic. Each attack/move is represented by a card, which you can combine in different ways to create unique effects. For instance, a spell you don't want can instead go into the upgrade slot of a different one, modifying it, while you can keep the main slot reserved for something else.
The game has a set number of these cards, which you will unlock and discover over the various runs. They're each lavishly animated, too, and you can see Ace reach into their pocket to glamorously whip them out and turn them into spells.
There's a Dandy Ace Steam demo you can try out right now. If you like what you see, wishlist the game on Steam.
Unspottable
Unspottable is a party game about punching friends in the face. Well, it is that, but it's also a game about being on the lookout for a sucker punch.
If you haven't caught up already, Unspottable is game about hiding amongst a crowd of similar-looking AI-controlled enemies to punch an unsuspecting friend. Playable locally for two to four players, the game doesn't show anyone where they are in the level. You will not only need to carefully figure out where you are without altering other players, you'll also need to devise a plan of action to hopefully punch the target before they could spot you.
This, coupled with the fact all players are in the same room, creates an element of social pressure where your poker face will come in handy. It's sort of like a frenetic version of Spy Party for the impatient. Instead of carefully studying the subtle movement patterns of individuals in a crowd to spot the human, you constantly look over your shoulder to anticipate a punch.
In fact, much like Spy Party, Unspottable's various levels have unique objectives that help you blend in with the crowds to throw other players off your tail.
Unspottable is developed by the three-person team at GrosChevaux, who are so committed to the theme of punching friends that it's how you get to decide which map to play. It has a real first-game look to it, but hopefully its mechanics will make up for that. The game's free Steam demo was recently updated, and you can wishlist it on the same page.
Uragun
Sometimes all you need are simple pleasures. Uragun is a top-down shooter set on a planet ravaged by weather disasters, where you play as a human piloting a mech called, yep, the Uragun.
In it, you fight off waves of robots hellbent on destroying the remnants of humanity. Sometimes the robots are bug-like swarms and flying drones. Other times, you're going up against sand worms and animal-shaped killers. Standard fair so far, but I am here to tell you not to rule it out, because Uragun feels damn good to play.
There's an impressive level of destructibility to almost everything in the game. Machines turn to shreds as your bullets plough through them, containers come apart, and buildings tremble as you stomp around them.
The game gives you a couple of different movement and offensive abilities, but mostly keeps things accessible. The intent is to show off the impressive particle effects and destruction at every turn. I found myself dashing through as many things as I could just to see it break apart. It's not quite on the same level as something made by Exor Studios, but it's pretty good.
You can try all of that out yourself in the Uragun Steam demo. It'll hold you over until the Early Access release at some point this year.
Gamedec
Gamedec is a cyberpunk detective RPG whose world makes it immediately stand out. In this future dystopia based on a series of Polish novels, virtual reality has evolved from a recreational experience you spend a couple of hours with every now and then to creating fully-fledged worlds of its own.
People of this future can essentially live most of their lives in VR, roleplaying in different games. That, of course, creates its own problems. The sort that requires other people to solve. Enter Gamedecs, private investigators who help those people by exploring and exploiting the mechanics of the world itself.
The problems you run into can be very meta, like the exploitative nature of certain games, or the VR version of cheating where a criminal alters another player's world to blackmail them. It seems many will bleed into the real world, like people being trapped in VR, stuck in loops, with their loved ones unable to pull them out of fear for their psyche.
Gamedec doesn't go hard on mechanics, you'll be spending most of your time talking to people, working leads and connecting the dots. Like other RPGS, your character's traits and their background influence dialogue options and responses. Your decisions control how the character develops, which in turn opens up more options and closes others. In the conversations themselves, there's a sort of push-and-pull, as you sometimes comprise to satisfy a character's needs in the hopes it will pay off later.
If any of this is up your alley, a limited-time demo will be available on Steam between September 12-20. Gamedec is coming to PC and Switch.
Roboquest
It feels like the Destiny code may have been cracked. I am not talking about every big game trying to be Destiny, more that the indie scene has caught up with what makes loot shooters fun.
Roboquest is one of those games, this week's Gunfire Reborn, if you will. It's a loot shooter made by a small team who focused on the fundamentals - fun shooting, engaging combat and interesting loot, while leaning on procedural generation to create a lot of content that could compete with the likes of Destiny.
As a result, Roboquest is both a fast-paced FPS, and a dungeon delving rogue-lite. You start off with a pistol, and find better and more interesting weapons as you defeat enemies and get deeper into the dungeon. You can play it alone or with another in co-op.
Along the way, you also get perks that help you create builds on the fly. There's a basic set of weapons, but they show up in different clothes, essentially. Elemental effects, unique abilities and the like make loot interesting. Things could get wild, too, depending on the RNG. Every time you leave the arena, whether willingly or by force, you get to invest a little bit of what you earned into your camp, which in turn boosts your stats, and unlocks cosmetics.
Whereas Gunfire Reborn's gunplay was more akin to Borderlands', Roboquest feels like a cross between Overwatch and Destiny. Movement is likewise inspired by those games, with a solid double-jump and a crisp feel. But you know what those games don't have? Grind rails you can grind on as you shoot, like a first-person version of Sunset Overdrive.
Roboquest actually came out on Steam Early Access a couple of weeks ago. You'll find it there for $20.
Disclaimer: PAX and EGX organiser ReedPop is the owner of VG247's parent company Gamer Network.