Nioh 2 interview - Team Ninja's fight to return as one of the great Japanese action game studios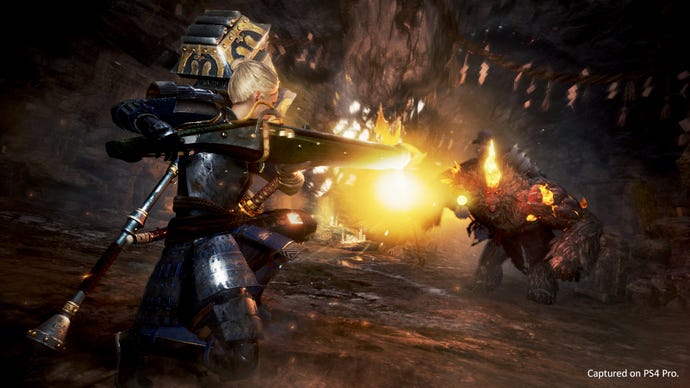 more
Yosuke Hayashi is excited about the 2020 Summer Olympics in Tokyo. "I want to go see the Olympics in person but getting the tickets is just so hard," he tells me while balling his fists in front of his face. His eagerness for the international sports event may be on par with everyone else in Japan given that the country is hosting it this year. But, as the president of Team Ninja, Hayashi has a vested interest.
His studio is known for Ninja Gaiden, Dead or Alive, and Nioh. These are games that demand an almost athletic performance to master. Quick thumbs need to react to attacks that are telegraphed in as little as a couple of frames. Combos must be memorised so that they become second nature. The idea is to mimic the skill of the fighters, ninjas, and samurai being controlled on the screen. Can't keep up? Prepare to be punished severely.
It makes sense that Hayashi would want to see the kind of extreme feats of bodily performance in reality that he spends his time directing on virtual stages. But there's more to it than that. Reflecting the sentiment of PlatinumGames president Kenichi Sato, who said he plans on leveraging the Tokyo Olympics "to get attention from fans around the world," Hayashi happily invites the international attention the event brings to Japan. "It's so nice to see more and more visitors from the West," he says about the impending Tokyo Olympics.
Hayashi says this as he prepares to launch Nioh 2, a masocore RPG that prominently features Japanese history and culture, but presents it in a way that's meant to appeal to Western players. "We made Nioh 1 for a Japanese audience primarily, but we learned that it worked really well in the West," he tells me. Nioh, released in 2017, was received better by people outside of Japan, which came as a surprise to Team Ninja. Learning that its main audience lies outside of Japan has led Team Ninja to find out what it is that drew them to Nioh. What the studio discovered caused it to change tack for Nioh 2.
The sequel is more of an entertaining tour guide of Sengoku-era Japan and its culture than the first game. The Japaneseness of the game has been amped up for its international fans, as that's what they seem to want. "Something like Japanese history, we learn at school in Japan, and yokai are Japanese folklore, so it's something we already know, we are very familiar with," Hayashi says. "I felt that something really familiar in Japan tends to be, not boring, but too local to Japan. But we wanted to keep that as Nioh's identity, to appeal to the West."
Appealing to those not familiar with Japanese commonalities has meant, first and foremost, greatly expanding the range of yokai in the sequel. With their monstrously twisted forms, they are, after all, easily the most easily eye-catching of Nioh's cast. Team Ninja has been spoiled for choice in this venture. Go back through ancient scrolls and listen to folktales, and you'll discover yokai that lick up filth with long tongues, human heads that appear in fireballs and wheels, and huge undead skeletons seeking bony revenge. Team Ninja hopes the wealth of supernatural monsters in Nioh 2 gives the game a freshness that will excite players who may be encountering them for the first time.
Less dramatic, but no less Japanese, is Nioh 2's authentic historical setting. It plays second fiddle to the cast of demons, but Hayashi hopes there are those who appreciate the effort Team Ninja put into grounding Nioh 2's mysticism. "We reference the real-life events and illustrate the real-life samurais, but we don't want to force that on to the players," Hayashi says. "If they just play the game and experience the world and explore the story, if they learn something new that's great. The history part is quite accurate and authentic so it can be educational, but that is not the most important part of Nioh." If you're a stickler for authenticity then the even better news is that Hayashi confirms to me that you'll be able to switch between the English and Japanese voices in the game.
For those interested in the story, Nioh 2 takes place before the first game, in 1555 feudal Japan, and follows the historical warlord Toyotomi Hideyoshi who unified the country. However, Nioh 2 turns Hideyoshi into two people - one controlled by you, the other known as a man called Toukichiro. The fictionalisation gets much wilder than that as your parents are of different species: one is human, the other yokai. This makes you a Shiftling, able to transform from your human form into a powerful demon, using supernatural abilities to your savage advantage in combat.
The yokai powers were absent from the first Nioh as you played an Irish samurai called William. He was based on the real-life William Adams, one of the first Englishmen to reach Japan, afterwards becoming one of the few Western samurai in existence. You didn't have a choice but to play as William with his blue eyes and blond hair in Nioh. But Team Ninja has got rid of this limitation for the sequel by putting a character creator at the start of the game.
"Players all over the world can customise their characters to make them look like themselves if they like, or anything else, jumping into the story and enjoy the game as themselves," Hayashi tells me. The character creator is "one of the biggest pieces of feedback" Team Ninja received after Nioh. But it was an addition for the sequel that Team Ninja had already decided upon after the first game became such a hit with the international audience.
Team Ninja knows well the desire that its fans have to express themselves within its games. It's mirrored by Team Ninja's effort to carve out its own identity among its neighbouring studios during what is becoming a golden era for Japanese action games.
In the past couple of years, the likes of Nier: Automata, Sekiro: Shadows Die Twice, Monster Hunter: World, Kingdom Hearts 3, Devil May Cry 5, and Astral Chain have all sold into the millions. Capcom is reporting huge increases in profits. PlatinumGames is rallying fans for its push towards self-publishing after several hit games. Square Enix predicts sales spikes this year due to Final Fantasy 7 Remake. Japanese action games are thriving and it seems more than ever they are proving very popular all across the world - not just in Japan.
This is a welcome relief to Japanese game developers. Back in 2010, Japanese games were in trouble, making up only 10% of global sales - compared to 50% in 2002. This led Mega Man creator Keiji Inafune to say at the time: "Everyone's making awful games - Japan is at least five years behind. I don't think that Japanese games can't ever be popular overseas again. But they won't be popular any more in their pure state."
This was the state of Japanese games when Hayashi took over as president of Team Ninja back in 2008. Since then, he's had to deal with controversies in Western countries due to accusations of underage sexualised characters in the Dead or Alive series, and wider criticism from the West towards the depiction of women in those games more generally. His initial attempts to carry the torch of the man he took over, Tomonobu Itagaki, with flagship series Ninja Gaiden 3 and Yaiba: Ninja Gaiden Z were met with mixed reviews - they were said to be repetitive, streamlined, and even a disaster on one occasion. Until 2017, Hayashi's biggest success in the West had come when taking on the established work of another studio, with Hyrule Warriors
No wonder the popularity of Nioh came as such a surprise to him. It became one of the many Japanese games released in 2017 that went on to become a huge international hit, inciting what many have called a resurgence for the country's developers. What's the secret? Look at The Legend of Zelda: Breath of the Wild, Resident Evil 7, and Final Fantasy 15 and the answer seems fairly obvious. These are games that put their own spin on Western game design trends. The same goes for Nioh.
"It's great to see other Japanese developers making lots of great action games," Hayashi told me. "It looks like all the dev teams are making the most of what they're good at. They've been received really well in the West as well. It's great to have healthy competitors and we want to keep up with them and keep our identity, to be one of the special ones."
But what is this Team Ninja identity that Hayashi mentions here? While the studio now has many new fans due to the popularity of Nioh, many will be able to trace the game's ideas back to other studios. If you've played any FromSoftware RPGs from the past decade you'll be able to recognise many design elements in Nioh. Hayashi recognises the similarities but insists that Nioh 2 isn't Team Ninja's spin on FromSoftware's latest game, Sekiro, or any other modern Japanese action game. "We played those games and took inspiration from them but it was more about incorporating what we learned from Nioh 1," he says.
Team Ninja wants to please the fans it's accumulated after the first Nioh and has listened to them as much as possible. Beta tests and surveys for players were handed out so they could offer their feedback put in requests. Hayashi and his team have listened and tweaked the game where they thought it would work best. The hope is that by keeping the same blueprint as the first, Nioh 2 will attract fans back, but by adding ideas inspired by feedback the sequel will start to feel more like a Team Ninja game, not one built on the ideas of others.
This is what I felt when playing Nioh 2 recently in a preview event. It seems that Team Ninja has its own original ideas to contribute to the design pool that gathers around masocore RPGs. Curious, I asked Hayashi to describe what he thinks distinguishes a Team Ninja game from its competitors. "What we value the most in making action games is responsiveness, so it's really important for us to provide the game in stabilised 60 frames per second, or at least that's an option. That's the core of Team Ninja's philosophy."
Perhaps it's not his job to compare his games to others. No doubt, he needs to focus on refining whatever it is he feels Team Ninja does best. If that's responsiveness, great! Though I suspect all action game developers would agree that's integral to the genre. Team Ninja may need a little longer to truly figure out its identity, to poke its head out above the crowd. But at least it now has a chance. In any case, just like the Olympics, it's exciting to see all of the competitors at the top of their game. After having played a small portion of Nioh 2, it's starting to feel that Team Ninja is getting back to its glory days.
Nioh 2 is set for release on PS4 on March 13.