Nintendo Switch is The Company's Fastest-Selling System Ever, Breath of the Wild Has 100 Percent Attach Rate
Nintendo has to be close to the 2 million system benchmark it set for itself.

This article first appeared on USgamer, a partner publication of VG247. Some content, such as this article, has been migrated to VG247 for posterity after USgamer's closure - but it has not been edited or further vetted by the VG247 team.
Nintendo announced today that the Nintendo Switch has sold faster in its launch month that any other system in the company's history. The Switch launched on March 3, 2017 and sold more than 906,000 units during the month in the United States, according to the NPD Group.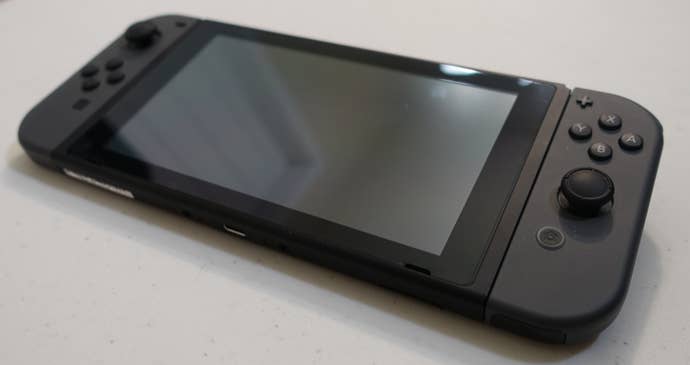 "Nintendo always strives to offer consumers something fun, new and different," said Reggie Fils-Aime, Nintendo of America's President and COO. "With its various play modes and the innovative features of the Joy-Con controllers, Nintendo Switch provides unique experiences that people can take with them anywhere and share with anyone."
In Japan, the Media Create sales numbers for the week of March 27 to April 2 put Switch sales at 565,013 in total, with 45,509 system sold that week. Assuming the Europe sales stand in-between the US and Japanese numbers, Nintendo must be at or beyond the 2 million system benchmark they had for the end of the fiscal year on March 31, 2017.
The Legend of Zelda: Breath of the Wild was also a big winner for Nintendo, selling more than 1.3 million units. 926,000 units were for the Nintendo Switch, meaning the game sold more copies than systems available in the region. This makes Breath of the Wild one of the few 100 percent attach rate games I've ever seen, which Nintendo attributes to folks buying the standard and limited editions of the game together. Another 460,000 units were sold on the Wii U. Together, Breath of the Wild was the fastest-selling Nintendo launch game and the fastest-selling Zelda game.
In contrast, Nintendo competitors were slightly ahead in their first month of sales. The PlayStation 4 moved over 1 million systems in its first 24 hours on the market in the United States. It's a bit harder to estimate full US launch month sales, as Sony did not break them out, only noting 2.1 million units sold worldwide. Microsoft pulled 1 million in the first 24 hours across 13 countries.
Regardless, Nintendo is off to a great start. Hopefully the comapny can keep the momentum going with a Switch software release schedule that puts an anchor in each month: Mario Kart 8 Deluxe is coming this month, Minecraft: Nintendo Switch Edition is coming in May, Arms is in June, and Splatoon 2 comes in July.