Nintendo announces SNES Classic pre-loaded with an incredible list of bangers, including the never-released Star Fox 2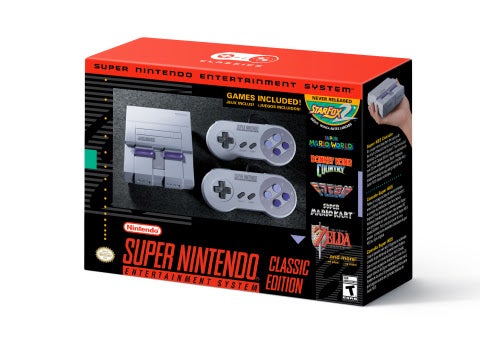 Nintendo reveals SNES mini loaded with classic RPGs and a ton of other incredible titles.
At the end of last year, Nintendo rolled out the mini NES Classic Edition but stopped production in April.
If you missed the chance to grab one and are balking at the extortionate prices on eBay, you're in luck. Well, kind of.
Behold! Nintendo has announced a mini SNES pre-loaded with 21 gems:
Contra 3: The Alien Wars
Donkey Kong Country
EarthBound
Final Fantasy 3
F-ZERO
Kirby Super Star
Kirby's Dream Course
The Legend of Zelda: A Link to the Past
Mega Man X
Secret of Mana
Star Fox
Star Fox 2
Street Fighter II Turbo: Hyper Fighting
Super Castlevania IV
Super Ghouls 'n Ghosts
Super Mario Kart
Super Mario RPG: Legend of the Seven Stars
Super Mario World
Super Metroid
Super Punch-Out!!
Yoshi's Island
And what's that, nestled halfway down the list? It's only Star Fox sodding 2.
"The mini system, which contains 21 pre-installed classic games and can easily be plugged into any high-definition TV using the included HDMI cable, will be available at a suggested retail price of $79.99.
"And for the first time, players who pick up the system can enjoy the intergalactic adventure Star Fox 2, the sequel to the original Star Fox game that was created during the Super NES era but never released...anywhere!" said Nintendo of America's Senior Vice President of Sales and Marketing, Doug Bowser.
You won't be able to play Star Fox 2 straight off the bat. The game will unlock after you beat the first level of Star Fox.
There are a bunch of classic RPGs on the list and some multiplayer titles to boot.
The SNES Classic is currently available in the UK to pre-order from Amazon UK or GAME for £79.99. More pre-order info is set to come soon.
The SNES Classic hits shelves on September 29. Let us know if you'll be ordering one in the comments below.