Ni no Kuni 2 is a huge, whimsical JRPG that blends Ghibli, Tales, and Suikoden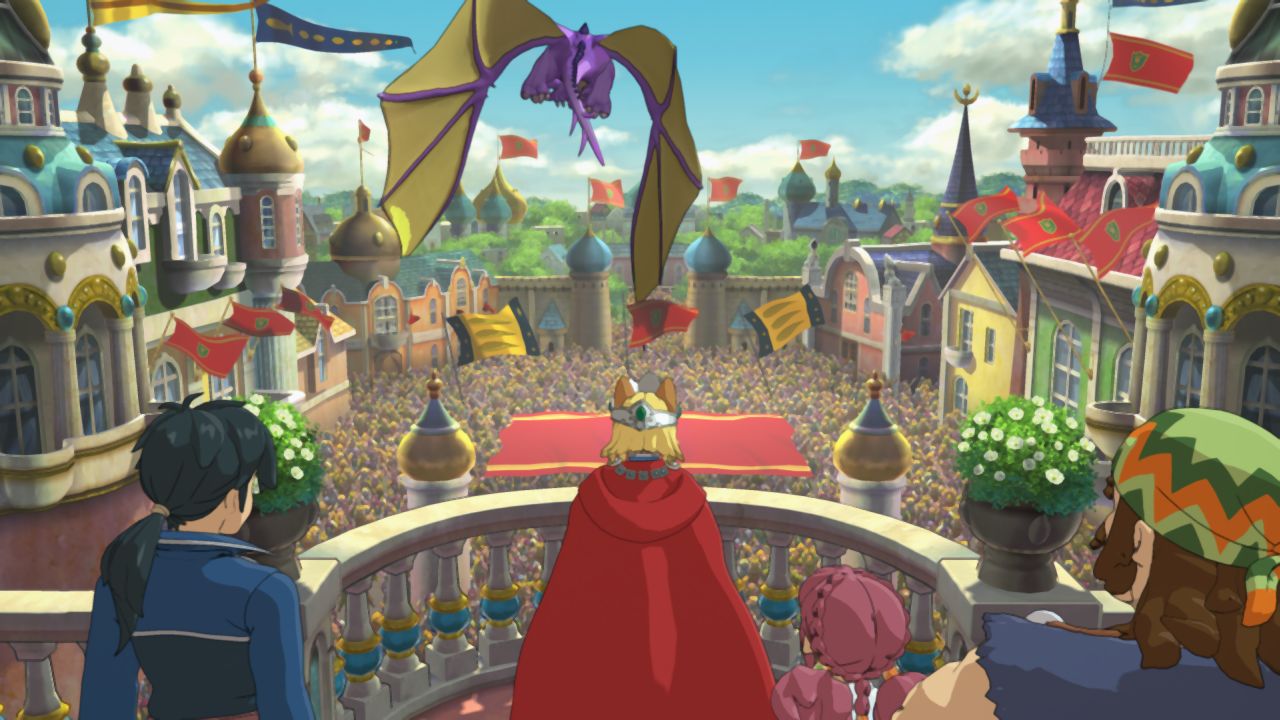 When a game comes out of preview into final release, it sometimes feels really good to be wrong. Ni no Kuni 2: Revenant Kingdom is such an occasion, with the finished product feeling like an ambitious kitchen sink approach to design that ultimately makes it one of the freshest Japanese RPGs in recent memory.
I didn't always think it'd end this way. At events like E3 and Gamescom last year I saw and played Ni no Kuni 2 and began to worry - there were weirdly disparate systems such as kingdom building, character recruitment, and real-time-strategy-style skirmish battles on top of the regular world-saving Japanese RPG action. None of it inspired when experienced in demo-friendly chunks.
In the main game, however, these problems melt away. Its many systems don't necessarily stand on their own as particularly impressive, but they mesh together to create something far more enjoyable and notable, and it's that's why it'll likely be remembered as one of 2018's sharpest and smartest RPGs.
To be absolutely clear, this isn't a full review since I haven't yet seen Ni no Kuni 2's narrative through to the finish, but my impressions after a significant chunk of time with the game feel pretty fully formed: this is a flawed gem, with the positives far outweighing the negatives.
Because of the broad focus on a variety of modes, Ni no Kuni 2 finds itself stumbling into some of the traditional RPG pitfalls. Quest design is often relegated to the worst type of fetch-this-item nonsense, and there's generally a lot of padding of this type. It's especially strange that this is the case given that the game is rich with modes that feel as though they should make this sort of padding unnecessary.
Story-side, focus on the most important party members and a generally compelling world mean secondary characters feel surprisingly under-developed, despite oodles of surface-level charm. Charm dominates, in fact, to the point where you might find yourself wishing this fairytale had a more of an expressed viewpoint and a little more to say.
Practically everything else about it impresses, however. Its gorgeous world continues to channel the style of Studio Ghibli convincingly (Ghibli was involved in the first game, but skipped this sequel) and the basic narrative thrust of building a kingdom to bring your benevolent style of rule to more people around the world is well suited to the treadmill progress of a role-playing game.
The new battle system does away with hefty menu-browsing, switching it out for a snippy, occasionally frenetic-feeling active combat system with layers of strategy that most closely resembles Tales, another Namco JRPG property. It's satisfyingly punchy stuff, though it's frequently too easy, a matter not helped by Ni no Kuni 2's utter lack of proper difficulty settings.
The surprising star of the show is Kingdom Building. It channels classic JRPG Suikoden, but even if you don't know that series, the basic concept will be familiar enough: by completing side-quests and recruiting interesting characters you can bring them to join your base. Recruits have unique skills and abilities that can help expand your kingdom.
This is all also linked to character progression for the player party and their regular combat also - things like armour and magic are tied to what buildings and upgrades are constructed in your kingdom, and you'll frequently be charged with making difficult decisions that'll shape not just your kingdom but combat and everything else you'll ultimately do.
All of this is wrapped up snugly in a sometimes saccharine fairytale story that's sure to warm even the most cynical of hearts. It's well presented and utterly dedicated to its tone, so everything from character dialogue to item names leans into the cutesy, friendly style. It works.
That inviting wrapper ensures Ni no Kuni 2 welcomes players with warmth, though it's those varied interlinking systems that'll keep you playing. Beneath the cute exterior is an impressive beast of a Japanese RPG packed with satisfying mechanics and clever ideas.