New Earthworm Jim coming to PS3, Xbox, and Wii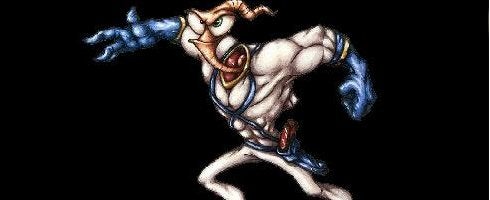 Gameloft and Interplay are in cahoots to put Earthworm Jim back on the map, it would seem. The two companies have partnered to develop and publish a new title in the series that will eventually grace the likes of PSN and WiiWare.
First, though, Jim's making a month-long pit stop on Xbox Live Arcade, as a timed exclusive. The early bird gets the Earthworm Jim? Something like that, we guess.
The game's out sometime during the last quarter of 2009. Pertinent press is after the break.
Gameloft and Interplay to Bring Earthworm Jim to Mobile Platforms and Downloadable Consoles
PRNewswire, London, August 17. NEW YORK - Gameloft, leading international publisher and developer of video games for mobile phones and consoles. (PRNewsFoto/Gameloft)
NEW YORK, NY UNITED STATES
The Game Wiggles its Way on to Xbox Live Arcade, WiiWare(TM), PlayStation(R)Network and Mobile Devices
NEW YORK, August 17 /PRNewswire-FirstCall/ -- Gameloft, a leading developer and publisher of downloadable video games, today announced a multi-year licensing agreement with Interplay to develop, distribute and publish Earthworm Jim, a popular run and gun platform video game featuring an earthworm who dresses up in a Super Suit to fight evil. The game will make its way to mobile, WiiWare(TM), PlayStation Network, with an exclusive one month run on Xbox Live(R) Arcade.
(Logo: http://www.newscom.com/cgi-bin/prnh/20090817/356486 )
"We are delighted to partner with Interplay to bring Earthworm Jim to multiple downloadable platforms," said Gonzague de Vallois, senior vice president, Gameloft. "The game, with its humorous and edgy style, is a great fit for today's gamer who craves a fully immersive experience that is fun and easily accessible. We look forward to delivering a fantastic game."
"Earthworm Jim resonates with millions of people worldwide and we are excited to have one of the best developers in the industry create this game for a new audience," said Herve Caen, CEO, Interplay. "Gameloft's creativity coupled with its innate knack for innovative games, makes us 100% confident that the result will be nothing short of stellar."
Initially released in 1994, Earthworm Jim's games garnered such a cult following that the character's popularity took him far beyond video games into an animated TV series, Toys and Comic books. Earthworm Jim centers around an ordinary earthworm who engages in normal worm activities- eating dirt, crawling and fleeing from hungry birds- that is until he comes across a high tech indestructible space suit. Jim takes refuge in the space suit while fleeing from hungry birds. The suit's powerful atomic particles cause him to grow and obtain newfound powers.
The game will be available in the last quarter of 2009. For the latest information on the game, follow Gameloft on our Twitter feed: http://www.twitter.com/Gameloft
About Gameloft
Gameloft is a leading international publisher and developer of video games for mobile phones and consoles. Established in 1999, it has emerged as one of the top innovators in its field. The company creates games for mobile handsets equipped with Java, Brew or Symbian technology. The total number of games-enabled handsets is anticipated to exceed four billion units by 2012. Gameloft games are also available to players on WiiWare and Nintendo DS(TM), Microsoft's Xbox LIVE Arcade, Apple's iPod, iTouch and iPhones, and PCs.
Partnership agreements with leading licensors and sports personalities such as Ubisoft Entertainment, Universal Pictures, ABC, Dreamworks Animations SKG, Endemol, 20th Century Fox, Viacom, Sony Pictures, Touchtone Television, Warner Bros., FifPro, Ferrari, Paris Hilton, Gus Hansen, Kobe Bryant, Derek Jeter, Reggie Bush, Chuck Norris, Jonny Wilkinson or Robinho allow Gameloft to form strong relationships with international brands. In addition to the partnerships, Gameloft owns and operates titles such as Block Breaker Deluxe, Asphalt: Urban GT and New York Nights.
Through agreements with major telephone wireless carriers, handset manufacturers, specialized distributors and its online shop, Gameloft has a distribution network in over 80 plus countries.
Gameloft has worldwide offices in New York, San Francisco, Seattle, Montreal, Mexico, Buenos Aires, Bogota, Sao Paulo, Santiago, Paris, London, Cologne, Milan, Madrid, Lisbon, Copenhagen, Warsaw, Helsinki, Vienna, Bucharest, New Delhi, Seoul, Kuala Lumpur, Jakarta, Beijing, Hong Kong, Singapore, Tokyo and Sydney. Gameloft is listed on Euronext Paris (ISIN: FR0000079600, Bloomberg: GFT FP, Reuters: GLFT.PA)
About Interplay Entertainment
Founded in 1983, Interplay Entertainment is a developer, publisher and licensor of video game software headquartered in Southern California. The company has produced and licensed titles for many of the most popular interactive entertainment software platforms in the action/arcade, adventure/RPG and strategy/puzzle categories. Its portfolio of well-recognized Intellectual Properties includes Battlechess, Clayfighter, Dark Alliance, Descent, Earthworm Jim, Freespace, Giants, Messiah, MDK, Run Like Hell, Sacrifice. Interplay also holds exclusive distribution rights to certain existing Fallout and Redneck titles.
You can also follow us on our Twitter feed at: http://twitter.com/gameloft_PR