New Dragon Age, Mass Effect titles will be heavily influenced by Anthem, says Bioware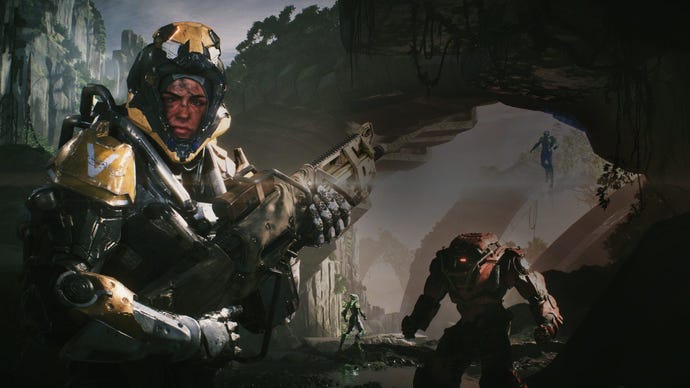 Bioware's new sci-fi loot-shooter Anthem is already influencing how the development team will create future titles in the Dragon Age and Mass Effect franchises.

Speaking at PAX West this weekend, the team at Bioware said that Anthem's story structure, which will be delivered as part of a live service allowing the team to continue to write and release new storylines post release, is a method it expects to employ for its other much-loved franchises.
Anthem is structured so that its hub world, Tarsis, is where players will experience the more traditional RPG elements and story-telling of the game, while it's online open world is where players can get stuck into the looting and shooting.
"We've got the continuation of stories after we've launched," said Michael Gamble, lead producer on Anthem. "If you remember back to the ancient times we released a game and that would the story for a set of characters, and we released DLC that enabled us to tell unique bits of story afterwards.
"For Anthem, where we'd all like to see us head, is the ability to tell new great stories throughout the years, throughout the months after launch."
"So After Anthem we can say, okay, now we're going to expand the storyline for one of those Agents, or now that certain points in the game world have happened, this changes the relationship, this changes this character, this changes the type of missions for certain characters. Or even we add new characters, we add new Agents. We can do all that and Anthem gives us the tools to do all that.
"My point is that I hope that future games, whether it's Dragon Age or the other one that starts with 'Mass', continues to utilise this kind of storytelling."
All future story DLC or content updates for Anthem will be free, letting all players follow the story without any paywalls. Mark Darrah, executive producer on Anthem, added it's not just the structure and delivery of Anthem's story that will influnce fuuture games, but also its depth.
"One of the things that we've really done in Anthem is focus a lot of attention on Tarsis," he said. "It's the primary place where we do the reactive storytelling.
"As a result we've pushed Tarsis further than we've ever pushed any of our hubs before. It's a reactive space, a space that feels more living, more alive. And I think going forward with future Dragon Age games, or others games, that you're going to see that reactivity, that depth in our hubs that we're bringing out in Anthem."