Never Alone gets first trailer, more details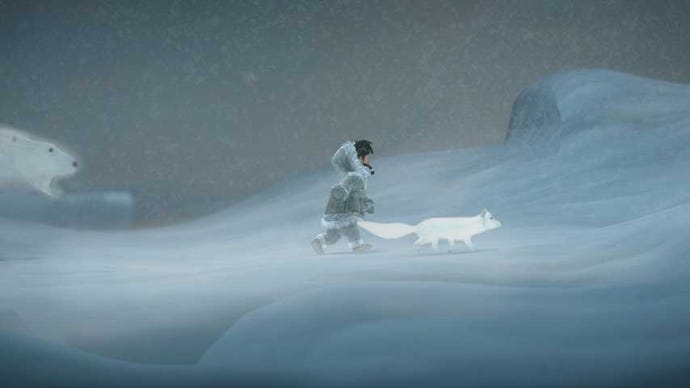 Never Alone is the first game from Indigenous American studio Upper One Games. This new trailer shows the special kind of charm the team has brought to the story of young Iñupiaq girl Nuna and her companion, an Arctic fox.
Also known as Kisima Ingitchuna, Never Alone is coming to PC, PlayStation 4 and Xbox One in northern autumn for $15. A puzzle platformer, it combined traditional folklore, stories, settings, and characters from Alaska Native people.
Drawing directly from Iñupiat and other Alaska Native cultures, Never Alone :emphasizes the sensibilities and perspective of these indigenous Arctic people and requires players to work cooperatively to succeed in challenging and harsh environments", which sounds pretty neat.
It features both one and two player modes with co-op play over eight chapters, Environments include ice floes, Arctic tundra, ice caves, boreal forests and cliff-built coastal villages,
Players will encounter traditional Alaska Native folklore characters such as Manslayer, Blizzard Man, Sky People, the Little People and the Rolling Heads, and unlock insights into the Iñupiaq way of life, told by both Alaska Native elders and youth.
Upper One Games is an initiative launched by Cook Inlet Tribal Council in Anchorage, Alaska, pairing Alaska Native elders and storytellers with industry veteran developers at E-Line Media.
"We're extremely proud and excited to be building a truly unique game. We'd like to think we're creating one of the most authentic – and fun – games of the year," Upper One Games and Cook Inlet Tribal Council president and CEO Gloria O'Neill said.
"Video games are powerful tools for making the history, tradition and culture of indigenous peoples relevant to both the next generation of Native people and the rest of the world."