Need for Speed Rivals Producer: Racing Genre "Needs Innovation"
Need for Speed executive producer Marcus Nilsson believes the racing genre should "get its act together" and start innovating.

This article first appeared on USgamer, a partner publication of VG247. Some content, such as this article, has been migrated to VG247 for posterity after USgamer's closure - but it has not been edited or further vetted by the VG247 team.
Need for Speed: Rivals stands to see a number of firsts for the franchise. It's the first game from EA's newly-founded studio Ghost Games. It's the first Need for Speed game on the PlayStation 4 and Xbox One. It's the first debut of Need for Speed's new always-online mode AllDrive. It's the first time Need for Speed is being built in EA's new Frostbite 3 engine. Ghost Games owns the franchise from now on, so there's a lot riding on Rivals sticking the landing this November.
Need for Speed: Rivals executive producer and Ghost Games studio head Marcus Nilsson is a long-time EA veteran. He's worked on titles like Battlefield 2142, Battlefield 3, and the Need for Speed spin-off, Shift 2 Unleashed. Now he and his studio have the chance to define what Need for Speed is for a new generation of consoles. That's a big change from a year ago, when Burnout developer Criterion released its second Need for Speed game and looked to be taking over the franchise. Today, Criterion is developing its own secret project and Ghost is the studio running the show. What gives?
"We started Ghost to work on Need for Speed for the next generation. We built it up from scratch, really. We placed it in Gothenburg, Sweden, because we knew we had a good layer of solid developers down there," explains Nilsson. "What then happened was that Criterion, that made Hot Pursuit and Most Wanted, they fundamentally said they wanted to go and explore other possibilities within EA, working on something else. That's what's happening."
"I think we're in a unique position with Need for Speed now, where we have one creative force, one leadership, a clear strategy about where we want to go"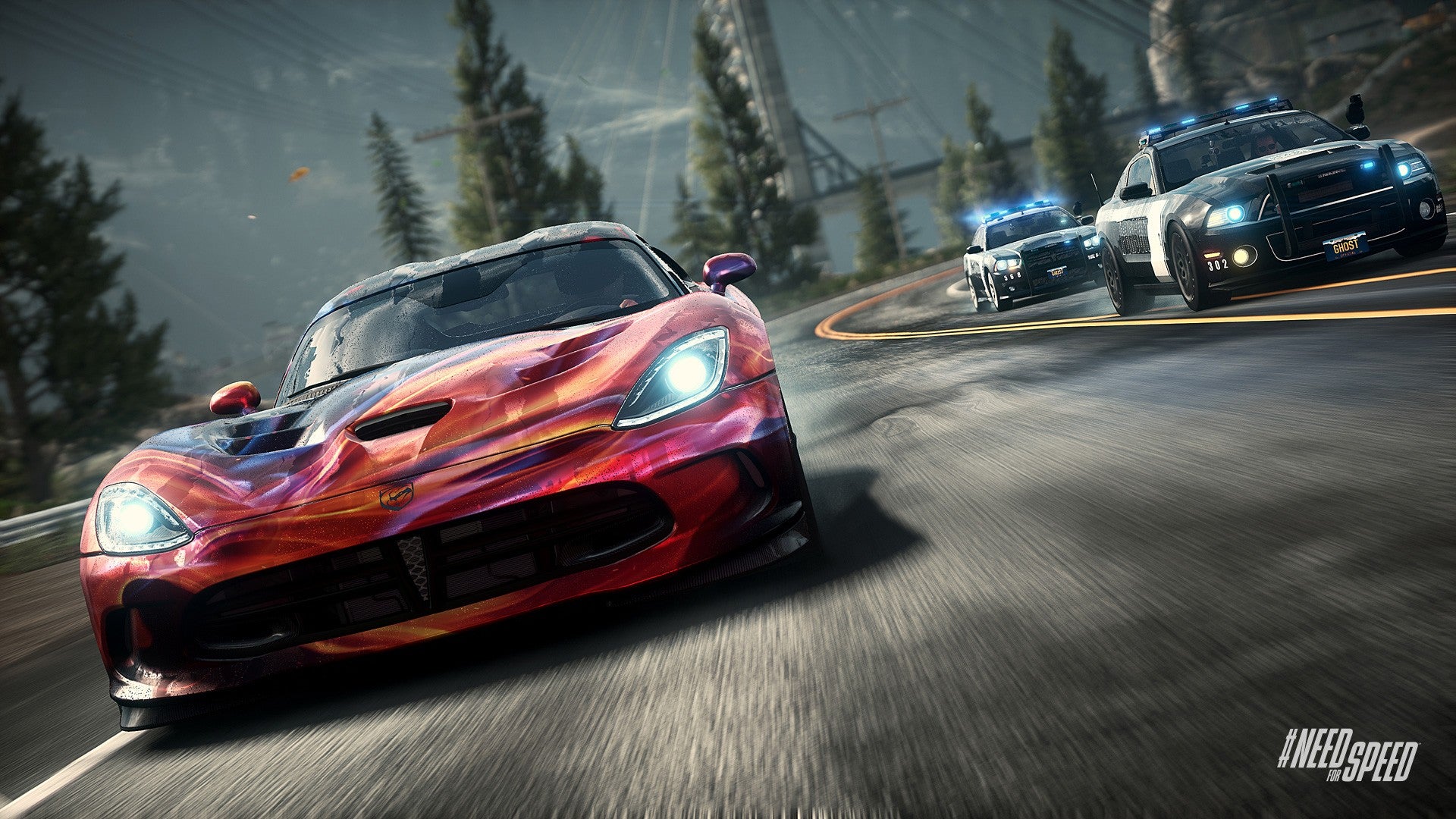 Nilsson is big on the Need for Speed franchise having one steward. The game is built upon EA DICE's Frostbite 3 engine, something that Nilsson says is "not going to change." The series hopped between developers to keep up an annual release schedule, but Nilsson believes that actually held back its progression.
"I think we're in a unique position with Need for Speed now, where we have one creative force, one leadership, a clear strategy about where we want to go, technology which is mature already but which we'll continue working on. One of the problems in the past was that different studios had different engines," he says. "No synergies could have been gotten from year-to-year. I truly believe that what you see in Rivals, with the inclusion of AllDrive, with the seamless movement from single-player to co-op and multiplayer, with Autolog, with the open world, it's here to stay. It's a very continuous progression and improvement of the franchise. We're the same people and we're on the same technology."
Need for Speed currently sits alone as a non-simulation, street-racing game, with relatively little competition. Titles like Gran Turismo and Forza remain firmly real-world simulations, while Codemasters' Grid 2 tries to split the difference. The purely arcade-style racer has been consumed by the third-person open-world genre. Nilsson admits that Need for Speed is "a different breed" compared to most racing games.
"Innovation is driven by competition. Driving as a genre needs to get its act together and start producing some great innovations"
"This is action driving more than anything else, whereas GT and Forza are more about going around a track, chasing hundredths of seconds," he says. "Maybe more of a celebration of the cars themselves. I think they're doing a really good job of doing so. That's one genre and this is another genre within driving and racing. I'm quite happy being in this section, because I think this is where you can make the most fun out of a driving game, versus going around a track and competing with time."
Ubisoft looks to be the only competition coming to Need for Speed anytime soon, but that title was recently delayed until after April 2014. Does Ghost Games look forward to EA's racing series having some competition?
"I think this genre needs innovation," he stresses. "Innovation is driven by competition. Driving as a genre needs to get its act together and start producing some great innovations. We're doing our part this year with AllDrive, absolutely. I think what they're doing is not necessarily different from us, with how you're going to play the game. Really, I think that having them coming to our sub-genre, the action driving, is going to be good for the gamers in the genre. It's going to push us forward and push them forward.
Rivals continues the cops-vs-racers theme that was carried through Criterion's Need for Speed games. Will the series ever break from that traditional, or is that all players can expect from the franchise?
"I really like cops-vs-racers," Nilsson says. "I think it delivers that action element that I think is something that the vast majority of our consumers really want. Especially in the setting we have in Rivals. In a world where several people, if they choose to, are in the same world at any given time, you get some really great sandbox play from cops-vs-racers. I'm not going to close or open any doors around cops-vs-racers, but I think it's a really solid part of what Need for Speed is."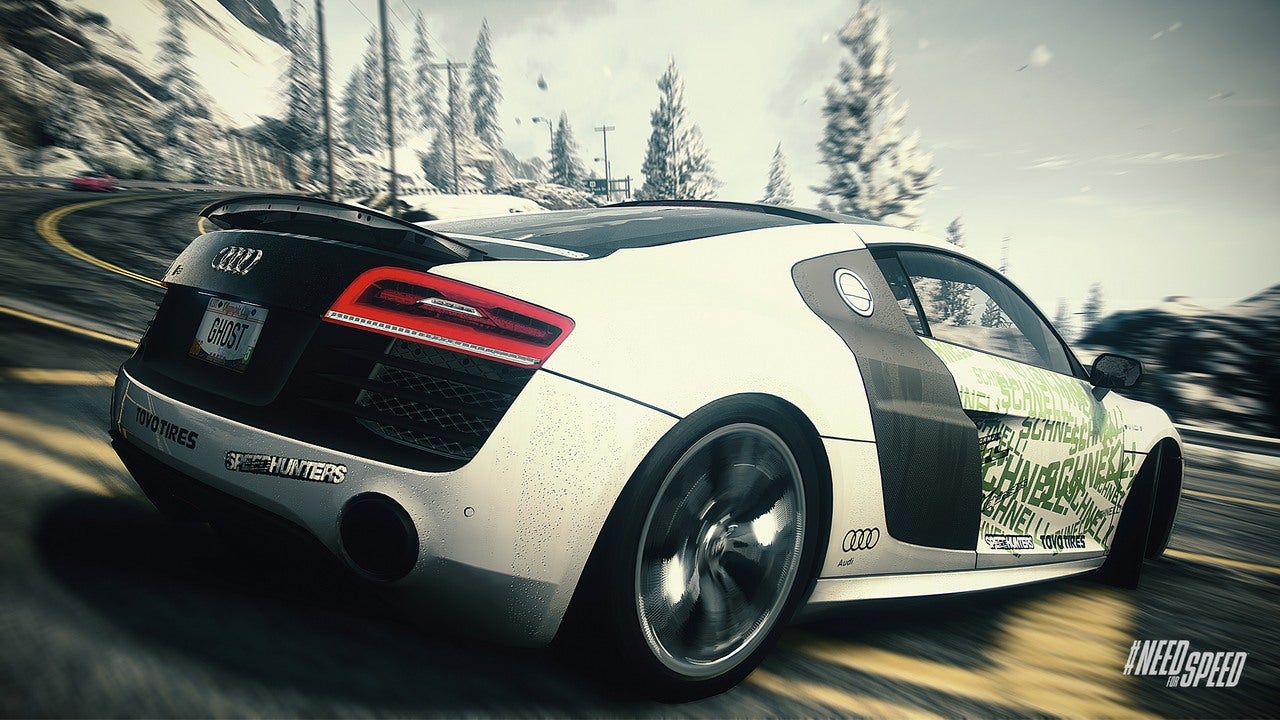 One big feature returning this year is car customization, but only for street racers. Cops will be stuck in the same black and white color scheme, though they can change up their car and their under-the-hood loadout. Nilsson says personalization is "here to stay," and he doesn't believe the lack of visual personalization for cops means players will overwhelmingly choose to be racers.
"I think there are different motivations and different ways of progressing the two careers," he explains. "Remember, regardless of how you play this – if you play it alone, with a friend, against a friend, or against two friends or three or four – you are always making progress. You can obviously switch back and forth in a matter of a second. You go to a safe house or a command post in the game and you switch sides. I think they're both really enjoyable, the two different sides, but they're just two different flavors."
"It makes sense for us now to have personalization, because we are in the same world," he adds. "I can see you. When I see you, I want to be able to understand what you're made of. I think that's something, with the franchise going forward, that we'll go even deeper into, until we're going back to the older days of more full customization."
On Monday, USgamer will follow-up with Part Two of our Need for Speed: Rivals interview, where we talk with Nilsson about online, next-gen, and some of the additional features you can expect from the Ghost Games' inaugural title.