Mount and Blade 2: Bannerlord - Which culture should you choose?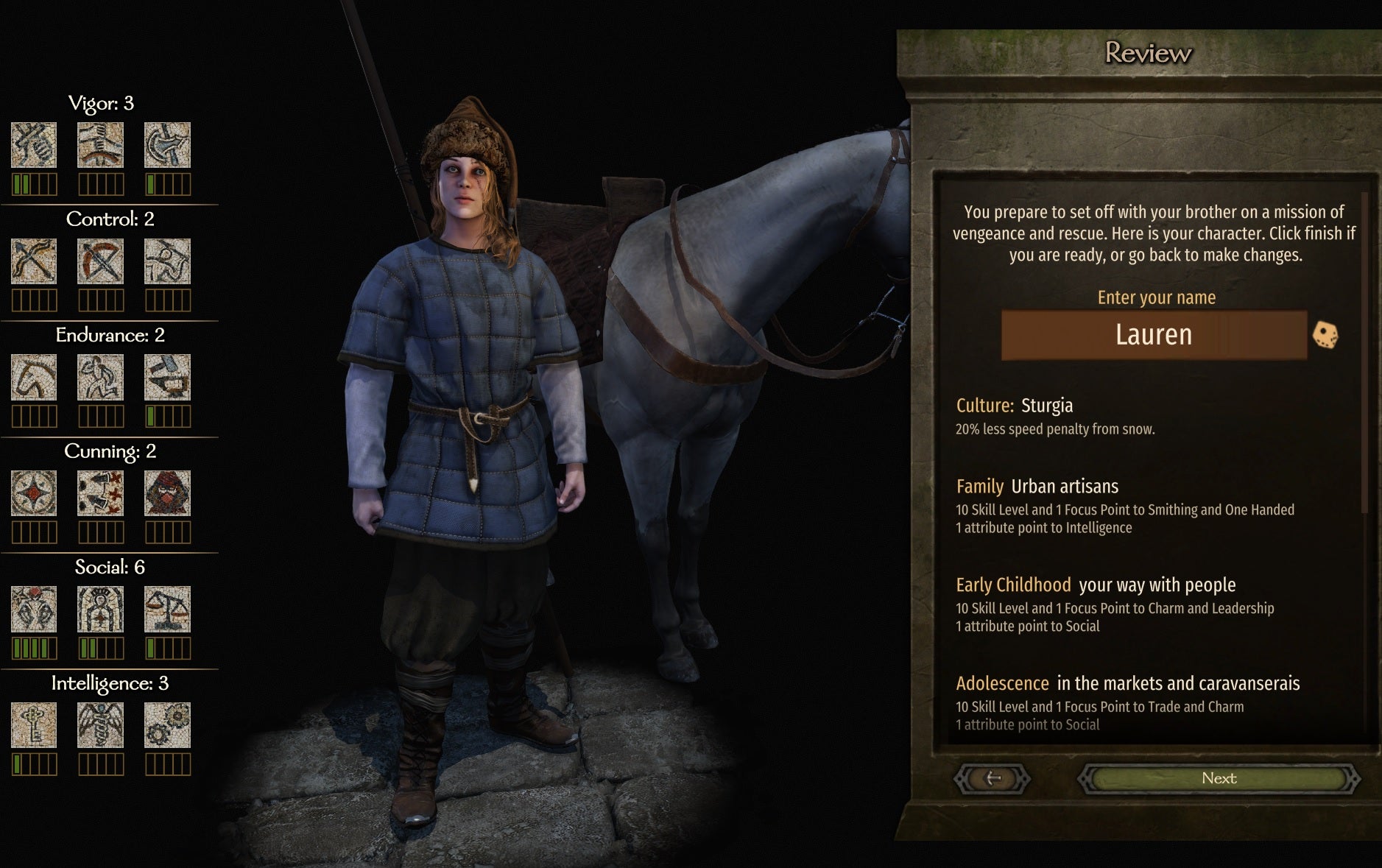 Long-awaited strategy RPG Mount and Blade 2: Bannerlord is now out in the wild, but which side will you choose to represent?
Before you set out on your adventure, you'll need to choose between six cultures and create your own hero. You'll be faced with a series of scenarios that will allow you to choose your character's perks and background, as well as cultivate a little story for yourself.
Each faction has its own benefits, so let's take a look at what you can expect from each one.
Mount and Blade 2: Bannerlord - Cultures
Before you can create your character you'll need to choose their cultural background. There are six groups to choose from and each one comes with a perk, as well as traits that make them more successful in the likes of one-handed combat, trading or hunting.
What culture you choose will influence what background choices you can make afterwards and the perks that you'll specialise in, so choose wisely. All of these perks are for the main campaign only, though there are similar perks available in the multiplayer.
Aserai
These desert dwellers are famous for horsemanship, medicinal knowledge and their vast knowledge of the land and trade routes. Their leaders often have high leadership and charm, though they are a little xenophobic. Choosing the Aserai will mean that caravans are 30% cheaper to build and you'll get 10% less trade penalty.
Battanians
These fierce warriors are experts in two-handed combat and wielding the likes of axes, making them powerful foes in battle. If you choose the Battanians, forests give 10% less speed penalty to your party, making it easier to traverse the land. Much like the Sturgians' snow perk, you'll move faster through forests, giving you an edge in battle.
Empire
The Calradian Empire is the most technologically advanced, are skilled engineers and are experts in siege warfare. Choosing them grants you 20% construction speed bonus to town projects, wall repairs and siege engines.
Khuzaits
The Khuzaits were nomads until recently, though are fast turning into an agrarian society. They too have high horsemanship and are masters of mounted archery, shooting and have high speed. With the Khuzaits, you'll get 10% extra speed bonus for horsemen on the campaign map. This means that if you and the majority of your crew are on horseback, looters and enemies will have a harder time catching you, whereas you'll be able to speed up to caravans much faster.
Sturgians
Sturgians are proficient hunters and will travel far in search of good trading opportunities. They're also quite keen on plundering, so watch out. Choosing this culture will reduce your speed penalty from walking in the snow by 20%. This bonus means that travelling through snowy terrain will be much easier, and you're less likely to be ambushed when out on your journey.
Vlandians
This feudal society is led by nobles who are experts in fighting with spears and lances on horseback. They have decent speed due to their reliance on horseback, so are difficult to catch. Choosing them will give you 20% more upgrade XP to troops from taking part in battles.
Mount and Blade 2: Bannerlord - Choosing your family's background
Now that you've chosen a faction, it's time to create your lineage and your character. Once you're happy with your character's appearance, you'll be able to choose from a range of backgrounds that will provide perks to key skills:
Vigor

One-handed
Two-handed
Polearm
Endurance

Riding
Athletics
Smithing
Intelligence

Steward
Medicine
Engineering
Each background will provide you with boosts to certain skills like horse riding, two-handed, smithing and leadership. You'll be faced with scenarios from your childhood all the way up to your first job, which will shape your character's skill set. Once you're happy with your choices and have chosen a name for your hero, it's time to set out on your adventure or take part in the weapons tutorial, depending on your familiarity with the franchise.
Once you've won your first major battle during the tutorial, you'll be able to pick your family's surname, as well as your banner. We'll be adding more Mount and Blade 2: Bannerlord guides during its early access period, so check back soon for more.