Mount and Blade 2: Bannerlord - Spy Party quest guide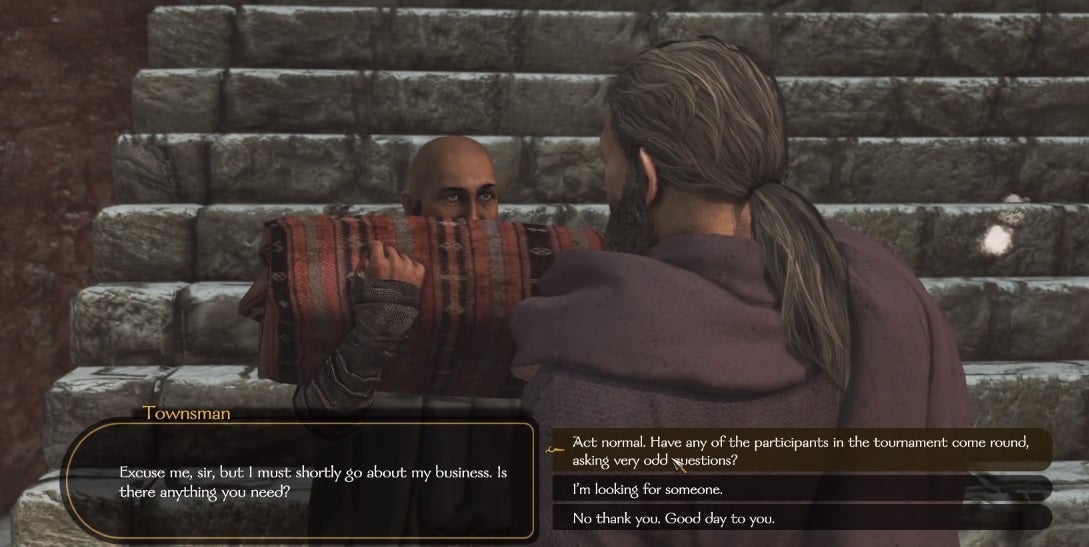 Spy Party is a random quest you can obtain during the main quest in Mount and Blade 2: Bannerlord, and it's up to you to find the betrayer in the kingdom.
Depending on which culture you started with, the spy will be different each time. Essentially, you're looking for a spy who intends to betray the ruler in your game, and you'll need to use your detective skills and wit to weed them out.
This quest doesn't appear to be time-limited, so don't worry about NPCs telling you to hurry it up a bit, but be mindful that a wrong accusation can lead to you failing the quest, so save before making any decisions.
Mount and Blade 2: Bannerlord - Spy Party quest guide
Your spy will be disguised as a fighter who wants to take part in the local tournament. Heading straight for the tourney isn't what you need to do, though, but you can join in the fun later. In the town where the tourney is taking place, you'll need to speak with the residents to find clues about the spy - try visiting inns to find information faster.
The quest will update once you've gathered a clue to his or her whereabouts and once you've collected three clues, use the Alt key function to highlight the next location. Three zones will light up in the town, and you'll need to visit one or all three to find the spy.
Once you've located the spy, you'll need to duel them. What's difficult is working out who the real spy is as the clues are incredibly vague. If you kill the right person, you'll complete the quest. Kill the wrong dude, and you'll be charged with murder and fail the quest.
One clue suggests the culprit isn't bald or doesn't have a beard, but players complained that after following those instructions, the mission still failed. Much like the conspiracy mission, it's likely this mission is bugged out or incomplete at this point in early access.
You can check our our Mount and Blade 2: Bannerlord review here, as well as our guides on which culture you should choose, how to improve your Smithing skill, set up a Workshop and find Charcoal and how to capture prisoners.
We've also got guides on how to complete the Family Feud and Conspiracy quests, and recruit companions and increase your party size.