Halloween is coming to Mortal Kombat 11 with spooky new skins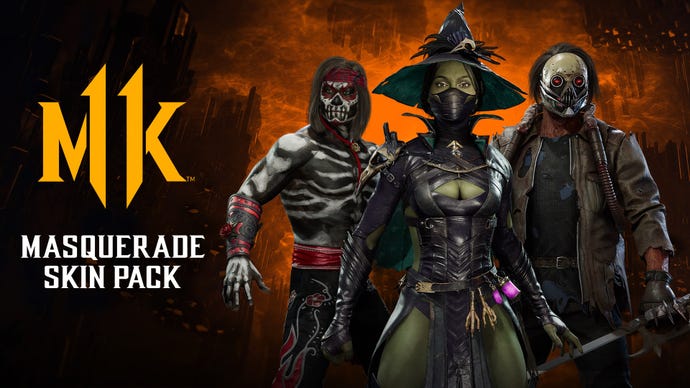 A new skin pack is out today for Mortal Kombat 11, featuring Halloween-themed character skins.
The new Masquerade Skin Pack is available for a spookily-priced $5.99 and gets you three skins. A Wizard of Oz-inspired witch design for Mortal Kombat's Jade, a skeletal Calavera costume for Liu Kang, and for Kabal there is a 90s-style, Jason-like "Psyko Killer" skin (qu'est ce que c'est?). Then, starting October 18 a new Team Raid multiplayer mode hits the game as a free update. In this mode, two to three players must work together as a team to take down a powerful boss.
Developer Netherrealm Studios has also announced a week-long Halloween event for the game starting October 25 until November 1.
The upcoming event will introduce four new boss fights to the game, with different Halloween-themed modifiers arriving in the form of flying witches and bats, falling pumpkins, gravestones that rise up through the ground, and black cats that sprint across matches. Players will also be able to earn new Brutalities, Halloween-specific consumables, player module pieces and other in-game rewards.