Mordhau developer working on known XP bug and server issues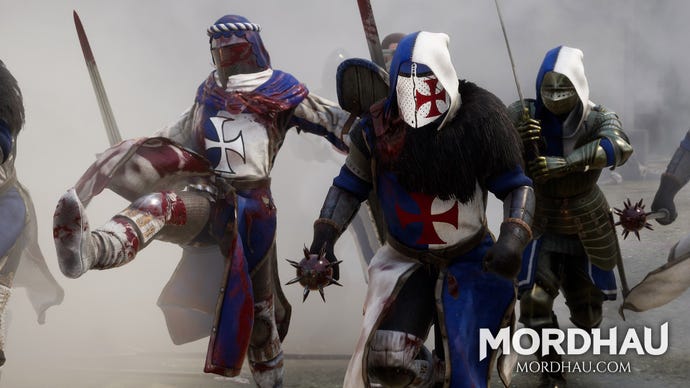 Update 2:
Early this morning, Mordhau developer Triternion released a hotfix which it says will fix the ongoing XP and gold bug issues. In a statement on Mordhau's Steam page, the development team first issued an apology, before outlining the steps players needed to take to flush through the fix:
"First and foremost an apology to all players from our entire team.
"The current state of the game is not the one we wanted you to experience at launch. It might sound cliché, but we were not able to keep up with the rapidly growing playerbase in this short amount of time.
"On the bright side we were able to locate the problems that caused Gold and XP rewards to not be distributed properly, as well as unlocks not working in the Armory. - They should work properly now. We are also currently looking into ways to compensate players for their troubles.
"Make sure to restart your game so the update gets applied! We are also currently restarting the servers on our end."
Update 1:
Triternion has released a further update addressing Mordhau's gold and experience problems, as well as the ongoing server issues.
On the game's official Steam news page, it said:
"We are working hard on resolving the Gold/XP and server issues as soon as possible, which is why it is not possible to buy things in the armory right now.
"We are making progress and will post more updates soon, thank you for your patience."
Original story:
Filled with decapitations, bloody battles, and siege weaponry, "multiplayer medieval slasher" Mordhau is out now on Steam. However, due to the immediate - and apparently unexpected - popularity of the game, some players are reporting that they're not getting XP, and servers are difficult to find.
Developer Triternion has responded to the issues, thanking players for their support and promising to roll out fixes.
To ease server problems, Triternion is "spinning up" more gradually to meet demand.
Like you suspected we are aware. There's also a lot more players than we expected, hence the server shortage. We're spinning them up slowly as we're speaking.

— TRITERNION (@TriternionGames) April 29, 2019
The XP problem seems to be more difficult to solve however, but is still a known bug.
Triternion is actively working on the issue, and address it in a recent update on Mordhau's Steam page, saying:
"We know a bunch of you guys don't [sic] receive any Gold or XP rewards. It must sound like a broken record, but we're looking into those issues.
"To make up for the inconvenience we will compensate all of you with a little bonus once the problems are ironed out.
"The server stability problems somewhat contained [sic] and under control. However there's way more people playing than we expected so we're a little short on server space and we're working with our partners to expand with the demand."
Supporting up to 64 sword and spear-wielding players in large-scale medieval battles, Mordhau started out as a Kickstarter project back in 2017 - where more than 4000 backers pledged almost $300,000 to fund development.
You can create your own character, kit them out with gear, and play in a variety of traditional multiplayer game types, as well as fight your way to victory in a battle royale mode. Mordhau also features offline, co-op PvE gameplay, where you can square off against waves of AI enemies with a team of friendlies.
The game has an emphasis on grounded melee combat, but you can also snipe foes with a bow and arrows or practice your best Dothraki war scream and charge in on horseback.