Monster Hunter Rise: Sonic Barrier | How to use Sonic Barrier Melody
Sonic Barrier is a Melody that can be played on some Hunting Horns in Monster Hunter Rise.
The benefits of Sonic Barrier are powerful but short-lived. It negates damage, as well as preventing you from being stunned by roars, tremors, or wind pressure attacks. But it only lasts for one hit, or until its extremely short duration expires.
Which Hunting Horns can play Sonic Barrier?
A number of Hunting Horn styles (including their upgraded forms) use the Sonic Barrier Melody:
Azure Elder Horn
Basarios Rock
Grass Flute
Magia Charm
Sinister Strum
Zurogong Primo
Tips on which Hunting Horns to choose
The main downside of Sonic Barrier is its short duration. While its ability to no-sell almost any hit is impressive, its protection isn't actually guaranteed to last long enough if you mistime it.
Therefore, your best bet is to use one of the Hunting Horns that pairs Sonic Barrier with a healing melody as back-up. For that, we recommend the Sinister Strum, Magia Charm, and Grass Flute styles.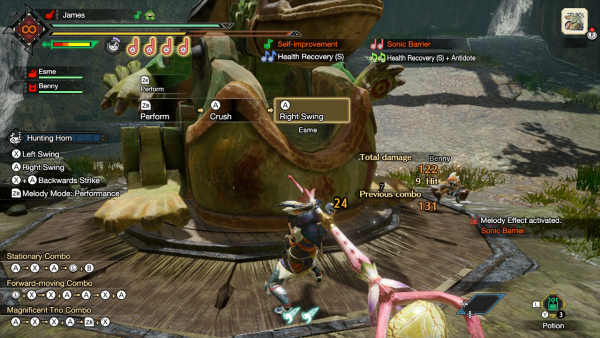 Sinister Strum's other Melody effects increase attack and defence, and include health regeneration, so it's a good all-rounder. Pleasingly, it can also become available quite early in the game.
Magia Charm's other Melodies give you a small health recovery that can be administered with or without antidote, the latter of which removes status ailments from poison or venom as well. Meanwhile, Grass Flutes have health regeneration, plus wind pressure negation. Therefore, these two are more useful in specific scenarios, but still very powerful.
Other skills to use in combination with Sonic Barrier
Sonic Barrier is also very effective when combined with the Flinch Free skill, gained by equipping various armour pieces. This makes it possible to spam Sonic Barrier without flinching, meaning you can effectively top it up every time it expires.