Middle-earth: Shadow of War neither devs nor publisher "will profit from sales of the Forthog DLC" regardless of territory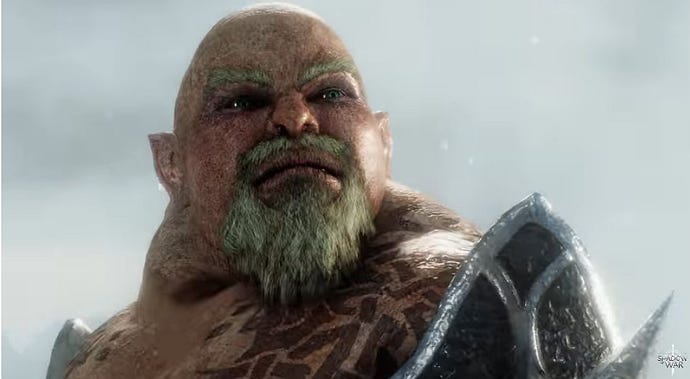 Warner has clarified its plans to donate sales from the Forthog Orc-Slayer DLC for Middle-earth: Shadow of War.
Last week, studio Monolith Productions and its parent company WB Games announced the Forthog Orc-Slayer DLC for Middle-earth: Shadow of War.
The DLC is a homage to Shadow of War's executive producer, Mike Fogey, who passed away during the game's production. The extra content will run you $3.99/$4.99, according to Eurogamer, and as previously reported, $3.50 from each purchase will go toward Forgey's family through December 31, 2019.
When the DLC was announced, it wasn't known whether funds from outside the US would also be donated to the family.
Today, a Warner spokesperson told Eurogamer: "Neither Warner Bros. Interactive Entertainment nor Monolith Productions will profit from any sales of the Forthog Orc-Slayer DLC regardless of the territory in which that DLC is sold."
This indicates those who purchase the content in other regions will see the set funds go toward Forgey's family. The left over $0.49 seems likely to be covering development and distribution costs.
Warner did not elaborate on why funds from the Shadow of War DLC would not apply to sales made in Alabama, Hawaii, Illinois, Massachusetts, Mississippi or South Carolina. It's possible those states have restrictions on such things for tax purposes. Some states will charge a tax in order for a corporation to donate to an organization which is not a 501, for example.
Just like some states won't give you 10 cents back (deposit) on a can or bottle. We're not an accountant (thank, Crom), so we have no idea. Bad analogy I know, but, some states are weird about things. Some more so than others. Hopefully, Warner will also elaborate on that part soon as well.
Alternatively, if you would like to help the family without buying the game or DLC, you can do so through YouCaring.
Middle-earth: Shadow of War will release on PS4, Xbox One and PC on October 10.