MGS Peace Walker PSP-3000 pictured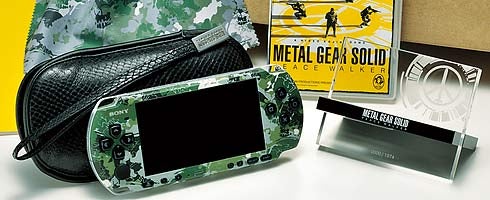 Siliconera's got some shots of the bespoke PSP-3000 Metal Gear Solid: Peace Walker special edition we reported on yesterday. It's camouflaged.
It comes in two flavours. The first is the premium pack, which includes the PSP, a case, wrist strap, cloth, and the game itself, costing 26,980 yen (£182).
The second is for super-Snakes only. You can only get it through the Konamistyle online store in Japan, and it includes the console, leather pouch, leather wrist strap, cloth, numbered collectible stand, numbered dog tags and a booklet for a cool 36,980 yen (£250).
Japan-only. The game's out in Japan on March 18, with releases in the US on May 25 and May 28 in the UK.