Mass Effect's multiplayer is getting an overhaul in Andromeda. Here's what you can expect Mass Effect Andromeda's multiplayer is designed to keep you coming back for more.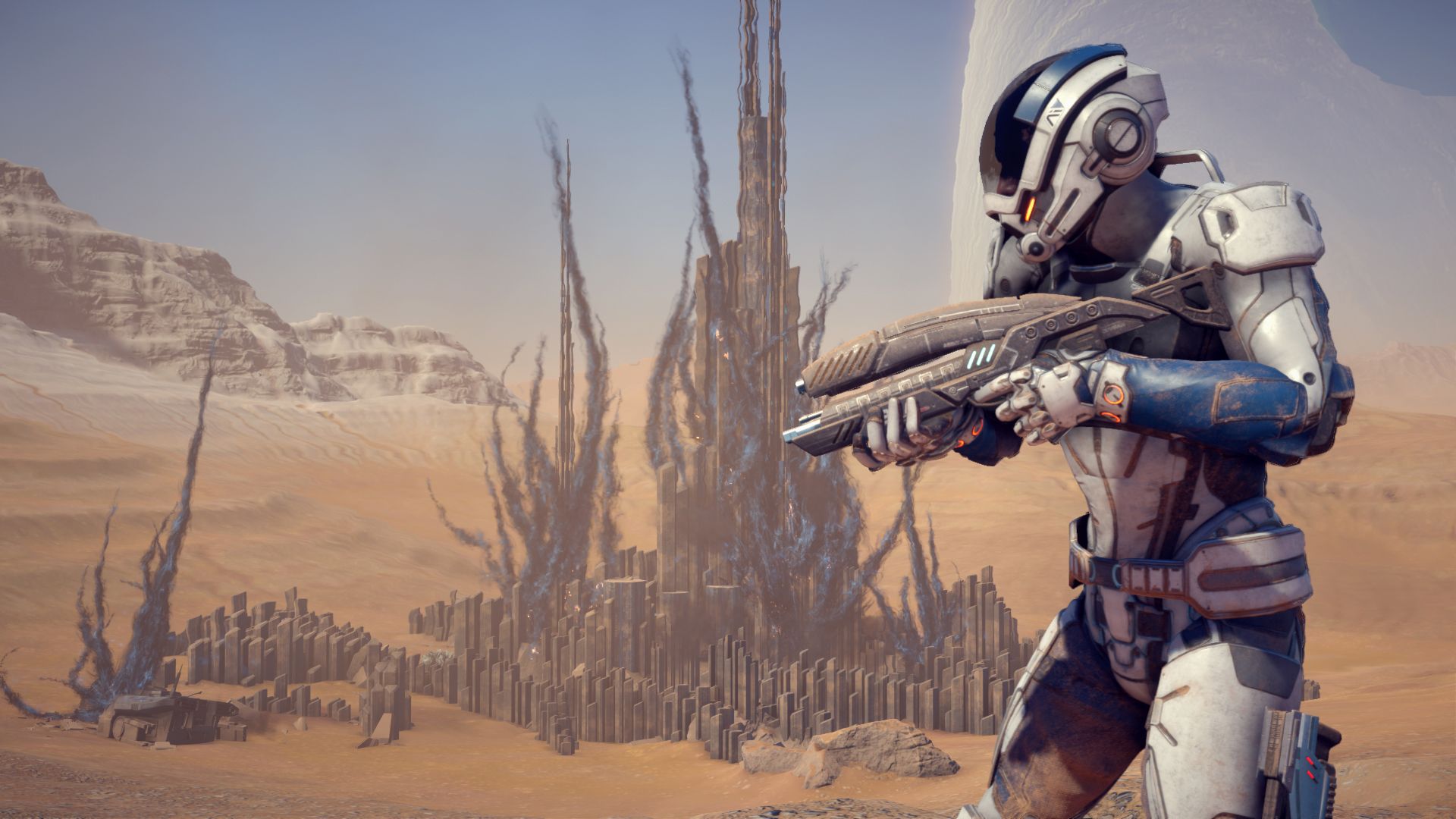 The multiplayer mode for Mass Effect Andromeda has had some major tweaks coming off the back of Mass Effect 3.
According to Game Informer, map traversal feels a lot more intuitive now that you can use the jetpack to move between levels rather than trudging up and down ladders. It also comes in handy during combat.
"It's not a permanent rocket that you use to fly around," said producer Fabrice Condominas. "There is a beginning and end to them – a momentum curve – based on when you do your input."
Ability cooldowns will make a lot more sense with each power now having its own cooldown, rather than all of them being linked to a single one.
"You can dump everything at once if you want to, or strategise and hold off until the right situation," said lead designer Ian Frazier. "So you can do a lot more interesting combinations."
Another overall change is that you won't be able to dig in at a spot on the map to fend off enemies. The AI have different attack patterns, with some forcing you into cover, while others pile on the pressure, driving you out into the open. Combined with the improved mobility bestowed by the jetpack and the extra powers at your disposal, the multiplayer mode is going to feel a lot different as you change strategy and tactics on the fly.
"The first thing everyone will notice is how dynamic it is. Everything is more fluid, fast-paced, there's a lot of action going on," said Condominas. "The controls are also more responsive. All of that is on purpose; we really wanted to increase the dynamism and how accessible it is while retaining the depth and going more into layers."
Blind card packs are back and you can buy them with in-game currency or via micro-transactions in the store, where you can buy select weapons and gear.
"If you don't want to be at the mercy of the random number generator for the cards, you're still at the mercy of what's in the store right now, but it's like, 'Oh, that's the Black Widow and I really want it!'" said Frazier. "You can buy them with real-world money if you want to, but again, nothing requires that."
In a bid to hang onto players long-term, prestige XP is being introduced. Earned alongside regular XP, prestige is spread across character class rather than a single character and comes with its own bonuses and rewards.
In regards to how the multiplayer ties in to the single-player campaign, the mission funds earned in multiplayer have "tendrils going out into the rest of the game." Game Informer mention an option in the single-player pause menu to switch to multiplayer, which may be related to the notion of side missions Condominas describes.
"You will have possibilities to send teams to complete kind of side missions, or to do it yourself in multiplayer. That's the idea."
Unlike the whole galactic readiness concept of Mass Effect 3 that pushed you into the multiplayer, players won't have to step outside of the single-payer campaign if they don't want to.
"If you feel cheated, we've done something wrong," Frazier said.
As much as I enjoyed the multiplayer, I wasn't a fan of it having an impact on the ending of the game, and there was little incentive to go back after a while.
"If you really got into the ME 3 multiplayer, you could always collect more cards and get more items," said Frazier, "but at a certain point, you're playing because you like to play. There was no systemic benefit at a certain point."
It sounds like these changes are designed to improve the gameplay and keep players engaged long-term. Does this sound like enough to keep you interested? Chime in below.