Mass Effect: Andromeda shown off at Nvidia's CES 2017 keynote - see new combat gameplay and skill trees here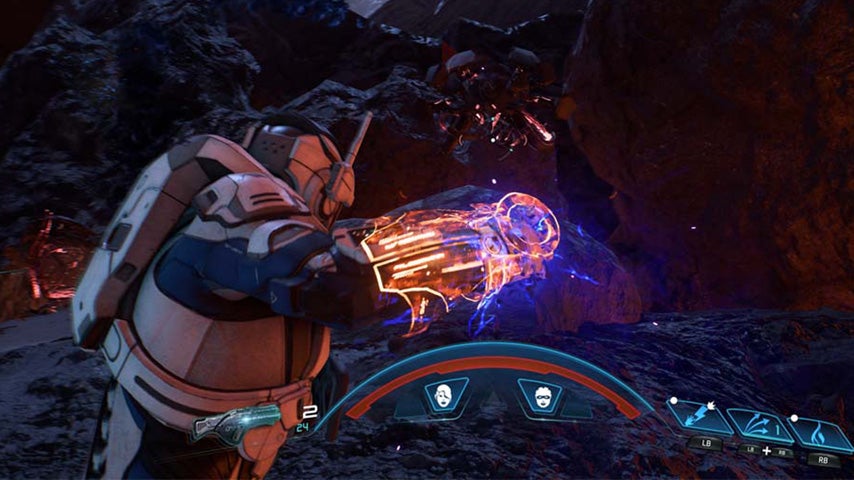 Mass Effect: Andromeda was the entire reason we tuned in to CES 2017 today.
Nvidia's CES 2017 keynote include a short Mass Effect: Andromeda showcase.
To recap, BioWare general manager Aaryn Flynn appeared on stage to talk about Mass Effect: Andromeda. Nvidia CEO Jen-Hsun Huang impressed him by explaining the franchise's title to the audience, referencing the discover of element zero on Mars, and said the demo was captured running on an Nvidia GTX 1080.
The pair then had a chat about how fans would begin tearing down the new skill trees, weapons, aliens and battle tech BioWare would show in the new Mass: Effect Andromeda footage.
The gameplay footage started with some lovely views of one of Mass Effect: Andromeda's many planetary environments before zipping down to character level for some character customisation menus and combat footage.
After the video, Flynn said the footage was from Peebee's loyalty mission and showed off Mass Effect: Andromeda's dynamic character class change system, a new planet and various special effects. The whole presentation was about 5 minutes long.
You can see some new Mass Effect: Andromeda screenshots from this demo over on GameInformer.
Mass Effect: Andromeda releases in March, EA confirmed earlier today, on PC, PS4 and Xbox One.
Developed by the team behind Mass Effect 3's multiplayer, it is a fresh start for the series.