MAG released today along with sizeable patch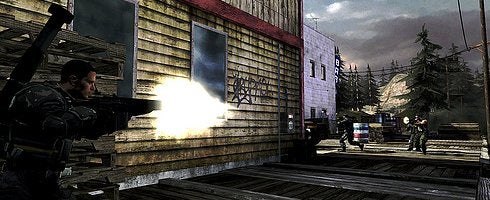 Zipper Interactive has released an update for MAG, which launched in the US today, and it will automatically patch when you log into the game.
According to Zipper's Jeremy Dunham, the sizable patch contains loads of upgrades, and tweaks including a framerate increase.
In addition, the team has "gone back and added all-new light settings for every environment and increased the amount of time you can sprint before getting tired."
I's out in the UK on Friday and full patch notes can be found below and through the official website.
Gameplay
Added ability for player to use knife during a reload animation.
Applied significant tuning adjustments for all weapons and armor.
Increased sprint duration before tiring by 30%.
Lowered XP requirements for levels 2 thru 4.
Lowered level-entry restrictions for Sabotage from Level 3 to Level 2.
Lowered level-entry restrictions for Acquisition from Level 5 to Level 4.
Lowered level-entry restrictions for Domination from Level 10 to Level 8.
Enabled proper level requirements for unlocking headgear, facegear, and uniforms.
Fixed problem with recoil/firing animation that kept playing for a few seconds after the player fires an automatic gun and uses knife swipe simultaneously.
Interface
Fixed bug where incapacitated players' nametags would occasionally disappear.
Repositioned onscreen weapons for improved field of view.
Armory items (facegear/ headgear/ uniforms) reordered.
Removed helmets from "Loadout 3" for all factions.
Graphics
Made significant increase in framerate during player-heavy games.
Changed light settings for all environments.
Polished recoil effect for better realism.
Fixed offset muzzle flash effect.
Tuned camera to shake more realistically when hit by bullets.
Adjusted "blur" effect for both normal sights and iron sights.
Added alternate reload animation.
New "light scatter" treatment for all skies.
Repaired various "weapon clipping" issues.
Enacted several particle fogging adjustments.
Audio
Switched first-person weapon sounds to true stereo.
Moved first-person character interactions and weapon switches to true stereo.
Tweaked sounds effects relating to landing on surfaces.
Technical
Added error display and queue panel updates to notify player when they've encountered a "join game" failure.
Made various server stability fixes and tweaks.