MAG goes Faction Neutral, more DLC coming this summer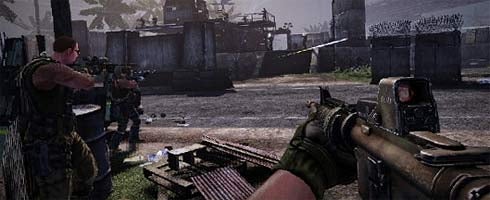 Jeremy Dunham, senior community manager for Zipper Interactive, has announced over on the US PS Blog the developer has added Faction Neutral to the Sabotage maps in MAG.
Faction Neutral went live on Thursday, and what this means is if you've wanted to play "against the Valor PMC as a member of the competing Raven Industries on a map that belonged to the third faction, SVER", you can now do so.
All you have to do is log into the game, select Sabotage as the game mode with your PMC choice and then let loose.
If you've not played MAG in a while, are a fan, and have been worried about any altering of support to the servers - no worry needed. Ken Inagaku, staff producer at SCEA said there are still a number of log-ins each day.
"MAG continues to record a strong and steady number of player account logins each day and boasts a robust community that has up to this date logged 1.27 billion kills and a total of 1.11 million games played," Inagaku told Kotaku.
"SCEA and Zipper are fully committed to supporting MAG indefinitely.
"Since launch, MAG has received seven patches that have been a direct result of community feedback. We continue to listen to our players and implement new features on a consistent basis [like] Sabotage maps going faction-neutral. Community support goes beyond new content and features with our Double XP and "Play with Zipper" events.
"Future DLC [is] coming this summer, including Clan Wars, more faction-neutral maps, additional character slots, the ability for all three factions to wage war in one map, and much more.
"Stay tuned for additional announcements as we continue to expand the Shadow War."
So, there you have it. Faction Neutral, loads of people are still playing, more goodies are on the way.
Good to hear. Sounds like a great time to start playing again if you haven't.