Madden NFL 17 Review: Another First Down
Smart but subtle additions rule the day in the latest edition of EA's football simulator.

This article first appeared on USgamer, a partner publication of VG247. Some content, such as this article, has been migrated to VG247 for posterity after USgamer's closure - but it has not been edited or further vetted by the VG247 team.
I could make a million jokes about infamously conservative LA Rams coach Jeff Fisher calling for two with time expiring and a playoff berth on the line in Madden 17's prologue. It's a flatout crazy moment that could potentially say all kinds of unflattering things about Madden's realism. But here's the thing: Madden's actually pretty good these days.
Over the past couple years, EA Tiburon has made marked progress in improving Madden at the fundamental level, investing a large amount of resources in building blocks like line play, catch interactions, and running locomotion. It hasn't always been better, but take a look back at 2013's Madden 25 or even the far superior Madden 15, and the difference is stark. Madden 17 is a better game in pretty much every way.
Madden 17 is meant to be a culmination of the revamp that began with Madden 15. Next year, EA Tiburon hopes to take what they've built and start adding in some truly cool new features. The question is: How well does the foundation hold up? Let's take a closer look.
For those who are new to the series
Madden NFL is a massive and intimidating game for those coming in for the first time. If you're not already versed the in formations, terminology, and strategy of football, you're apt to feel pretty overwhelmed. To its credit, though, Madden does a better job than pretty much any sports game in familiarizing you with its concepts and getting you comfortable.
It begins with an imaginary game between the newly-relocated Los Angeles Rams and the Washington football team in which you get to enjoy an NFL Films-style story while learning the basic controls. Madden then takes you into the tutorialized Skills Trainer before finally dumping you into the main game. Spend some time in the Skills Trainer and Madden will patiently explains concepts like Cover 1 and Cover 2, as well as the often impenetrable jargon surrounding the game. As tutorials go, it does about as good a job as possible in explaining the insanely complicated game that is American Football.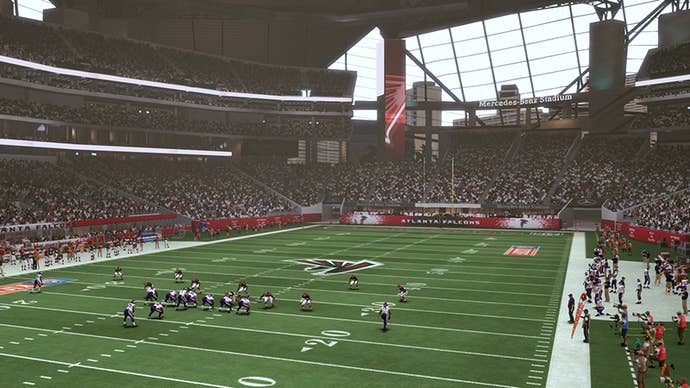 Once you get properly going, you can choose to play franchise mode, ranked online play, Ultimate Team, and Draft Champions, or you can just play a quick exhibition game with the teams of your choice. Madden 17 also includes a somewhat janky but serviceable custom playbook editor - a holdover from the now prehistoric Madden 12 - and a roster editor. Sadly, there are no historical teams to choose from, and you can't create your own team from scratch, but Madden's customization options are otherwise adequate.
Where you end up spending the bulk of your time in Madden depends on how you like to play. Simulation nuts will likely opt for franchise mode, which allows you to run a team as a coach, an owner, or a player. Ultimate Team, meanwhile, is a card-collecting mode in which you play through solo challenges and build up your own custom team. Finally, Draft Champions allows you to quickly draft a team and take it online.
Of them all, Ultimate Team is probably the strongest, though it is admittedly a bit of a grind. As Madden 17's primary moneymaker, it's the mode that gets the bulk of the attention throughout the year, continually picking up new content and cards each week. It's easy to knock it for being too microtransaction-oriented - MUT practically begs you to buy its various bundles in order to obtain high-level players - but it's not too hard to build up a good team by completing the various solo challenges. Out of all the Ultimate Teams, it has the most to do outside of taking your team online and playing other people.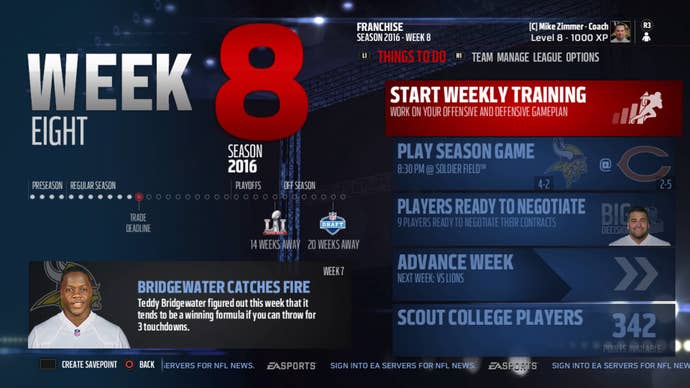 Franchise mode, for its part, does a decent job of simulating the day-to-day of running a football team, though with the caveat that it's a bit dry. Players grow with the help of XP earned by playing games, and there are lots of little updates and news items to keep you engaged. It's single best feature is the ability to invite friends and form an online league with drafts, free agents, and championships. If you want, you can even move a team and create the Mexico City Diablos. Sadly, there's no way to play a basic season with none of the headaches of franchise mode.
Franchise mode is also plagued by a number of legacy issues. Choosing to play as an owner, for example, means being stuck with inane decisions like whether to raise the price of concessions; and if you're the owner of a team like the Jaguars, you're almost guaranteed to run out of money and find yourself unable to sign new players. Player mode, meanwhile, is sterile in the extreme - a narrative-free mode that does absolutely nothing to make you feel like you're an actual player in the NFL. If you want to enjoy everything franchise mode has to offer, then playing as a coach is really the only way to go.
On the field, Madden is an attractive and vibrant football simulation. The stadiums are impressively detailed, and new commentators Brandon Gaudin and Charles have a smooth and natural rapport. If you're at a loss as to which play to pick, the playcalling interface does a good job of recommending context-appropriate plays. When the ball is snapped, on-screen prompts will tell you when to juke or spin, and it's even possible to hand complete control over the CPU and let them do skill moves for you. As in the real NFL, success is a matter of learning how to quickly diagnose defenses and make the right play.
You can nitpick a lot of little aspects about Madden's gameplay - aggresssive catches are arguably still too powerful, for example - but as a football simulator it actually feels pretty good. And if you're willing to really go down the rabbit hole, there are hundreds of hours to be found in Ultimate Team and franchise mode. But at the end of the day, most fans will only be playing to take their favorite team to the Super Bowl (and maybe run up the score on their rivals); and in that capacity, Madden can be a lot of fun.
For returning fans
On the face of it, Madden 17 is pretty similar to Madden 16. There's no gaudy new story mode or graphical facelift, nor anything as profound as the aggressive catch system. But Madden 17 does bring with it a ton of little changes, many of which strongly impact the game's quality of life. For instance, you can finally skip cutscenes! As someone who plays umpteen numbers of Madden every year, I can't tell you how happy this makes me.
On the gameplay side, much attention has been paid to the running game, which has once again been revamped. Running back locomotion feels more realistic; and as I mentioned in the previous section, onscreen prompts will tell you when to use skill moves, which is great for people like me who are terrible at running the ball. At a minimum, it's given me a much better feel for when to stiff arm and juke around my opponents.
What will be interesting to see if whether the running game is ultimately overpowered. It's always a delicate balance with games like these; and in Madden 16, it was way too easy to rack up big yards with runs like Inside Zone. In all honesty, things haven't changed a huge amount - Inside Zone out of formations like Trio Offset are still a staple for me - but the new gap control mechanics make them easier to stop. With defenders now being assigned actual gaps and hitting them properly, it's much easier to blow up runs in the backfield if you predict them right. And if you're at a loss as to how to stop a play, a new counter option in the playcalling menu will offer suggestions (though it doesn't work with custom playbooks).
Most of the gameplay additions mirror the nitty gritty nature of the gap assignments. There's a new swat mechanic, for example, which is designed to counter the power of aggressive catches (which are still pretty powerful - Amari Cooper is a fricking monster in this game). The kicking game has once again been revamped, with three button presses being used to set power and accuracy, forcing you to pay far more attention when kicking an extra point. You also have more ways to block a kick, though I've yet to have any success in that regard - probably for the best given that such events are still pretty rare in the NFL. Such mechanics have the potential to be extremely overpowered if tuned incorrectly in a game like Madden.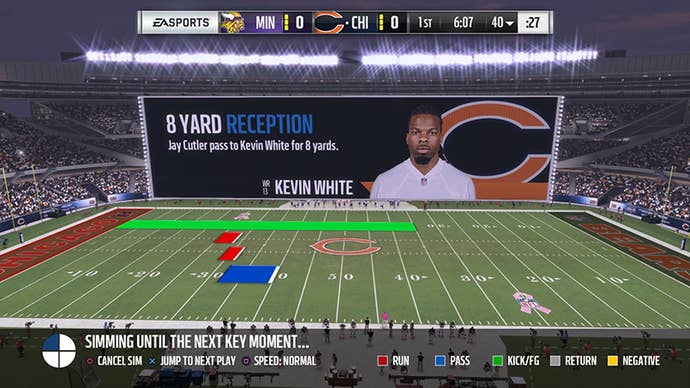 It's always a little tough for me to say how the game will ultmately evolve since I'm basically playing in a vacuum. I'm having success with pretty much the same plays as last year, but I know that there's a decent chance that I will be using a totally new playbook by the end of the year. The biggest change, I think, is that it's easier to get in and stop a run before it can really develop. But on the other hand, I can still rip off four to five yards with a fullback run out of Split Offset. Something to test in the wild, I suppose.
In the meantime, franchise mode is defined by similar sorts of quality of life features. The UI has been revamped to include a number of prompts to, say, make roster cutdowns, and even goes as far as to make recommendations on who to cut, sign, or trade for. There's also a Practice Squad where you can stash some of your extra rookies without giving up roster spots though you run the risk of having them snatched up by another team.
By far the biggest addition is Play the Moments - a simulation-driven feature designed to cut down your average game time to about 20 minutes. Given that the average Madden game takes about an hour to complete, this makes a rather massive difference in how I motivated I feel to play multiple games per session. There's still not much impetus to play beyond the Super Bowl unless you're trying to build a super team (or you're playing with friends), but it's nevertheless a smart addition.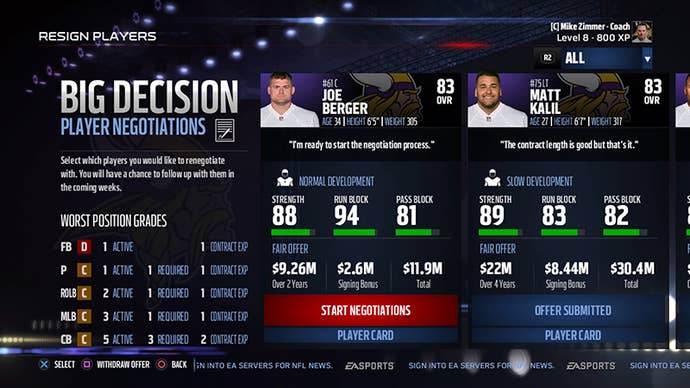 The only real caveat I can offer is how much it puts you at the mercy of the simulation engine. If you're playing as the Patriots or the Seahawks, you're probably fine. If you're playing as the Browns or the Rams, though, you're apt to find yourself down 16-0 against a good team like the Panthers before you even touch the ball. Granted, it's true to life in that regard, but it can be frustrating to go down big because the CPU keeps making your QB throw interceptions. In that regard, your only recourse is to either play yourself or suck it up and accept that bad teams lose to good teams all the time.
I'll just take this as an opportunity to say that I still hate the confidence mechanic and the way that it absolutely kills rookie quarterbacks and middling receivers, which is only exacerbated by Play the Moments. It's ever so much fun to try and engineer a comeback while your quarterback continually airmails passes. With all that said, I use Play the Moments more often than not. I'm just judicious about it.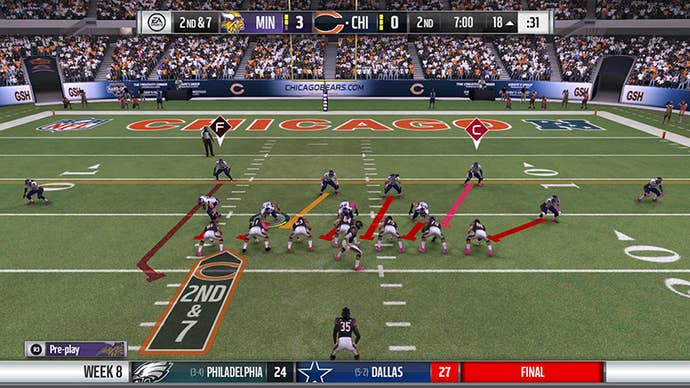 As franchise modes go, Madden continues to sit somewhere in the middle, neither falling as far as NHL nor rising as high as NBA 2K. Its main drawbacks are that it features none of the emergent storytelling found in FIFA or NBA 2K, that owner mode is only good for moving your team, and that there's not a lot of incentive to keep playing for a long period of time. Experience point-based progression also continues to be incredibly tedious in the way that it forces you to painstakingly raise individual stats. But credit where credit is due: It's much more attractive than last year, it's easier to navigate, and Play the Moments makes it much easier to knock out a season in a couple days. The new gameplanning mechanic is also pretty neat, allowing you to run practices that will buff certain position groups and plays depending on your matchup.
All of these incremental improvements combine to create a game that feels appreciably improved from last year, particularly if you weren't around for the Madden 16 updates that revamped Draft Champions and improved XP gain. The overall presentation has been improved, and the new commentary team of Brandon Gaudin and Charles Davis is miles better than Jim Nantz and Phil Simms, which can be attributed to the fact that they are able to spend far more time in the broadcast booth together. From top to bottom, Madden 17 has been improved in almost every facet of the game.
With this being the culmination of the current "arc" of Madden games, it's tempting to ask where the series should go next. Certainly, story mode is a compelling direction for a license with rich resources like NFL Films. Owner mode could use a total revamp, and so could normal ranked online play. But after being a laughingstock at the turn of the generation, Madden has made enormous gains.
For better or worse, Madden gets more scrutiny than pretty much any other franchise. But after three years of continual gains, I think it's okay to say it: Madden NFL 17 is a good sports game.
InterfaceLoading still takes too long, especially when you're grinding solo challenges in Ultimate Team. Creating a custom playbook is still a disaster. Thankfully, franchise mode is much more manageable now thanks to the new recommendation system and prompts.
Lasting AppealIf you get into online franchise or Ultimate Team, Madden 17 can last you well into 2017. Sadly, there's still not much impetus to keep playing a solo career past the season that you win the Super Bowl.
SoundThe commentary by Brandon Gaudin and Charles Davis manages to be enjoyable without being obtrusive, which is pretty much all you can ask of the announcing in a sports game. Unfortunately, the menu soundtrack is grating in the extreme.
VisualsMadden 16 continues to be one of the best-looking sports games around. Its presentation has also received a nice revamp, further adding to its sense of realism.
ConclusionEA Tiburon has done a great job of rehabilitating the fading Madden brand, with Madden 17 being the culmination of their efforts. Everything they've tried to accomplish over the past couple years is on display, from the revamped blocking to the smarter franchise mode. There are certainly plenty of issues left to address; but for now, Madden NFL 17 is a very solid football game.