Lords of the Fallen is difficult, epic, and a little bit evil - interview
Lords of the Fallen is the first new RPG project from Witcher 2 producer Tomasz Gop. VG247's Dave Cook talks with him about the game's setting, its tough difficulty and how sometimes being an evil sod is actually the best course of action.
"This is a game about you crossing the gap, and the difference and distance between being a random noob at the beginning, and skilled pro player at the end. This crafting of your skill is what this is about, and I thought Dark Souls was exactly about the same thing."
Tomasz Gop knows a thing or two about crafting a story-rich RPG experience. The Witcher 2: Assassin of Kings was top-heavy with narrative, lore and a running tale that branched depending on the player's actions. During a recent Skype conversation with me the executive producer repeatedly stressed that his new project Lords of the Fallen will focus more on combat than plot, but I suspect he's being slightly modest because it's got one of the most intriguing settings I've encountered in recent months.
Sure, it's set in a fantasy world like The Witcher, but in this realm the people take an almost religious attitude to evil and the nature of morality. Thousands of years before the game begins, humanity decided it could no longer follow its god, so whole armies vanquished the entity and imprisoned him below the Earth. With his dying breath he tried to rise up from the rock, tearing his arm through the surface. The god ultimately perished but his hand still towers out of a vast mountain range, serving as a reminder of the old ways. The new era had begun.
Evil was vanquished, but the people decreed that it mustn't be allowed to return. To that end, humanity started punishing evil misdeeds by coming up with a codex of all the wicked things a person might do, and then tattooing the symbol of each act on the faces of sinners. Lords of the Fallen stars a hero called Harkyn, a man whose body is covered in these marks. He's as evil as they come, but as luck would have it; he's the only one capable of stopping the fallen god's demon horde, which has mysteriously sprung back into life. Fate can be funny like that, you know?
"It so happens that for whatever reasons our hero is a guy who has committed a lot of these bad deeds," Gop told me. "He has been marked with that all over his face, and not only does everyone know that, it gives him a special kind of character, a personality. On one hand everyone believes evil can be cast away, but on the other hand our hero – this guy – is the personification of everything that is evil in the world. This has to be something weird, especially if, right now, it so happens that those demons are back. No one knows why but they're back, so what do they do? Fight evil with evil."
The seeds are there for something quite epic, and if you watch the trailer below you'll get a glimpse of Harkyn in action, and the fallen god starting too wake from his slumber. This won't be a game of half-measures; it's going to challenge you, make you think and bring out great dedication in those who wish to master its precise melee format and punishing enemies. It's unsurprising then, that many have already likened Lords of the Fallen to Dark Souls.
"I think that it's important – and this was very well laid out by Dark Souls developers and creators – to lay out the kind of game it was before it reached people and got into their hands," Gop explained, regarding the alleged similarities. "By the time Dark Souls got out there, people already expected it would be a challenging experience. They were ready to grab it and say, 'okay, I'm going to have to try a bit harder this time.' This is my personal opinion of course, but it was a huge factor in the fact that people enjoyed the game a lot."
"It doesn't matter if the game is harder or not physically, but if you're told it's going to make you sit on the edge of your seat, you're going to try a little harder. With the right targeting of the experience, you're going to have more fun with it, because if this is what you think you're going to get – a challenging experience – then you approach it in the right way and everything clicks. I think this was perfectly done with Dark Souls and I think we're trying to do the same thing."
"Technically, in my opinion, this is a very different game to The Witcher, because it's not an orthodox RPG, which I perceive The Witcher to be. It's an action RPG."
It's refreshing that Gop is keen to avoid selling Lords of the Fallen as something it's not. This is not trying to be Dark Souls, and there are as many similarities as there are differences between both titles. For one; the narrative will be much deeper, with dialogue, NPCs, side-quests and less of what Gop called "treadmill" grinding you see in the Souls series. It's an action RPG at its core, where combat and challenging boss battles rule the day. When he described the combat difficulty to me, it sounded more in-line with Bayonetta than anything else.
Harkyn can dip into nine weapon pools, each offering various attack speeds, reach and other variables that promise to influence your approach to each battle in a tangible manner. Gop cited an example that involves a bosses crushing area-of-effect attack. Rather than turn tail and flee the move each time, certain weapons and their combos include a move that creates greater stability, meaning you can withstand the blow. Combine that with a dodge roll and you'll get a brief window of invulnerability that can prove vital when you're facing multiple foes.
Gop explained that having nine sets of weapons, spread across Harkyn's three starting classes - each with their own unique supernatural and magical abilities - will give players great freedom of expression. As I type this I'm reminded of games like Shinjia Mikami's insane brawler God Hand, which enables players to create custom combos, complete with little guard-breakers, evasive manoeuvres and stun blows thrown in at different beats. Add to this the fact that Harkyn's weapons aren't class-bound and you have a huge melee and projectile tool-set to play with.
"This is a game about you crossing the gap," Gop stressed, "and the difference and distance between being a random noob at the beginning, and skilled pro player at the end. This crafting of your skill is what this is about, and I thought Dark Souls was exactly about the same thing. For me personally – and it was one of the biggest take-aways from Dark Souls - I could honestly say, that I was on the other side of the experience that people beginning the game have. At the end of the day I could honestly say, 'I owned the game.' This is exactly what you're trying to get with the right mind-set with games like Dark Souls, and I believe Lords is going to do the same thing."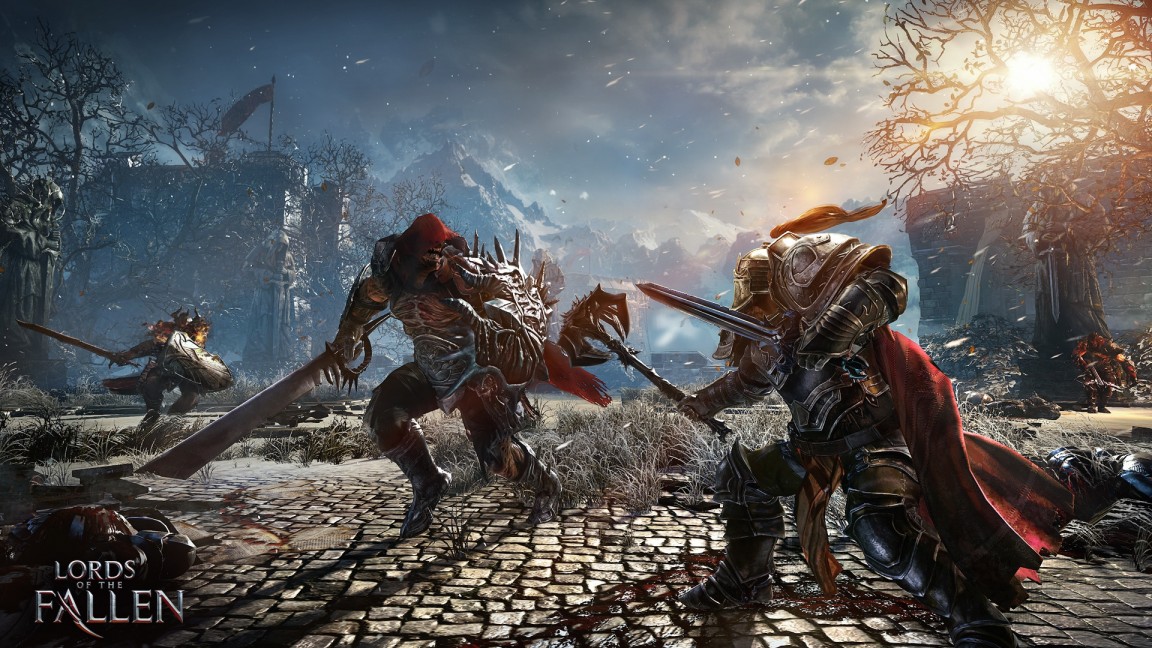 Lords of the Fallen is out this year and has been in co-development for over two years at CI Games and Deck 13. If there's one thing Gop's time on The Witcher franchise has taught him; it's that carefully propositioning your players is the key to making a good first impression. There's no advantage to dressing mutton as lamb, and that's why we haven't seen a gameplay trailer yet. Gop admitted he is stressing out a little about that first footage, as it has to perfectly explain what kind of game Lords is.
It's not Dark Souls, it's not The Witcher 2; it's something that spans both games and more. That it can't be so readily pigeon-holed in its entirety is surely a major plus-point for Gop and his team. "Technically," he concluded, "in my opinion, this is a very different game to The Witcher, because it's not an orthodox RPG, which I perceive The Witcher to be.
"It's an action RPG. We have not released any gameplay trailers yet. There is one trailer that is out, but we're working very hard to deliver the gameplay trailer soon. I don't know when that's going to be yet, but you can be sure that the kind of depicting and the picturing of the user experience in all the trailers that we're going to do is going to be a bit more like an action movie, rather than telling the story, which is probably what CD Projekt is trying to do."
"I don't think you can stick similarities between the games, but the way that we work; the way that we message the game, and the way that you're going to be ready to experience what you're getting in the box the day that you buy it is important."
Lords of the Fallen is coming to PC, PS4 and Xbox One in 2014.