Life is Strange: Episode 5 - let's talk about our feelings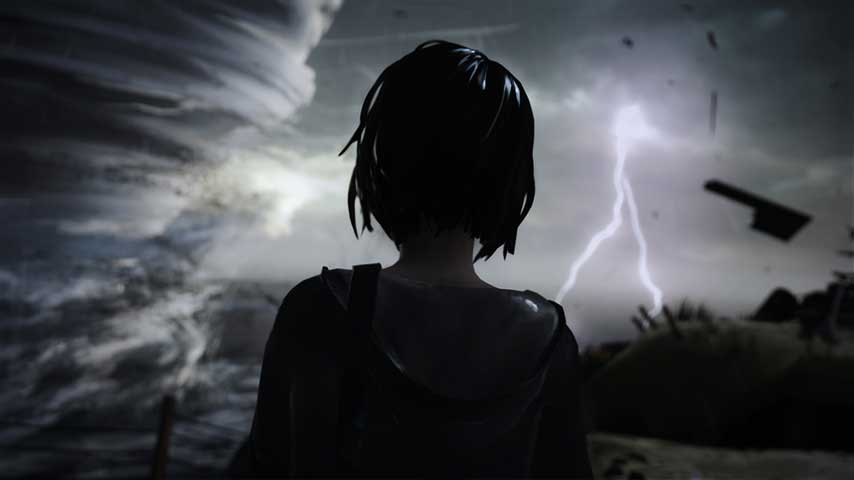 Life is Strange is finished. You have feelings. It's okay. This is a safe space.
I just finished Life is Strange: Episode 5. First of all: Dontnod, how dare you.
Second of all: although I am going to talk around the events of the episode to try and avoid spoilers, I can't speak for the comments and I absolutely recommend you go play before you read anything. If you haven't played Life is Strange at all and are on the fence, the synopsis is: go and do that, please. We'll wait.
The storm, looming over Arcadia Bay right from the very opening of Episode 1, was almost a relief.
I have to say this episode started off a little bit weakly. After the incredibly intense conclusion of Episode 4, I was primed to jump back into the action. Instead, I had to endure quite a lot of exposition. This is something that tested my patience over in the Tales from the Borderlands season finale as well, and it's easy to see why it happens. Both series have complicated, non-chronological plots with central mysteries, and if the narrative doesn't slow down many of us will get to the end completely flummoxed.
When things did get going though: wow! They really didn't stop, did they? In a wonderful bit of serendipity, a cool change arrived just as Max and I wandered out into the storm. The wind rattled my windows, sent my blinds flying, and brought with it the quenching scent of heavy rain. Good of Square Enix to check my local weather forecast when agreeing to a release date.
This storm, looming over Arcadia Bay right from the very opening of Episode 1, was almost a relief. Throughout the season it's been a beautiful metaphor for the player's growing unease with Max's time-bending powers. Her nosebleeds, the accelerating punctuation of disasters, the increasingly dark material, the weird phenomena - all of it has been brewing and gathering, just like the clouds. Having it break, having all the secrets in the open, was cathartic. But also, of course, only the beginning of Max's last set of troubles.
One thing I found a little off putting during this episode was a section in which Max has multiple opportunities to help people. Although some of the puzzles here were great (and the throwbacks; Alyssa gets her time to shine, for example), I felt it clashed with the messaging and theme of the story at that point in the game. We know, by then, that Max's use of her powers is a problem; we know she has one singular goal to save Chloe; and most pertinently we know that none of her actions here are going to matter in the longterm if she doesn't succeed in what she's trying to do.
I ran past them all, personally, but I felt quite bad about it, and so did Max. I expected her to say "I don't have time for this" or something. I mean, obviously she does have time - that's kind of her whole thing - but also her brains appear to be gradually liquefying when she uses the rewind and she's been happy to brutally prune timelines to achieve her ends so far, so it felt out of character for her to stop and worry about some rando getting hit with a pole. (He wasn't really a rando, but I had to look him up, so whatever.)
Anyway, how about that nightmare sequence? You learn a great deal about what goes on inside Max's head here, and it's painfully true to life. I say this as a person with a lot of issues, so your mileage may vary, but when that whole Dark Room bit ended I took a moment to think about how the little fake scenarios our brains conjure up can capture and control us. I don't think Max has this problem when she's not, you know, flung into broken spacetime formed of her own twisted and shattered psyche, but if she does, she should go to therapy and take back control of her brain meats. As should we all! It's great.
The nightmare just kept surprising me with its new and horrible twists, and there are a bunch of little things - almost Easter Eggs, only not delightful chocolate - you can find if you take the time to explore it. The stealth section is pretty balls, I must say, even with time rewind, but the final sequence where you pass through Max's brightest memories, getting a last reminder of what's happened and how many feelings you had along the way, is terrific, and an excellent lead into the all-important final choice.
How long did you sit on that screen before you pushed a button? Did your console power itself off? Did you chew off all your fingernails? Did you choose well?
I don't know.
Anyway. When it was all over, I cried noisily and with vigour for several minutes. Your turn.
Life is Strange: Episode 5 brings the series to a close. It is available today on Mac, PC, PlayStation 3, PS4, Xbox 360 and Xbox One.