LawBreakers unveils physical release and collector's edition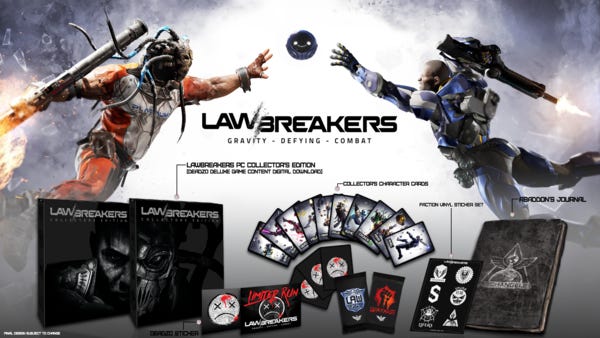 Want some physical loot with your copy of LawBreakers? The collector's edition is for you.
LawBreakers was initially supposed to be a free-to-pay, PC-exclusive game, but it's looking more and more like a traditional game release. First Boss Key Productions dropped the FTP format and offered a PS4 release. Now the studio has a full-blown collector's edition lined up with physical and digital goodies.
The LawBreakers collector's set will include the Deadzo Deluxe edition of the core game, complete with exclusive weapons and character skins. On the physical side, customers will get a copy of Abaddon's journal detailing the game's lore, two LawBreaker character card packs, stickers, postcards, and a premium numbered box. The full set will set you back $70, while the standard edition is $40.
Preorders for the PC collector's edition are currently live from Limited Run's website, who will even email a Steam key to ensure you can play the game at launch. Digital editions are still available from the usual sources.
LawBreakers launches for PC and PlayStation 4 on August 8, 2017.