Latest Razer Blade is smallest and cheapest yet, but expands with dual GPU add-on
Razer has fielded yet another interesting entry into the gaming laptop market.
The Razer Blade Stealth is described as an ultrabook. Its standalone form factor is impressively small and light, and depending on how you choose to kit it out, it's among the most affordable of dedicated gaming laptops at $1,000.
Its tech specs are kind of modest, with an i7-6500U CPU, 8GB of RAM and the Intel HD Graphics 520, which means you wouldn't be able to run the latest and greatest games at the highest settings. If that's the experience you're after, though, you can plug in the Razer Core, a desktop tower-like housing for a pair of GPUs of your choice (from a range of approved models).
Connecting to the Stealth via a Thunderbolt cable (meaning it supplies power as well as transferring data), and supporting connections to an external monitor and peripherals, the Core turns the laptop into a desktop-level machine with 4K capabilities.
It's an interesting idea for those who game on the go, and should be more future-proof than most gaming laptops - although there doesn't seem to be any way to upgrade the RAM. Razer is aiming to make even the high-end configurations affordable, with the current top model going for $1,599, but the Core add-on hasn't been priced, and you'll also have to budget for those extra GPUs.
Anyway, the Stealth also has Razer's fully customizable coloured backlit key system, which is rad. Pre-orders are now open on the Razer Store, with shipping later this month, and the Core is due in the first half of 2016.
Gaze upon the full tech specs and images below. Click to enlarge the gallery shots.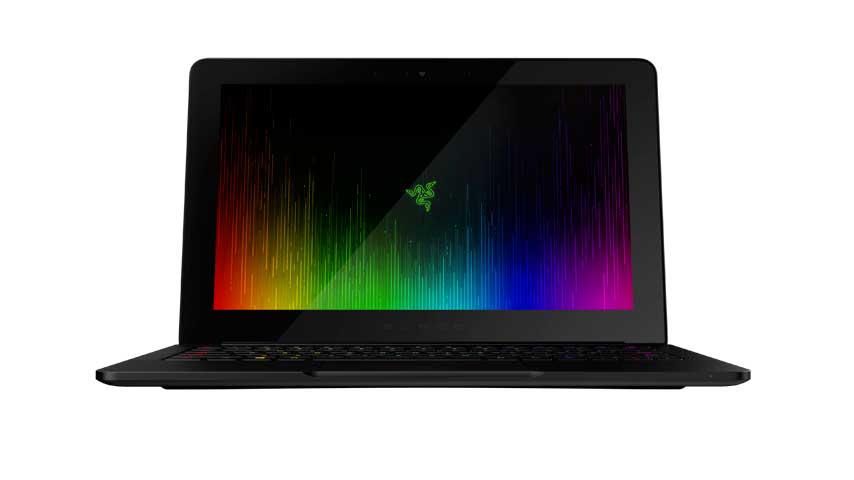 Razer Blade Stealth:
12.5 in. IGZO 16:9 aspect ratio, capacitive multi-touch display
QHD (2560 x 1440)

128 GB / 256GB PCIe SSD options

UHD (3840 x 2160)

256 GB / 512 GB PCIe SSD options

Intel® Core™ i7-6500U Dual-Core Processor (2.5 GHz / 3.1 GHz)
Intel® HD Graphics 520
128 GB / 256 GB PCIe SSD options (QHD display models)
256 GB / 512 GB PCIe SSD options (UHD display models)
8 GB Dual-Channel System Memory (LPDDR3-1866MHz)
Windows® 10 (64-bit)
Wireless-AC (802.11a/b/g/n/ac + Bluetooth® 4.1)
Thunderbolt™ 3 (USB-C)
USB 3.0 port x 2 (SuperSpeed)
Built-in webcam (2.0 MP)
Chroma anti-ghosting keyboard with individually backlit keys
HDMI 1.4b audio and video output
Built-in stereo speakers
3.5 mm headphone/microphone combo port
Built-in array microphone
Trusted Platform Module (TPM 2.0) security chip embedded
Compact 45 W USB-C power adapter
Built-in 45 Wh rechargeable lithium-ion polymer battery
0.52 in. / 13.1 mm (Height) x 12.6 in. / 321 mm (Width) x 8.1 in. / 206 mm (Depth)
2.75 lbs. / 1.25 kg
Connection to PC via Thunderbolt™ 3 using included 40Gbps cable
Supports single double-wide, full-length, PCI-Express x16 graphics card
GPU max dimensions – 5.98 in. / 152 mm (Height) x 1.73 in. / 44 mm (Width) x 12.20 in. / 310 mm (Length)
GPU max power support – 375 W
USB 3.0 port x 4 (SuperSpeed)
Gigabyte Ethernet (10/100/1000)
Chroma lighting (2 zones)
Built-in 500 W power supply
8.6 in. / 218.4 mm (Height) x 4.13 in. / 104.9 mm (Width) x 13.38 in. / 339.9 mm (Length)