Kingdom Come: Deliverance tips - how to get out of Talmberg, find Talmberg armour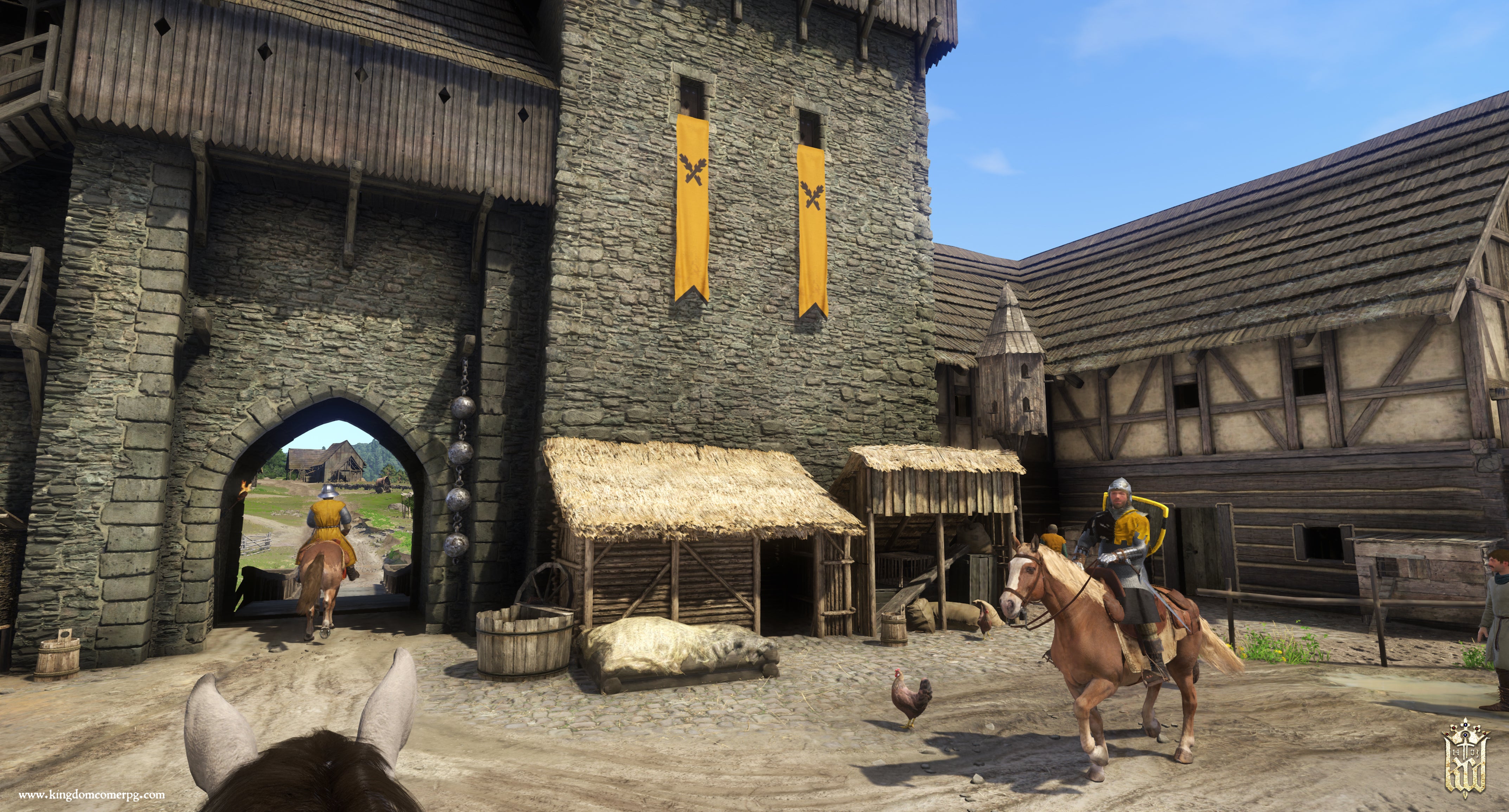 Getting into Talmberg is a lot easier than getting out.

After Kingdom Come: Deliverance's hectic opening, you'll find yourself fleeing to the nearest city. The good people of Talmberg will happily take you in and give you shelter, but leaving the place can be pretty confusing.
Firstly, you'll have to play through some basic story scenes. You'll meet Robard, a key character, as well as Stephanie. Both will insist you eat and sleep and get back your strength, providing you with grub in the kitchen and a decent bed.
When you first go to sleep you'll be woken by Stephanie who wants to chat. Talk to her and you'll see she's an ally to be kept on side. Be honest with her using Charisma and she'll be able to help you a lot later on.
Once you're done with the next cutscenes, in which the city of Talmberg narrowly avoids an attack of its own, you can finally start to think about moving on and exploring the open world of Kingdom Come: Deliverance.
How to get out of Talmberg
First, talk to Robard while you're all still on the battlements. You objective is to return home and bury the bodies of your parents, but Robard will insist you cannot leave the castle. You won't have enough persuasion or muscle to intimidate him so you'll just have to go through the motions.
Explore the courtyards and buildings, where you'll meet a trader. Again, you don't have enough coin to buy anything really useful. Now, to escape the castle, you're going to have to meet up with your friend Stephanie.
You'll find Stephanie in the chambers above the kitchen where you ate when you first arrived. Talk to her and explain your predicament and she'll tell you the best way to get out of Talmberg: You must steal Talmberg armour, but that's not going to be easy to do. You should also explain to her that you're poor, and in return she will give you a purse of 25 Groschen coins.
How to get Talmberg armour
You'll find Talmberg armour at the top of the tower by the small drawbridge in a locked chest. You're going to have to put your lockpicking skills to the test, so be sure to read up on how to lockpick and where to find lockpicks.
If you're careful you can pick up all the Talmberg Armour here. Not only is it a great disguise for getting you out of the castle, it's also great defence in the battles to come. We recommend using a Saviour Schnapps to save here in case you mess up and get caught or attacked. It really is worth reloading your save and getting this right so you leave with armour, a horse and the coins from Stephanie.
Now you have the right gear, you can leave the castle by taking a horse and riding out through the main gates. Once you ride far enough away from Talmberg you'll complete this part of the story quest.
Jumping from the drawbridge
There are a few other ways to escape Talmberg, some of which are quicker but not as rewarding.
You can talk to a guard called Radim, who after a small bribe will tell you to pinch the Talmberg Armour in the same way that Stephanie did.
Or you can simply jump from the drawbridge into the moat. You'll need to crouch under the chain and then jump into the moat below. Radim will give chase and you'll have to either flee or persuade him to let you go.
Finally, you will be thrown out of the castle if you are caught for committing a crime. This will happen if you try to pinch the Talmberg Armour and are caught red-handed. When attacked by a guard, just surrender and you'll be locked up for a while. The guards will take your coins though, so it's a costly affair. You'll be set free sometime later on the outside of the castle.
So that's four different ways to get out of Talmberg, but if you've done it differently, let us know and we'll add it to this guide.