Kingdom Come Deliverance Robber Baron side quest guide - How to find Sir Wolflin of Kamberg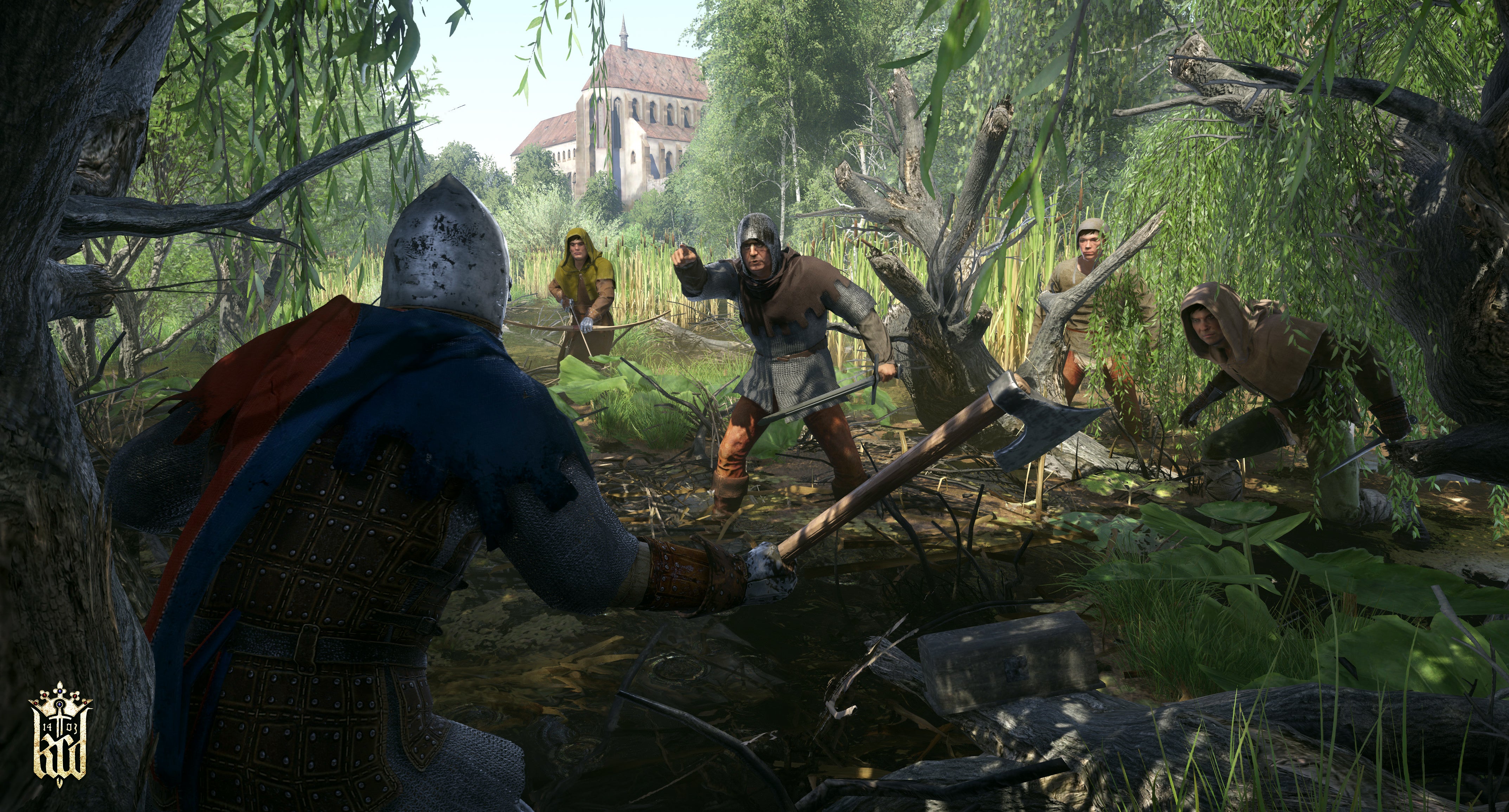 As part of its non-linear open world, most of the quests in Warhorse Studios' Kingdom Come Deliverance can be completed in multiple ways - your choices carry weight and have real consequences.
Here's a guide to how we completed the Robber Baron side quest in Kingdom Come Deliverance and bagged the silver trophy that comes along with it.
This is only one way to complete the quest, leading to a resolution that keeps all of the "good" characters alive, deals with the "bad" ones, and keeps Henry in both Sir Hanush and Lord Capon's good graces.
There have also been reports on both PC and PS4 that completing this quest can cause your future save games to corrupt, meaning you have to reload from a point before you finished the quest. The cut off point seems to be just before the quest ends, so if you're worried, make a save before you return to Sir Hanush to be safe.
Robber Baron side quest guide
Speak to Lord Capon after completing the Next to Godliness side quest
Collect and dress in Capon's old clothes to complete the Clothes Make the Man side quest, then speak to Sir Hanush
Prepare yourself and ride with Lord Capon and Captain Bernard to a camp in the woods
Persuade the Mistress at the northern farm to show you where Sir Wolflin of Kamberg's camp is
Report back to Captain Bernard
Persuade Sir Bernard to let to try to parley with Sir Wolflin
Travel to the bandit camp and speak to Sir Wolflin
Return to Captain Bernard
Fight with your allies against the bandit party
Report back to Sir Hanush
Starting Robber Baron and Clothes Make the Man
You start the Robber Baron side quest line by speaking to Lord Hans Capon after you've completed the Next to Godliness side quest.
He'll tell you that Sir Hanush has sent for you both, and asks you to dress up for the occasion - this starts the Clothes Make the Man side quest.
Head to the chest marked on your map, take the fine clothes, put them on, then return to Lord Capon. You'll then go together to Sir Hanush - this completes the Clothes Make the Man side quest.
Ride out to camp
Sir Hanush will lecture you and Lord Capon for your antics and task you with dealing with a rogue nobleman pillaging Hanush's fiefdom.
The nobleman just so happens to be Captain Bernard's cousin, Wolflin of Kamberg. Hanush asks you to try to resolve the conflict without bloodshed, before sending Henry and Capon along with Captain Bernard and a corps of Rattay guards to find Wolflin.
Make sure you take the clothes that Sir Hans gifted you during Clothes Make the Man, the charisma they grant you will be important later.
You then ride for a long while into the woods north of Rattay, while Lord Capon and Captain Bernard talk about Wolflin. You will eventually arrive at the same camp as you stayed at with Lord Capon during The Prey main quest.
Finding Sir Wolflin of Kamberg's camp
When you arrive at the camp Captain Bernard will ask you to scout the area for Wolflin and report back to him.
Head towards the northern farm marked on your map and speak to the farmer. He'll say that he's none the wiser and that they never saw any robbers.
Then speak to the Mistress of the farm. She'll stick to the same story, but is acting very suspiciously. Persuade her to tell you about the bandits by saying you'll get rid of them for good, and she'll agree to show you where their camp is.
After a loading screen you'll be at Sir Wolflin's camp, due east of where Bernard and Capon are stationed.
You can try to attack Wolflin if you like, but he and his bandit party are heavily armoured and skilled warriors. It's best to head back to Bernard.
On your return, don the nice clothes that Hans Capon gave you during Clothes Make the Man, and speak to Captain Bernard.
Report that Wolflin has about ten men, then use your charisma (the dialogue choice with the little crown at the end), to persuade Bernard to let you parley - just as you promised Sir Hanush you would.
He'll agree and give you a top bearing his coat of arms.
Parley with Sir Wolflin of Kamberg
Equip Captain Bernard's coat of arms and remove your weapons (they can still be in your inventory). Then travel to Sir Wolflin's camp.
Because of your dress, you'll be granted an audience with Sir Wolflin.
Try to persuade him to leave, but he will likely refuse unless your speech skill is very high.
Return to Captain Bernard and ready yourself for the battle to come.
Fighting Sir Wolflin of Kamberg
In Kingdom Come Deliverance, fighting against the odds is a very bad idea. So when you and the Rattay guards square off against Wolflin's gang, it's best to stay on the left hand side of your line.
By positioning yourself here, you're facing off against archers in a close-quarters battle. This means that when the lines charge, you can hit the bowmen with melee attacks and take both of them out with little resistance.
This also means that your guard allies take a lot of the aggro from the more dangerous members of Wolflin's party, leaving you free to flit around the outside of combat and land easy hits.
The bandits with fall, usually leaving Wolflin as the last man standing. The combined force of all of your allies will be too much for him.
Reporting back to Sir Hanush
When the bandits are dead, speak to Captain Bernard. He'll tell you to report what happened back to Sir Hanush.
Before you leave, take everything you can from the bandit's bodies - there's literally thousands of Groschen worth of equipment here, so you should be minted from now on.
Ride back to Rattay and find Sir Hanush. He can usually be found in his office on the eastern edge of town or wandering the streets.
Tell him that you tried to parley but couldn't avoid a skirmish, that Hans and Bernard are safe and that Wolflin is dead.
Hanush will commend you for your efforts and reward you with a Magdeburg cuirass, which has a value of 2.4k and an armour rating of 23 for just 6 weight.