Kingdom Come Deliverance Nest of Vipers quest guide - Find and sabotage the Cuman camp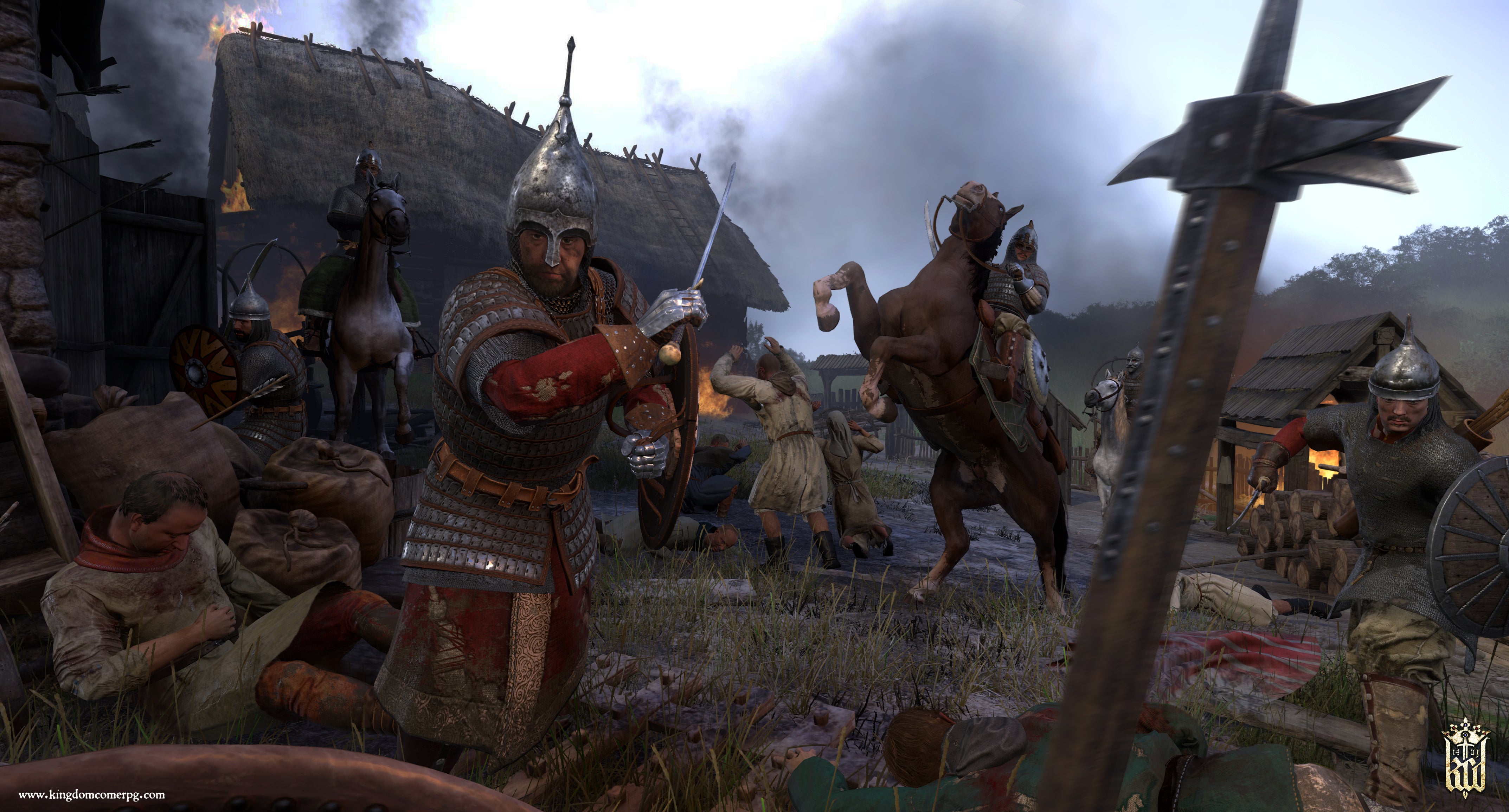 With the loose ends from Neuhof tied up, Henry has tracked the bandits to their encampment in the forests north of Talmberg.
What waits for him there is one of Kingdom Come Deliverance's more difficult quests, but it's nothing he can't overcome. Here's how to find and sabotage the bandit camp during the main quest Nest of Vipers in Kingdom Come Deliverance.
To complete this quest effectively you'll need a good speech stat (at least 8), decent weaponry, know how to lockpick, and will benefit greatly from a high stealth skill (at least level five for stealth kills).
Nest of Vipers quest guide:
Follow the directions given by the quest objectives until you reach the camp
Procure a Cuman outfit either from a locked chest at the north of the camp, or by killing or knocking out a guard
Sneak into camp through the north or south entrance and find the poison
Poison the four food pots and set fire to the four barrels of arrows
Get the hell out of there
Return to Sir Radzig and tell him the news
Travel to Talmberg to recruit Sir Divish's men and prepare for battle
Starting the quest
After the events of the My Friend Timmy quest, Sir Radzig will send you off to scout the bandit camp.
Proceed to the first marker on your map - the woodcutter's camp near Talmberg - and follow the instructions from there.
At the fork with the ruined cabin, take the left hand fork which leads straight on.
When you reach the next fork take the left again until you get to a third fork - take the left again.
Eventually, you'll reach a crossroads, head straight on.
After a little distance, slow down, you're close to your destination.
Getting into the bandit camp
When you reach the camp, your quest objectives will change. You'll be tasked with getting inside the camp to scout it, as well as sabotaging the bandits' food and arrows.
Stealing a Cuman outfit will make wandering the camp immeasurably easier, and you have two options of how to get one. You can either creep up to a Cuman who's patrolling the camp perimeter, stealth kill him (or just slash and stab while he's unprepared) and steal his clothes, or you can make a big loop around the camp and enter through the far north entrance. Here there's an "easy" locked chest that has everything you need.
Their full set includes (or similar):
Burgher's slippers
Cuman caftan
Cuman riding breeches
Cuman shishak
Vambraces
Cuman hauberk
Riveted gloves
As well as a Cuman metal shield, Villager's bow and Seax
If you've killed a patrolling Cuman, pay attention to what they have equipped and mirror it.
Once you've got your disguise on point, you can wander the camp. But be warned, Cumans will try and talk to you if you get too close. You have three chances to fool them, after that you'll aggro the whole camp.
Enter by either the north or south entrances to the camp. The north entrance leads first to the bandit camp first, so you won't have to worry about Cumans rumbling your cover straight away.
This is best done at night, so there are fewer people awake to see you meddling. However, you can get lucky and unlucky here. Sometimes the place will be deserted, sometimes it'll be crawling with soldiers.
Sabotaging the Cuman camp
The camp is made up of two smaller ones, bandit and Cuman, each with two cooking pots and two barrels of arrows.
When you approach the large burnt out building next to the bandit camp, you'll get a cutscene with Runt.
To procure some poison, go into the tent in front of this burnt out building and crack the chest.
You'll then have to surreptitiously move around the camp sabotaging the pots and the barrels of arrows.
This part is hard. The soldiers figure you out extremely quickly and you can get stuck on pieces of scenery very easily, making it difficult to avoid Cumans who try to speak to you.
There are two of each sabotage point in the camp, they're not difficult to find. The pots are in plain view and the arrows are to your left and straight in front of you as you enter the bandit camp, and the same in the Cuman camp.
More than likely, you'll end up in a mad dash trying to sabotage everything as soldiers chase you around. If this does happen, try to time your sprints to burst past groups of attackers, otherwise, you'll just get stuck when the game tries to lock-on to your aggressors.
Escaping the Cuman camp
If you managed to sabotage the camp unnoticed, bloody well done. Otherwise you're going to need to high-tail it on your horse, otherwise, the bandits will chase you for miles through the forest - where you'll inevitably get stuck in some bushes and hacked to pieces.
Whistle your horse as soon as you can. If you're struggling to mount up with people chasing you, whistle, keep sprinting, then turn around quickly and sprint back past the chasing pack towards your horse. Then try mounting up and galloping into the sunset.
Try to slalom as you escape, Cumans are good shots and your horse will throw you off if it gets hit by arrows.
Recruiting reinforcements
Back in Merhojed, report your progress to Sir Radzig, making sure that you say the dialogue responses in top-to-bottom order.
When Sir Radzig asks how many bandits there are, say: "There's a lot of them."
Then when Sir Radzig asks you what the archers' positions are like, say: "They're positioned well."
When you're done, he'll tell you to travel to Talmberg and ask Sir Divish for reinforcements.
Sir Divish will ask you if you're ready to go to battle. If you say yes, you'll be taken straight there, so if you need to prepare, tell him so.